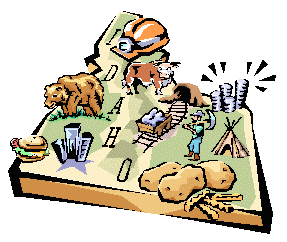 "A jewel called Coeur d'Alene is there to enjoy

by Joe Hilbers
It has never been a secret that Northern Idaho is a place of unusual natural beauty with its large lakes, rivers and mountain ranges but it has only been in the last decade that tourists have discovered it as a destination for any number of activities ranging from mountain biking to water sports, to golf or dining or shopping.
In that short span tourism has become the leading producer of revenue in Kootenai County which includes Coeur d'Alene, Post Falls and surrounding communities replacing agriculture which now ranks second.
In Coeur d'Alene the catalyst for this new industry was the construction of Coeur d'Alene Resort, rising 16 stories on the edge of one of America's most beautiful lakes yet just one block from the downtown area of the City.
This striking destination resort also includes a three year old golf course that is already world famous for its floating green, the only one in the golfing world. As so often happens the success of the Coeur d'Alene Resort sparked a huge variety of other businesses devoted to pleasing tourists and vacationers.
In nearby Post Falls there are now 60 Factory Stores offering a host of shopping opportunities. After all in a national survey of vacation activities shopping ranked second only to dining as most popular. Also in Post Falls is Templin's Resort with accommodatons and a very scenic restaurant with views of the Lake and its outlet, the Spokane River. With huge pictures facing the Lake diners are likely to see some of the prolific wildlife in the area.
Just a few miles north of Coeur d'Alene there is a complete family oriented amusement park called Silverwood. It offers something for all ages with roller coaster, merry-go-round, side shows, plus an ice show that runs all summer as well as a Magic show theatre. Add to this a variety of eating places from the ultra casual to sit down dining.
Again Silverwood has all happened in one decade and is the only Amusement Center in the world with its own private airport. Last year it received its two millionth visitor since opening.
Lake Coeur d'Alene is at 2,128 feet so there is no altitude breathing problems for visitors. It is 25 miles long, with 135 miles of shoreline and has an average depth of 120 feet. It is the center for many activities including scenic cruises, dinner cruises, seaplane rides as well as jet skiing. And of course fishing since the Lake is home to landlocked salmon as well as pike and three species of trout. Crusing the Lake is a popular activity with the Fun Fleet that has ships with a capacity of 400. Ours was a breakfast cruise on the Idaho Spirit which was a wonderful way to view the Lake and region.
Western history and lore abound in the region. The first settlement on the Lake shore was an army fort founded by General William Tecumseh Sherman in 1878.
The famous Civil War General was placed in command of all Army Units in the west as skirmishes with the Native Americans increased especially after the Battle of the Little Big Horn. This because of the ever increasing encroachment on their lands by a never ending stream of emigrants from the east.
Later called Fort Sherman it is now the campus of North Idaho College. Two of the original buildings--the bachelor officers quarters and the Fort chapel are currently being restored.
Besides tourists which now arrive from as far away as the East Coast and Europe, north Idaho has seen a new wave of newcomers. People attracted by the scenic surroundings as well as a life-style so different from urban American life in the 1990s.
New housing developments can be seen everywhere and current prospects are that this will continue at an even more rapid pace. The area once depended on the mining and timber industries and while still of major importance to the economic health of the region it is becoming less so each year.
Our trip to Coeur d'Alene included one day exploring the historic mining country of Kellogg and Wallace. This is a trip that shows both the good and bad of earlier mining practices. The entire town of Wallace has been declared an historic site so the buildings, all built in the late 1800s and first decade of the 20th century, are just as they were. Wallace recently enjoyed fame as the site where the movie "Dantes' Peak" was filmed.
In earlier times Wallace had the reputation of a wild and sinful place where hundred of miners sought their pleasures.
Kellogg, a neighboring community, has now developed a new future, thanks to the longest tram in the U.S. which takes skiers and snowboarders in winter to an outstanding ski area, and in summer mountain bikers, hikers, sightseers and concert goers enjoy Silver Mountain with views that reach to Canada, Montana and Washington.
Although there are still some active silver mines in the area, mines which in a 100 year span produced one billion ounces of the metal, the most ever in that time span anywhere in the world, both Kellogg and Wallace see tourism as their key to economic well being in the future.
Both have become new meccas for snowmobilers who can enjoy winter snow depths that often exceed 100 inches on some 1000 miles of old mining and logging roads. The National Park Service has placed many restrictions on snowmobiling in Yellowstone and other national parks but in this north Idaho country there are hundreds of miles to explore with no such rules.
At Kellogg once atop the tram there are five lifts taking skiers to the summits of two nearby peaks. On good snow years in midwinter it is possible to ski all the way back to Kellogg with some skiers sliding to their very doorstep.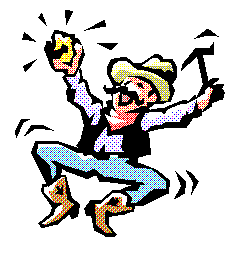 Wallace is a great place to sample an earlier era. There is a Sierra Silver mine tour that takes one inside a silver mine and since Wallace was once a wild and wooly place there is the Oasis Bordello Museum in a building that only closed operations in 1988
Hotels like the historic Jameson Hotel offer the visitor the opportunity to enjoy the surroundings and decor and atmosphere that date back the to the turn of the century.
Both Wallace and Kellogg are on Interstate 90 less than an hour from Coeur d'Alene. En route you will want to stop at the Old Mission State Park at Cataldo which has the oldest standing building in Idaho, a church built by Jesuit priests and their Indian converts over 150 years ago. The Park has a Visitor Center and Rangers to explain how the church was constructed as well as the life of the Jesuit Fathers who left Europe to pursue their calling in a roadless wilderness.
Besides all the activities and amenities offered in the City of Coeur d'Alene, it is a wonderful scenic place to stay while taking day trips to surrounding areas with many golf courses in the summer and skiing in the winter. Besides Silver Mountain there is Schweitzer Mountain Resort with six chair lifts offering over 2,000 feet of vertical.
Our stay at Coeur d'Alene Resort was a memorable experience by any standard. The rooms are spectacular with individual patios with seating, fireplaces and a view of the Lake which changes with the season and even the hour.
Beverly's, the Resort's showplace restaurant, has a regional gourmet cuisine as well as a wine cellar that has won awards as one of the nation's best. Both Chef Rod Jessick and Cellar Master Sam Lang have been recognized nationally for their expertise.
Sam Lang took us on a tour of his wine cellar which has a one half million dollar inventory. The restaurant hosts several winemaker events each year and the Cellar now has a cigar room as well for those that enjoy this new pursuit of the mid 1990s.
Besides Beverly's the hotel has its family dining room called Dockside. One of our favorites was Whispers, the quiet lounge offering cocktails with view of the Lake and Marina.
One evening we dined at Tito Macaroni's, located in the Resorts Plaza Shopping Center. Tito's is Italian with wine served from liters on the table and a full menu of Italian pastas, pizzas and entrees , all at most reasonable prices.
Another evening we stopped at Jim Duncan's Wine Cellar for a tasting of some impressive Idaho and Washington wines. Duncan has a unique basement restaurant, jazz and blues club and lounge. He also has a most impressive wine list of over 200 labels from California, the Northwest as well as imports.
No guest will be surprised that Coeur d'Alene Resort has won awards as one of the U.S. top resorts, and that its golf course has won world wide recognition.
As for the local residents of the area--you will find them friendly, courteous, ready to greet you with a smile and hello and eager to show you their country and lifestyle of which they are so very proud.
Back to Table of Contents..
Last Update:<5/20/97
&copy 1997 Joe Hilbers All Rights Reserved.
Graphic Design by Impact Graphics