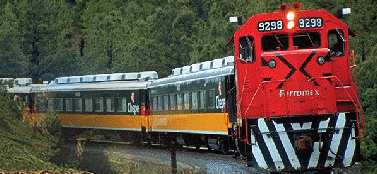 "Mexico--Copper Canyon train explores one of the country's natural wonders and a unique culture"

by The Editor
As a dedicated train buff we first considered taking the Copper Canyon Train in Mexico a few decades ago but we were sidetracked, as it were, with other projects. Then the International Food, Wine & Travel Writers Association working with Juan Rodriguez, director of Mexico Adventures LTD, arranged for a trip to expose Writer members to not only travel stories but also to explore the culinary offerings of the region. Needless to say we definitely wanted to be on this trip.
And the trip was certainly arranged by the right man for Juan Rodriguez has spent most of his working life arranging tours in Mexico and indeed is a Writer himself with a published book entitled "Chihuahua And All Points West."
Officially called Chihuahua Pacifico or Chepe, the railroad is considered one of the most remarkable engineering feats in rail history. Chepe runs between Los Mochis on the coast of the Gulf of California to Chihuahua, Capitol of the largest State in Mexico. The railroad is 400 miles long and includes 86 tunnels and 37 bridges as it makes its way across the rugged Sierra Madre Mountains. I t climbs from sea level at Los Mochis to 8,000 feet elevation at the continental divide.
In the heart of the range is Copper Canyon, larger and deeper in places than the Grand Canyon and a Mexican National Park. The idea to build the railroad was first conceived in 1872 but it was not until 1961 that the whole project was completed. Our adventure started at Los Mochis after a flight from Los Angeles on AeroMexico. Two flights actually since we changed planes in Hermosillo, site of Mexican Customs, then on to Los Mochis. Both flights were comfortable and of short duration--two and one half hours to Hermosillo and then one hour to Los Mochis. We thought Los Mochis a charming, thoroughly modern, well planned Port City with wide tree lined thoroughfares. We must save our activities at Los Mochis for the next issue of Vittles.
The entire train trip from Los Mochis to Chihuahua takes 18 hours leaving Los Mochis at 6 a.m. To avoid this early departure and see more of the surrounding country our group was bussed to El Fuerte. For our group the train trip was only part of a tour which was aimed to experience the hotels, cuisine, natural attractions and cultures over such a vast amount of territory. El Fuerte is a Mexican town with a long history dating back to the 1500s when first explored and settled by the Spanish. We spent a full day and two nights here and again our experiences must be saved for a separate story.
On the second morning we boarded the train. It is Diesel powered and thoroughly modern with comfortable coaches, club and dining car. There are two classes of tickets. We had our breakfast in the dining car with full menu and a smartly attired wait staff. Then journeyed for four hours as the train moved first into the foothills and then climbed into the mountain fastness often passing small communities. These mountain villages seemed isolated to us but teemed with the everyday comings and goings of adults and children alike. Much of this country is home to the Tarahumara Tribe of Indians. The women of the tribe still cling to their traditional clothing of flowing skirts in a dazzling array of colors.
Two days later we were back aboard Chepe for luncheon in the Dining Car and the short ride to Posada Barrancas where one can view all three canyons of the Copper Canyon system. This is part of the National Park and situated at the top of a cliff is the Mirador Hotel. Think luxury at this hotel where every room includes a spacious balcony where one overlooks Canon de Cobre. Here one can idle away much time admiring the immense amount of mountain, plateau and canyon that makes up this national treasure.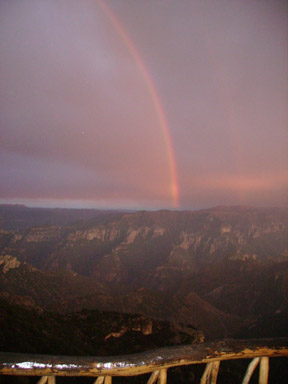 A very special event took place during our stay. A cloudy day soon became an afternoon thunderstorm and showers of rain which then gave way to low afternoon sunlight and a wondrous rainbow that stretched from canyon in a huge arc across the sky. Standing on our balcony we watched nature's spectacular unfold while snapping yet one more and still more photos as the rainbow expanded to its full beauty. Later that night before the moon rose we again looked across the expanse of the park and could not see even one speck of light. All was blackness to the horizon.
The Mirador is a Balderrama hotel and logs and timbers, still in their natural form, are used extensively in construction giving the whole a pleasant rustic mountain lodge ambiance.
Here the National Park includes a canyon rim road and trail which allows one to walk or ride to various overlooks for viewing and photography. In one place a rather dramatic suspension foot bridge takes one over an abyss between canyons. Along this rim trail one meets Tarahumaras Indian women, all attired in flowing dresses, skirts and blouses in colors that rival any rainbow. Their wares are laid out before them and some work on weaving the baskets for sale there. They go quietly about their work often with young children on hand as well. It all appears as timeless as the cliffs and deep valley below. Using Chepe, the Copper Canyon train opens for visitors many communities and mountain regions that are not readily available any other way. One can reach the National Park at Posada Barrancas from Chihuahua City by car or bus but would leave with a totally different experience. I would not recommend making the train trip in one day. It would be a very long day, from 6 a.m. to midnight, and much interesting country would be passed in the night. And you would leave without actually seeing Copper Canyon since it cannot be viewed from the train.
I would also recommend that any visitor use a tour and guide service like we did. If you do not speak Spanish an interpreter is often needed to explain what you are seeing or about to see.
Juan Rodriguez, owner of Mexico Adventures, personally escorted us on our tour from meeting the plane in Los Mochis to leaving us at the airport in Chihuahua. With him was Adrian Castellanos. Tour Guides like Adrian are licensed by the State of Chihuahua but only after taking extensive training courses in Mexican and Indian culture as well as being totally fluent in English. It was Adrian who addressed our personal needs or requirements, took care of our luggage and helped in making purchases with local trade people. A week is none to long to truly experience this most scenic part of Mexico.
In upcoming issues of Vittles there will be stories about each city we visited including Chihuahua City where we stayed at Hotel Sicomero, a four star hotel as well as our culinary experiences in a wide variety of locations and hotels. There was the yachting day on the beautiful bay of Los Mochis, the raft trip on the Le Fuerte River and a visit to a winery so we have many stories to tell.
For more information on Mexico Adventures LTD, its offices are located in El Paso, Texas, Call 1 800 206-8132, e mail jrood@coppercanyon.com.mx. For information on Balderrama Hotels and Tours check the web at www.vacacionesbarrancasdelcobre.com. The Department of Tourism in Chihuahua is headed by Rita Meraz Ochoa who can be reached on the web at www.ah-chihuahua.com.
Back to Table of Contents..
Last Update:11/19/09
&copy 2009 Joe Hilbers All Rights Reserved.
Graphic Design by Impact Graphics