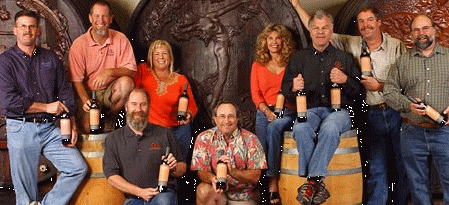 "Mendocino County--CoroMendocino--A new way to market wines"

The Editor's Vineyard
As Writers at the Wine affair we were privileged to to meet some of the people who make up the Mendocino Winegrowers Alliance. One day we learned how ten Mendocino grower-vintners (shown above) have achieved something that has never been tried before either in California or the U.S.
It was to establish a proprietary wine, exclusive to its region, made under strict guidelines as to varietals used and on the label using both the name of the special vintage as well as the individual winery who made the wine.
The name is Coro Mendocino and its rigid guidelines are that so labeled wines must include between 40 and 70 per cent Zinfandel and then any number of other varietals in the blend, this being left to the individual winemaker. The other requirement being that every varietal in the blend be from grapes grown in the Mendocino area.
We had the opportunity to taste and chat with the winemakers of several of these Coro wines with no two vintners using exactly the same varietals or blended amounts. Some used Zinfandel only to the lowest required level (40 per cent), while others used Zinfandel up to the upper limit of 70 per cent.
What was demonstrated clearly to us was the large number of varietals that are grown in Mendocino county thanks to the large differences in its seven appellations--in terrior, temperature and elevation.
Of course regionally identified wines have been made in Europe for centuries (think Chianti in Italy and Rhone in France), but this is a bold move by this group of Mendocino vintners showing much planning and thought. In fact it was the result of two years of meetings to refine details of blend guidelines, as well as limits on the amount of alcohol (16 per cent) and cooperage with at least 12 months in the barrel and six more in the bottle before release.
The Coro Mendocino bottle shows the same style glass and the same label with only the individual winery name changing. The Coro logo, in pewter, is on the neck of every bottle.
At the luncheon the third annual release of Mendocino's proprietary red blend was shown and we had the opportunity to taste them and talk to the individual winemakers on style and what other varietals they used and why. There are now eleven Mendocino vintners in the Coro concept. They include newcomers, Oracle Oaks and McNab Ridge. Also Dunnewood Vineyards, Eaglepoint Ranch Winery, Fetzer Vineyards, Golden Vineyards, Graziano Family of Wines, McDowell ValleyVineyards,. Pacific Star Winery and Parducci Wine Cellars.
All Coro Mendocino wines have a suggested retail price of $35 per bottle. The 2003 Coro wines are available for purchase from the participating wineries and from www.coromendocino.com.
Back to Table of Contents..
Last Update:9/15/06
&copy 2006 Joe Hilbers All Rights Reserved.
Graphic Design by Impact Graphics