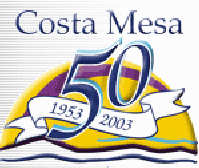 Costa Mesa--Malls and Theatre make it a destination resort
As Costa Mesa celebrates a 50th anniversary it has become a showplace City in Southern California.
The Anniversary marks a remarkable example of what good planning can create. In a short half century it has become a destination City for the Arts, Shopping, Entertainment and Dining. South Coast Plaza and surrounding environs, is the number one revenue producing Mall in the U.S. year after year.
The Orange County Performing Arts Center and the South Coast Repertory Theatre are the nuclei that has made the City the Arts Center for Orange County and much of the surrounding region as well.
The changes and improvements in the City come at a rapid pace. After almost four decades of national fame for live theatre the South Coast Repertory acquired a new look this year with the Folino Theatre Center including a new 507 seat Segerstrom Stage and Julianne Argyros Stage with seating for 336.
In February, The Performing Arts Center broke ground for construction of a 2,000 seat concert hall and 500 seat music theatre which will be known as the Segerstrom Center for the arts and adding to the area now known as the Theatre District.
Since its opening in 1986 The Performing Arts Center has attracted artists and productions with world wide fame. The Center has booked everything from ballet to jazz, opera to musical comedy, string quartets to symphony orchestras.
Of special interest is the fact that the Center is a nonprofit institution that has been financed completely by private means with no government support asked for or received. All contributions have come from interested individuals, corporations and foundations. The Center has also created a network of more than 4,000 community volunteers.
In September South Coast Repertory will begin its 40th season. In previous years it has won the Tony Award for Distinguished Achievement and a Play developed and premiered in 1999 at SCR, entitled Wit, received the Pulitzer Prize for Drama.
South Coast Repertory is financed through regular subscribers, ticket sales and by 3,500 individuals and businesses who contribute to funds each year.
Both the Performing Arts Center and South Coast Repertory have extensive educational and community programs for school children. Last year 250,000 school children from all parts of Orange County attended a Center program.
If you are a dedicated shopper, if mall crawling is your thing, if you delight in trips to test whether the body or the credit cards will give out first, then Costa Mesa's South Coast Plaza is the place to go.
With seven department stores and 280 specialty stores and restaurants selling every conceivable type of merchandise, there is nothing quite like it explaining why it is, consistently, the largest dollar volume mall in the U.S.
And you can add The Centre at Metro Pointe to the scene with an additional long list of stores and restaurants.
All of which explains why South Coast Plaza is the only Mall in Southern California that is actually designated as a tourist attraction.
With this kind of challenge it is obvious that one must keep up one's strength. And to do that the Plaza, Village and adjoining areas offer some 37 restaurants ranging from fast food outlets to dining establishments which annually receive awards by the Southern California Restaurant Writers as some of the very best in all of Southern California.
For the many tourists who consider Costa Mesa as a destination resort for a host of activities there are seven luxury hotels, some within easy walking distance of either the Theatre Arts area or the South Coast Mall. They include Costa Mesa Marriott Suites, Country Inn & Suites, Hilton Costa Mesa, Holiday Inn, Residence Inn by Marriott, the Westin South Coast Plaza and the Wyndham Hotel/Orange County.
Perhaps one of the unique features of Costa Mesa is that it is pedestrian friendly. The Plaza, Metro Pointe, Theatre Center, as well as many of the hotels and restaurants are all in easy walking distance of each other.
South Coast Plaza Shopping Resort is the new name for the complex with over two million square feet and why not. One travel survey listed shopping as number two most wanted activity on a vacation.
Currently the Visitor Bureau and Costa Mesa Hotels are sponsoring a "Drive and Dine on Us' promotion for certain periods this summer with complimentary vouchers for food and gasoline. For information on the program contact the Visitor Bureau at 900 399-5499 or online at www.costamesa-ca.com.
Back to Table of Contents..
Last Update:6/15/03
&copy 2003 Joe Hilbers All Rights Reserved.
Graphic Design by Impact Graphics