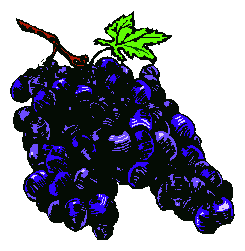 "Wines of Alsace and Cotes du Rhone took top billing in recent Los Angeles Expo"
The Editor's Vineyard
The Alsace/Rhone Valley Wine Expo 2006 was in Los Angeles recently with a huge tasting and many of the French vintners were personally on hand for the event.
We enjoyed an interesting and constructive conversation with Maurice Barthelme of Domaine Albert Mann. The family has been in Alsace since 1664. The first question we asked Maurice was why the white wines of Alsace enjoy such longevity in the bottle. He quickly answered terrior and climate. Cold winters yield to summers with cool nights and warm days.
Like most growers and vintners of Alsace Maurice and his brother, Jacky, grow grapes and produce white wines from the classic varietals of the region. These include Pinot Blanc, Pinot Gris, Riesling, Gewurztraminer and Muscat d'Alsace. None of these white wines ever see oak but are destined for an amazing long life in the bottle. We tasted the Riesling 2003, remarkable for its fresh, crisp aroma and flavors with a dry finish. Also a 2003 Gewurztraminer that had all the powerful spice flavors of the varietal. These wines represent real value since they are all priced in the high teens or middle $20 dollar range.
We also had the opportunity to interview Rene Aubert of Domaine de la Presidente. Rene has followed in the footsteps of his Father and Grandfather, both lifetime growers and vintners. Domaine Presidente has been in vineyards since 1701. Two of the classic wines of Cotes du Rhone are Cairanne and world famed Chateauneuf du Pape. We tasted the 2001 Nonciature Chateauneuf du Pape, finding it a truly superior wine and representing value. In fact all the Presidente wines range in price from the teens to about $30. We also liked the 2003 Cairanne which offered body and smoothness and most was reasonably priced.
The Domaine de la Presidente vineyards are located in three different appellations of the Cotes du Rhone. All the wines are blends of native varietals like Grenache, Syrah, Carignan and Cinsault.
Both Maurice Barthelme and Rene Aubert were typical of the devoted and very knowledgable French vintners that were present at Expo 2006 which also took place in Seattle and San Francisco.
A recent survey proves that wine consumers love to try new varietals when it does not involve a big investment. Winemaker Scot Dahlstrom has just the answer with two ForestVille wines, 2004 Pinot Grigio and 2003 Shiraz. No big investment here, handily priced at $5.99. We thought both very true to the varietal on the label. Think about the Pinot Grigio for the first of the season picnic.
Back to Table of Contents..
Last Update:4/10/06
&copy 2006 Joe Hilbers All Rights Reserved.
Graphic Design by Impact Graphics