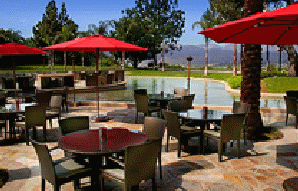 "Industry Hills--Red Restaurant earns place as premiere dining house"
by Joe Hilbers
Red is a restaurant which just celebrated its first anniversary and has become in one short year one of the premiere dining places in the San Gabriel Valley. It is located at the Pacific Palms Hotel & Convention Center in Industry Hills.
Red offers something for just about everyone. One room offers comfortable booths for luxury dining away from the hustle and bustle of the bar and lounge, (this is our favorite). Then there is the main dining room, spacious and with seating for 120. If you want to see and be seen then this part of Red where you want to be. If you like patio dining this is also available for another forty fortunate guests. For here one sits in a commanding position which overlooks 1. the golf course, 2. the San Gabriel Valley and 3. the highest peaks of the San Gabriel mountains. This is also the site of Red's live jazz group every Thursday evening.
For the opening of Red the Resort sought out the talents of Craig Herber as Executive Chef. It was a most fortunate choice. Craig has a most unusual background. He grew up in the Far East where his family had food and restaurant operations. When he decided to become a chef his education grew with stints in the Philippines, Thailand and Japan. Then a move to the some of Las Vegas expensive dining places.
At Red Craig shows a menu that offers hints of Pan American, Asian inspired cuisine. Our evening opened with a lobster bisque for me and sesame shrimp presented with fried noodles, candied walnuts and mango puree for my dining partner. A look at the entrees required some tough decisions. All the major steak cuts as well as prime rib are offered. Then there is The Wok offering Asian items like Orange Peel Steak, Kung Pao chicken or Mushroom Crusted Tofu.
We consulted the Specialties list which included Double cut Pork chop, Colorado Lamp Atlantic Salmon and then our choice the Monkfish which arrived atop a bed of Jasmine Rice with Cauliflower-Wasabi Puree and Shitake mushroom jus. My partner selected the crispy Red Snapper which was elegantly presented atop a codfish potato cake, fennel salad and dill sauce.
Like the menu the wine list is extensive, mostly with well known California labels from almost every region of the state. However there are some offerings of French and Italian imports. Our choice with dinner was a Sonoma Cutrer Chardonnay.
Chef Craig Herber likes to meet with customers and it is his regular practice to visit guests at their table and ask for their comments and suggestions. We had a most enjoyable visit with Craig as well as old acquaintance Executive Sous Chef Brandon Palmer. Hee-Won Lim, vice president of Operations at Pacific Palms came by and generously offered to give this Writer a tour of the entire restaurant and the extensive surroundings which offer an elegant setting for weddings and private parties.
Our Server was Melissa Alvarez who knows her craft and obliviously enjoys what she does. She was part of the staff which trained for a month before Red opened.
And then there was dessert. From a menu which offered such goodies as Mango cheesecake or Chocoholic we chose the caramelized banana spring rolls and the Jasmine creme brulee. The Dessert menu also includes a unusual selection of choice scotches, wines and unusual cocktails. Craig told us they were about ready to offer a new dessert menu and we can hardly wait
Pacific Palms Hotel & Conference Center and Red Restaurant are located at One Industry Hills Parkway in Industry Hills. Red is open for lunch and dinner daily; lunch from 11 a.m. to 2 p.m. and dinner from 5 p.m. to 9 p.m. weekdays and 5 p.m. to 10 p.m. on weekends. There is both valet and free off street parking. On the web at redrestaurant.net, reservations 626 854-2509.
Back to Table of Contents..
Last Update:6/9/09
&copy 2009 Joe Hilbers All Rights Reserved.
Graphic Design by Impact Graphics