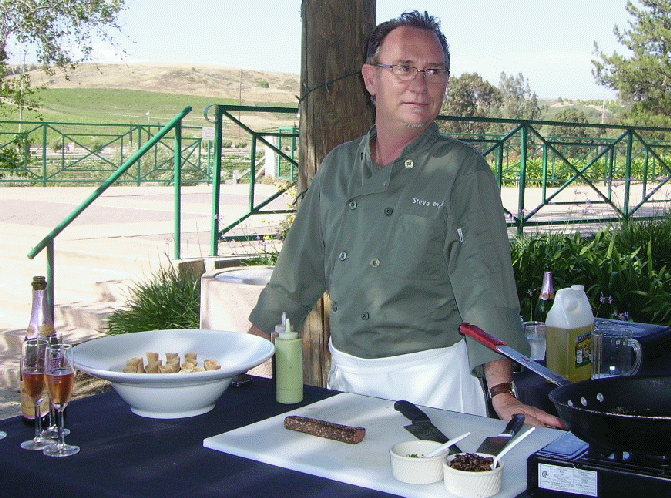 Temecula--The Valley offers fine wines and culinary delights as a way of life
.. By Joe Hilbers
It was another hectic encounter with Southern California freeways so our arrival at Temecula Creek Inn proved an oasis and most welcome. Here we found shelter from people and traffic surrounded by a golf course and scenic mountains. Think luxury here as our room offered everything from internet to private balcony overlooking the golf course. We sat on our balcony and critiqued some of the players. We shook our head with disapproval at a fast back swing and wriggly backside, habits this hacker sorrowfully shared.
However soon we were initiated into the agenda of the International Food, Wine & Travel Writers conference, the purpose of our visit. It began with a get together of members at the serene bungalow suite of the Inn where we tasted the wines of Leonesse Cellars, one of the some 40 wineries now in the Valley. General Manager Jason Curl told us that all the rooms were due for a redecoration. We asked why since we loved the driftwood western decor with the theme of American native people.
Joel Reese, Leonesse Cellars Impresario, poured our wine which included a 2007 Meritage which we thought exceptional since its principle varietals were Merlot and Cabernet Franc which produced a remarkable smoothness. We also particularly liked the Leonesse 2008 Viognier, a varietal that does well in the Temecula appellation. The wines were accompanied by a long list of appetizers served al fresco on a perfect Spring day.
Next stop was Thornton Winery where we were met by Winemaker Don Reha who guided our members, from many parts of the U.S., on a tour of the cellars. Then Chef Steve Pickell of the award winning Cafe Champagne at the winery took over with a cooking class that opened what became an evening of fine dining accompanied by Don Rehas's 2004 Reserve Sparkling Brut, a palate pleasing 2008 Viognier and with dessert a 2008 Moscato that was memorable. Our cooking class and dinner were served on the outdoor patio with an opening course of warm Spinach and Goat cheese salad, then a pan roasted Pacific Sea Bass with Mediterranean Cous Cous. Dessert was local organic strawberries with muscat Sabayan.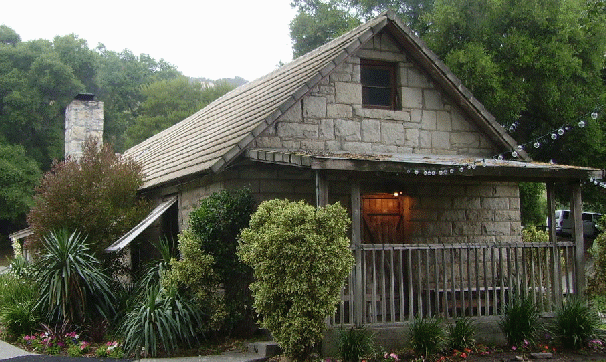 Old town Temecula has an interesting history dating back first to the Luiseno Indians who settled the valley about 900 A.D. Then there were Franciscan Friars and in the late 1800s a farming and mining boom. This was made real for us when we had breakfast at Temecula Creek Inn's Stone House. This building, made with natural stone, was built to house and serve meals to miners who worked at the adjacent quarry in the late 1800s. Our gathering here before a blazing crackling of logs in the fireplace was a touch of an earlier era.
Temecula redefined
Over decades we have seen an ever expanding Temecula, both Old Town and the Valley's wine country. Now with both vineyards and wineries steadily increasing there are two wine routes for visitors to follow--the original on Rancho California Road and now a second, De Portola Road. Some of these wineries with tasting room and restaurant have become destinations in themselves.
Ponte Family Estate is an excellent example of a winery that has shaped itself as a destination. It offers a complete winery experience including touring surrounding vineyards, its large recreation hall ideal for weddings or small hobby or trade shows as well as a classic garden for weddings. Then there is the board room for small meeting groups, the Barrel house where groups can enjoy cellar style dining, a tasting room and extensive gift shop and perhaps most popular of all its restaurant offering both inside and patio seating. Outside are tables with umbrellas and view of the vineyard.
Executive Chef Clay Blake shows an extensive menu of items that match the vintages of winemaker Mark Schabel. This restaurant is so popular that on weekends advance reservations are suggested. The restaurant is open for luncheon daily and diners are served Friday and Saturday evenings.
The Ponte Family is very proud of its Italian heritage and has created an ambiance and style of wines that reveal that heritage. All the wines are produced from Temecula Valley grapes.
Old Town Temecula offers visitors the opportunity to taste the wines of eight Temecula Valley wineries. Now visitors can park their cars and leisurely walk from one tasting room to the next. On our visit we stopped at Tesoro Winery tasting room to meet with Owner Buzz Olson. Tesoro opened its Old Town tasting room two years ago at 28475 Front Street. We tasted and liked the 2007 Tesoro Riesling, a silver medal winner as well as a 2006 Paso Robles Sangiovese. Etienne Cowper is the winemaker and we thought the Sangiovese outstanding. We also stopped by the Lorimar Winery tasting room at 43032 Main Street. Mark Manfield and Lawrie Lipton are the vintners.
Now in place is the Ultimate Old Town Wine and Dine Walk. For $25 visitors receive a Logo glass and two tastes at each wine location. Besides the wine tastes restaurants are also participating in the promotion , most offering ten per cent discounts on food sales. The card also displays a map showing the location of each participating business. On presenting the card that entry is punched. If all are punched the cared can be turned in for the month drawing that includes a Custom Gift Package. In all 17 businesses are part of the Wine and Dine event.
One day our group participated in a cook-off at the award winning Iron Chef Restaurant in Old Town Temecula which proved to be an exciting contest. After an introduction by Chris Baily, chef and proprietor, he explained that our group of Writers would be placed in two teams, each team to prepare an appetizer or entree.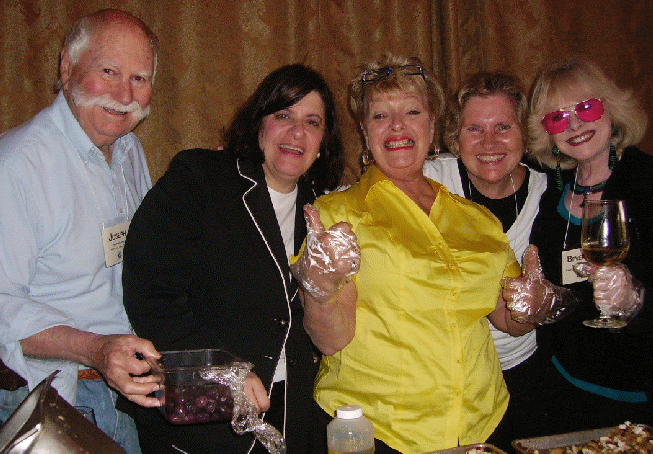 Teams were divided equally by those who 1. cook a lot; 2. sometimes cook and 3. can't or won't cook. Each team put their collective skills, or lack of same, to prepare the dish which also had to be paired with a matching wine. This Writer's team prepared a mouth watering breast of chicken which we named Chicken Aladdin since it included Mediterranean flavors. The other team came up with a tantalizing appetizer of sauteed shrimp with three unique sauces. Then each team served the other their creation. We all agreed that the contest should be declared a draw.
Our wines were Baily Chardonnay and a White Meritage of Sauvignon Blanc and Semillon. The wines are made by Chris'' Father, Phil Baily, respected veteran Temecula winemaker and winery owner.
This event is something Chris Baily does on a regular basis for groups calling it an Iron Chef Cooking Adventure. The Front Street Bar and Grill and Iron Chef Restaurants are located at 28699 Old Town Front Street.
Upcoming to Temecula is the annual Wine and Balloon Festival which will take place June 4-5-6. This event traditionally draws thousands of people for wine touring, balloon rides and entertainment by celebrity musicans. And then there is Pechanga Resort, the largest Casino Hotel complex in California.
Vittles will continue our coverage of Temecula in the next issue.
Back to Table of Contents..

Last Update:6/10/10
&copy 2010 Joe Hilbers All Rights Reserved.
Graphic Design by Impact Graphics