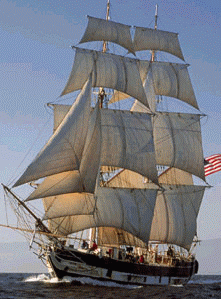 California Riviera--For the visitor there is much to see on the 'Gold Coast'
The saying goes "So much to do, so little time". This certainly applies to any visit to Southern California's Riviera, the Gold Coast if you will. One of this Writer's objectives on this visit was to tour the Brig Pilgrim, located at Dana Point, named for the man who made it famous. Here is moored a full sized replica of the ship that Richard Henry Dana shipped on in 1843 from Boston and destined for the 'hide trade' in California, then still a part of Mexico.
The book about his experiences "Two Years Before The Mast" captured readers not only in America but Europe as well. And there is the memorable passage in the book where he described how they cast the hides off the cliffs to the beach to then be loaded aboard ship. This is now Dana Point and the cliffs are still to be seen and was of course later named for the Author.
On board the first thing one notices is how small the Brig really is, how tall the masts and how grim life on such a vessel must have been for months and often years. One marvels how such ships, and men, managed to survive the storms rounding Cape Horn.
The replica of the Pilgrim was built in Denmark in 1945 as a three masted schooner for work in the Baltic. It was converted to the dimensions of the original Pilgrim in Spain and sailed into Dana Harbor in 1981.
Our personal tour was conducted by Tracy Kirby, assistant program director at the Ocean Institute, and in her six years there has become 'an old salt' in her knowledge of the Pilgrim and her sailing ability as one of the volunteer crew. For it is a cadre of dedicated knowledgeable volunteers who keep the Pilgrim maintained, not a small task for a 62 year old wooden ship.
The Brig Pilgrim is moored at Dana Point Harbor in front of the Ocean Institute. It is open to the public on Sundays from 10 a.m. to 2:30 p.m. For more information check the web at www.oceaninstitute.org.
For most of a century Laguna Beach has been regarded as a haven for the arts. Indeed the Laguna Beach Arts Association will celebrate its 90th anniversary next year. And in 1978 the Laguna Museum of art was founded which in 1987 became the current Laguna Art Museum. The Laguna Art Museum enjoys a wonderful location situated adjacent to Heisler Park and views of the City's shoreline. Its theme is California and its permanent collection includes works of some 800 artists representing a span from early 19th century to the present. And there is always a collection of changing and guest exhibitions.
One currently on display is entitled "East Coast/West Coast and Beyond", by American Impressionist the late Colin Campbell Cooper. It includes some 50 works. Cooper's career from 1858 to 1937 includes his time first on the East Coast and then residence in California. Another exhibit displays the work of Los Angeles based Jeremy Kidd entitled "Fictional Realities". We visited the Museum on a remarkable January day of sunshine without a hint of winter. We strolled through Heisler Park enjoying views of a calm Pacific Ocean and the cliff lined rocky shore which is a Marine and Tide Pool Preserve. Then met with Stuart Byer, director of marketing and public relations, for a personal tour of the Museum.
Laguna Art Museum is located at 307 Cliff Drive and Pacific Coast Highway in Laguna Beach and is open daily from 11 a.m. to 5 p.m. Admission is $10 for adults, $8 for seniors, student and military and free for children under 12. For more information call 949 494-8971, on the web at lagunaartmuseum.org.
One evening, at Dana Point, we joined the Academy of Culinary Professionals at acclaimed Gemmell's Restaurant located at the Harbor. For this discriminating group of gourmets, some 35 strong, Chef Proprietor Bryon Gemmell produced a memorable menu. After cocktails and hors d'oeuvres we opened with the Chef's own Pate de Rabbit followed by Oyster Rockefeller Pernod. The six wines served that evening were all from Clos La Chance, the Santa Clara Valley winery we had visited just three months earlier. With the Pate a Sauvignon Blanc was served followed by a Viognier with the Oyster. All at our table agreed the Viognier was an outstanding bottle of that varietal.
Next came Watercress Soup, this French dish with La Chance Rose. With the Souffle of Scallop our wine was Chardonnay. Our entree was Wild Boar in a Grand Veneur sauce accompanied by pureed celery root, chestnuts and baked apple with berry topping. The wine was Syrah which we thought one of Stephen Tebb's, La Chance winemaker, very best vintages. Still to come was the dessert, Praline of Savoury Pastry, cups filled with assorted ice creams and served with La chance Cabernet Sauvignon. Gemmell's is a family restaurant with son, Paul Gemmell as Maitre D and Host while his Father displays his culinary artistry in the kitchen.
The family has operated the successful restaurant at Dana Point for six years.. It offers a contemporary Old World decor and ambiance with two dining rooms and a petite full service bar. Located at 34471 Golden Lantern in Dana Point Harbor Gemmell's is open for lunch and dinner seven days a week with free off street parking. For reservations call 949 234-0063. For information on joining the Culinary Professionals call Doris Crandall at 714 533-7644.
One of the many fine State Beach Parks on the South Coast is Doheny located at Dana Point. Just about all outdoor recreational activities abound at this State Park with over a mile of sandy beach and for most of the year warm water. There are 121 family campsites and another 170 picnic tables and 99 barbecue grills on a special five acre reserved area.
At the entrance to Doheny State Beach Park there is a Visitor Center with aquariums, a simulated tide pool and splendid collection of mounted animals and birds that inhabit Southern California. There are also photos showing the early history of the park as well as local surfing greats. Children love this place. Adjacent is the Butterfly Garden where each Fall the Monarch Butterflies arrive on their migration to warmer climates each winter. The Monarch Butterfly logs hundreds and even thousands of miles on this annual migration. For more information on Doheny State Park call 949 496-6172 or on the web at www.dohenystatebeach.org.
Back to Table of Contents..
Last Update:3/1/07
&copy 2007 Joe Hilbers All Rights Reserved.
Graphic Design by Impact Graphics