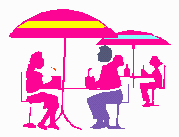 "Los Angeles--The Southern California Restaurant Historical Society paid homage to the legendary Brown Derby Restaurants "
By The Editor.
The Brown Derby, one of the nation's most famous restaurants in its time, was the subject and meeting place for the Southern California Restaurant Historical Society. At one time there were four Brown Derby Restaurants in Los Angeles. Now only one is still standing, located at 4500 Los Feliz Blvd., in Feliz Village.
Some 100 crowded into the banquet room of the restaurant to hear from two people who have written books about the legendary restaurants that served the rich and famous for five decades. Jack Lane was present to tell of his forty years as
Master caricaturist at the Hollywood Brown Derby. Also holding the audience was Mark Willems telling how he happened to write his book entitled "The Brown Derby: A Hollywood Legend". He told of interviews with the late Sally Cobb, wife of the founder, Bob Cobb, and other famous people who partied and dined there.
Jack Lane has also written a book entitled, "A Gallery of Stars--The Story of Hollywood Brown Derby's Hall of Fame. This book includes 45 caricatures of Hollywood's best known personalities of an earlier era plus original stories about each of them. Bob Cobb opened the first Brown Derby on Wilshire Blvd., in 1926 and then followed with the Vine Street location in 1929. Then followed Beverly Hills and the last was the Los Feliz which he opened in 1941.
The one hundred people, who attended the Brown Derby event, prove the interest in the Society which was only started in the Spring of this year
Bob Cobb has also achieved lasting fame as originator of the Cobb Salad, found on restaurant menus everywhere to this very day.
Back to Table of Contents

Last Update:9/5/06
&copy 2006 Joe Hilbers All Rights Reserved.
Graphic Design by Impact Graphics