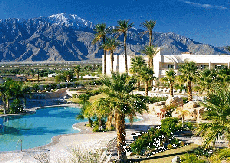 "Desert Hot Springs--Here it is the water"
.. By Joe Hilbers
Spoil thyself was the aim and our goal on our recent visit to California's desert wonderland. So we arrived at the Miracle Springs Resort and Spa like a Roman Senator on a holiday to the baths.
Located at Desert Hot Springs, one of the nine cities in the Coachella Valley, we soon settled into our room with outdoor patio and just five quick steps from one of the eight natural hot mineral spring pools cozily heated to 104 degrees.
Miracle Springs Resort and Desert Hot Springs are unique in that the location sits directly above a huge aquifer of water which has filtered down over eons from the winter snows of the San Bernardino range to the north.
The City and the Hotel and Spa are above the Mission Creek Earthquake fault and the aquifer seeps water into fault lines that produce the warm springs. But some of the 44 wells located in city limits produce an unusually pure cold water as well. Two of the wells are located on the Miracle Springs property.
Desert Hot Springs presents a different prospective to the Valley. It stands alone on the north side while all the other eight cities are clustered along Highway 111 on the south side. Located on the northern slope one is treated to wonderful views of the whole valley and surrounding mountains. On our winter visit Mount San Jacinto, with its snow covered peak, dominated the whole valley in majestic splendor.
Many hot springs located around the world produce water that includes minerals, think sulphur, that offend the nose. Not so here, while the hot water wells do have orderless mineral content, the cold ones do not making for some of the purest drinking water found anywhere in the world. While the hot water is odorless and tasteless the minerals do act as a laxative and so the warning is, do not drink. An early entrepreneur once tried to bottle the hot water but soon found his customers scurrying off most hurriedly.
With our luxurious room, outdoor patio with lounge chairs and a hot pool at our very doorstep it was tempting to spend much time lolling in it with carefree decadence. However we have always suffered from the same affliction as the 'bear who wanted to see the other side of the mountain.'
So while the body voted for more pool time and a massage, the mind said, "get off your big fat rusty dusty' and go exploring. Which is how we were able to gather what we hope are interesting facts for this story.
We found the Miracle Resort a perfect location for roaming through the Valley to do some sight-seeing. It also offers close proximity to Joshua Tree National Park. We enjoyed the City of Desert Hot Springs. It is Mainstreet USA and a refreshing change from the glitz and glamour of Highway 111.
One afternoon we learned the fascinating history of a man named Cabot Yerxa. For he was the first man, with a hand shovel no less, who discovered the hot water spring on land that is today's City of Desert Hot Springs. He also discovered a cold water spring on his property which was on 160 acres he purchased from the government for $10 in the first decade of the 20th century.
Born of white parents but raised on a Indian reservation in North Dakota he continued to have close ties with Native Americans throughout his life and the unusual pueblo he built stands as the monument to this fact. For today Cabots Old Indian Pueblo has become a national treasure. All 35 room, 65 doors, 125 windows and 5,000 square feet of it.
It was almost destroyed by short sighted city officials but one far sighted man named Cole Eyruad saved it. His efforts have resulted in the present museum, protected with loving care by volunteers, and called Cabots Museum Foundation.
We received a personal tour of the property by Michael O'Keefe who was a fountain of knowledge about the man and construction of the Pueblo which took decades and was made from salvaged wood and building material, hand made adobe bricks, and almost all of it by Cabot Yerxa himself.
What kind of man was Cabot Yerxa? At age 16 he journeyed to the Yukon to be part of the Dawson gold rush. He was a personal friend of President Theodore Roosevelt and for a time was appointed by him postmaster for Altadena, California. He was a trader, orange grove farmer, ranged as far as Panama and finally settled in what is now Desert Hot Springs.
The Pueblo, Museum and Gift Shop is located at 67616 Desert view Avenue in Desert Hot Springs and is open for tours by individuals and groups. It is becoming a 'must' visit for school children from all parts of the Coachella Valley. For more information go online at www.cabotfoundation.org.
Old Style Glitter
What has become a tradition in Palm Springs is the annual production of the Follies. The City, the haunt of Hollywood's brightest stars from its earliest days, has always had a vast reservoir of show biz talent. Seventeen years ago this aging talent was back on the boards. Performers have always ranged in age from 55 to 80 plus and each year their talent, and the looks of the chorus girls, continue to amaze one and all. This 17th year performance was a 'must see' for this Writer. All we can say is that it proved to be even better that we expected. The show kept the music and events of the 1920's. 30's and 40's alive to an audience that can still remember what 78s, 45s, and 331/3 meant to music.
As he had done since conceiving the Follies in 1992 Riff Markowitz continues as Director and M.C. The performance we watched played to a full house and as always, grey hair prevailed. The Follies at the Plaza Theater in downtown Palm Springs performs up to ten shows a week for seven months each year. For more information call 760 327-0225, on the web at www.palmspringsfollies.com.
Miracle Springs Resort
We could not have asked for more during our all to short stay at Miracle Springs Resort and Spa. General Manager Stuart Malkin and his wife, Barbara treated us with the friendliness and courtesy that the hotel is famous for. We also had the opportunity of meeting Owner Mike Bickford. The Resort has 111 rooms and suites and the Spa boosts many repeat clients who return to the Resort again and again for the Spa and those decadent 104 degree pools.
We thought it a perfect location for roaming through the Valley to do some sight-seeing and enjoy it attractions as well as its close proximity to Joshua Tree National Park which we visited and will relate more about it in a future issue of Vittles.
Executive Chef Nigel Gainor really got our attention. He hails from Canada and trained with some of that nation's top chefs and then spent some years in British Columbia. This Chef understands the selection and preparation of seafood while he considers featuring fresh vegetables as his specialty. He reigns over the Chuckwallas which overlooks the gardens and pools and two other dining rooms. There is also a full service bar and lounge.
One evening we enjoyed his barbecued wild caught salmon, prepared much like the methods used by Native Americans through the centuries. Another evening a most innovative pasta with asparagus, Chinese pea pods and garnished with sliced black olives.
We found that Miracle Springs Resort represents real value from the pricing of the rooms, spa treatments and the moderate prices in the restaurant and lounge. A true test is the fact that many of the guests come back on a regular schedule and are most possessive of it as their very own discovery.
Miracle Springs Resort & Spa is located at 10625 Palm Drive in Desert Hot Springs. Call 1 800 400-4414, on the web at www.miraclesprings.com.
Back to Table of Contents..

Last Update:3/1/08
&copy 2008 Joe Hilbers All Rights Reserved.
Graphic Design by Impact Graphics