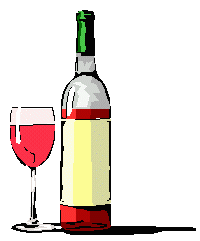 "Napa Valley--Desserts should have classic wines to match"
by The Editor's Vineyard
Call me 'old fashioned' to which I must say 'guilty as charged", but as a multi course dining experience moves to the sweet course I expect a dessert wine. Sorry but serving a Zinfandel with fruit, nut and chocolate dessert is not my thing. Zin is one of my favorite varietals, great with a tri-tip but not with dessert.
So when the opportunity came to taste two dessert wines from the Napa Valley appellation I was first in line. Richard and Marilyn Mendelson have gone back to ancestral roots in Crimea to produce the type of dessert wines that have been treasured in Europe for centuries.
We treasured the 2000 Mendelson Pinot Gris. Here was a delightful wine worthy of a pastry chef's finest creations. Equally satisfying was the Mendelson 2002 Muscat Canelli. Creamy, rich and a long finish can describe both these wines. Both wines are packaged in the 375 ml size and graced with an interesting artwork on the label thanks to Richard's talents as an artist as well as a vintner.
Best of all both these wines, while long in satisfaction, are relatively mild in alcohol, the Pinot Gris at 16 per cent and the Muscat Canelli at 14.2 per cent. Kudos here for Winemaker Charles Hendricks. Both priced at $33.
Family and Tradition
In a world where corporations seem to get ever bigger the vineyard and winery business is still largely a family enterprise. Family wineries stand for tradition, pride in their name and heritage and quality of product.
The Mettler Family Vineyards in Lodi are a great example of this tradition of grape growing. It all started with a man named George Mettler who settled in the area in the late 1800s.
Today, Larry Mettler, George's great grandson, continues the tradition and moved the family into wine making as well as growing grapes. For those of us who truly appreciate Zinfandel, old vine grapes offer a special meaning. Which made Mettler Family Vineyards 2006 'Epicenter' Lodi Old Vine Zinfandel of special interest.
The 50 year old vines are from the heart of Lodi's Zinfandel district. Think big with this wine which explains why Winemaker Barry Gnekow added seven per cent Petite Sirah and two per cent Cabernet Franc to the bottling. With 18 months in new American oak barrels the wine offers huge flavors and a long finish.
We also enjoyed Mettler Family Vineyards 2006 Lodi Cabernet Sauvignon. Three per cent Petite Sirah was added here and with over a year in French Oak. Classic to this varietal the wine offers a fruit dominated aroma and bold flavors on the palate. At $25 an exceptional bottle of wine.
Back to Table of Contents..
Last Update:3/1/09
&copy 2007 Joe Hilbers All Rights Reserved.
Graphic Design by Impact Graphics