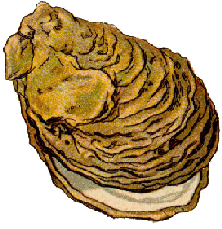 Local Seafood makes the cuisine very special
.. By The Editor
We were very impressed with the cuisine we experienced on the Long Beach Peninsula. I would not define it as a regional cuisine but rather the way chefs have taken advantage of the wonderful selection of seafood available.
We discussed the use of local seafood and produce one evening with Tony Kischner. He and his wife, Ann, operate the Shoalwater Restaurant at the Shelburne Inn. And have a remarkable l8 year history of success and national recognition.
Each year the restaurant receives the Award of Excellence by the 'Wine Spectator' for its outstanding wine list of over 400 labels. This devotion to wine began for Tony Kischner many years ago as he moved up the restaurant ladder working in some of the finest restaurants in the Northwest. His wife, Ann, has an enviable reputation as a bakery and pastry chef.
Our dinner at the Shoalwater included baked Willapa Bay oysters Parisienne topped with bechamel sauce and Asiago cheese for an appetizer. Our entree was the house specialty seafood pasta which included sauteed prawns, scallops, mussels, clams and salmon tossed over pasta with an Asiago cheese and Anisette liqueur cream sauce.
Desserts are very special at the Shoalwater and we decided on the bread pudding which Tony explained is one of the most popular with guests. Dining at the Shoalwater is elegant with a decor of Victorian times, stained glass windows and the kind of service found in the best restaurants. That evening Tony Kischner, Laurie Anderson of the Inn and I shared glasses of a Kings Ridge 1997 Pinot Noir and a 1997 Bridgeview Vineyard Pinot Gris, both Oregon wines.
Little original touches are the mark of an exceptional restaurant. At Shoalwater we were served tea in a tea pot with an English Cozy which had been knitted by Tony's mother.
Adjoining is the Heron & Beaver Pub which has a full service bar and is open for luncheon and services the Shoalwater in the evening. The Shoalwater and Pub are open seven days a week.
There was nothing ordinary about any of our dining experiences on this trip. For lunch one day we went to My Mom's Pie and Chowder House in Seaview. Every restaurant we went to seemed to have a long and colorful history.
My Mom's Pie was opened in 1979 by the late Jeanne McLaughlin in very humble quarters. Today present owner Diane Wilkie, who worked with the original founder, occupies a house that was built in 1890. Besides pies, and there are generally about twelve on the menu, the restaurant offers a very special New England clam chowder and very special sandwiches.
Our luncheon included a cup of the wonderful homemade chowder, an egg salad sandwich and some pie, all featured at a special price. Arrive at this restaurant early because its fame is widespread and all to soon all tables are filled with happy diners. My Mom's Pie is open for lunch only.
Early on we were told that we must not miss a visit to The Ark Restaurant located in Nahcotta. Situated on the edge of Willapa Bay, overlooking its own oyster beds, The Ark is the creation of a team of two women chef-owners, Nanci Main and Jimella Lucas.
They have achieved a nationwide reputation thanks to three award winning cookbooks they have authored as well as the success of The Ark which has been pleasing diners since 1981.
Our dining experience here was a delight. At the edge of Willapa Bay we watched and were watched by a cormorant who was busy with his own meal.
This is a restaurant where you would like to bring a big appetite. There were starters like roasted eggplant with wild mushroom couscous or smoked salmon and seafood cakes with caper aioli.
Traditional at The Ark is an all you can eat Oyster Feed. The oysters are presented lightly breaded and grilled. This was our choice and we have never had better oysters in our life. The oysters are presented 10 at a time and we regret to say we could only eat eight of those.
Just one of the times on this trip that we were penalized for having such a puny appetite.
Other entrees included herb crusted port tenderloin medallions; panfried sturgeon with a Madeira cream sauce and a chicken and scallops tarragon with mushrooms and artichokes with sherry and light cream.
The Ark Bakery is famous for its desserts and specialty cakes thanks to the abilities of Pastry chef Nanci Main.
The Ark's days and hours of operation vary with the season so it is best to call ahead at 360 665-5043.
Another evening we dined at Cheri Walker's 42nd St. Cafe in Seaview. We had already heard much of Cheri's cooking skills from the people of the Shelbourne Inn. Since for 12 years she had been the chef at the Shoalwater Restaurant.
In 1994 she and her husband, Blaine, bought the 42nd Street Cafe and promptly turned it into one of the premiere restaurants on the Peninsula. The keynote here is casual both in decor and the clientele. But the food is wonderful with an extensive menu that moves well past seafood. Dinner here includes homemade bread, salad or clam chowder and the entree. These entrees range from a full line of pasta dishes to seafood like Ahi tuna medallions or Parmesan baked white fish piccata.
This evening we decided to pass on seafood and had the beer basted and pot roasted beef with red potatoes, carrots and a delicious brown gravy. A nice convenience at this restaurant is the fact that you can have a regular order or a smaller portion. Fortunately we opted for the smaller portion and this arrived on a platter. This was more than ample for us and resulted on having to pass up on some tasty sounding desserts.
In Seaview 42nd St. Cafe is a neighborhood restaurant that serves breakfast, lunch and dinner. At this restaurant both locals and visitors are well served.
All the Bed & Breakfast establishments where we stayed took great pains and pride in what they placed on the table for their guests.
At Boreas Bill Verner has a kitchen that any restaurant would take pride in. He enjoys cooking and typical of his breakfasts are items like three kinds of mushrooms sauteed with sharp cheddar cheese and smoked salmon. This served with pan fried rosemary potatoes. Another of his favorites is scrambled eggs with cream cheese, lox and onions prepared in a puff pastry.
At the Shelburne Inn guests always have a choice of five different items for breakfast. David Campiche mentioned fresh Willapa oysters and suggested a Hangtown Fry. This received an enthusiastic reply from a writer who does not ordinarily eat a big breakfast.
Jim Nash at the Whalebone House Bed & Breakfast likes to include hints of downhome Southern cooking in his morning menu.
Understandable since he originally hailed from Atlanta, Georgia. So guests are often treated to dishes that include southern grits or Nash style hominy. Certainly our breakfast was a good starter for a busy day.
Back to Table of Contents..

Last Update:6/1/99
&copy 1999 Joe Hilbers All Rights Reserved.
Graphic Design by Impact Graphics