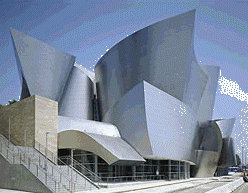 Los Angeles--Disney Concert Hall gives Downtown a big boost
.. By Joe Hilbers
Going downtown is an expression that has always had multiple meanings. In baseball it means the long ball, the home run. Politically speaking, getting some action on a given issue.
But for the people of Los Angeles and surrounding environs it has come to mean the destination for one or more leisure activities; everything from a sporting event at Staples, a dining experience at one of many new exciting restaurants or an evening at the new Walt Disney Concert Hall.
Certainly this is a remarkable change for thousands of people who for decades regarded the Central City as a place to work and nothing more. Talk about a switch. Today people are even living or contemplating such a move to the Central City.
Many old landmark office buildings are currently being converted into condos, lofts and apartments.
When you add up the Staples Arena, The New Cathedral, the Walt Disney Hall and several other buildings, you have an investment in Central Los Angeles of over two billion dollars since 1999. Staples alone has drawn thirteen million people to downtown for events since it opened in 1999.
The Walt Disney Concert Hall is sure to be a magnet for visitors and locals alike for many years to come. It is truly unique with its stunning exterior of flashing metal and the concept of the audience completely surrounding the stage will make it a must see for thousands of people who would not ordinarily attend a live concert. It has been a long time since anything in downtown Los Angeles has generated as much excitement and media attention as the opening of the Concert Hall in late October. With the CalArts Theater as part of the Hall it is already acting as a spearhead for a whole new variety of creative music in addition to being home for the Los Angeles Philharmonic and the Los Angeles Master Chorale.
In an earlier era most of the best restaurants downtown were situated in hotels. Now that has also changed due in large part to the presence of Joachim Splichel's Patina Group who now has ten restaurants in the Central City. The newest, Patina, Joachim's flagship dining house, moved from Melrose Avenue to Walt Disney Hall.
Other award winning restaurants continue their well earned fame. The Water Frill, Palm, Windows, and Zucca. Hotel dining is alive and well with L.A. Prime, situated atop the Bonaventure Hotel and Cardini's and Kyoto at the Wilshire Grand Hotel.
Additional cultural experiences are offered at the Museum of Contemporary Art and the Japanese American National Museum as well as the Cathedral of Our Lady of Angels.
And to prove just how serious the Central City Association, who has spearheaded this new look is, they recently announced that Ralphs Grocery will open a downtown super market in 2004--the first in downtown Los Angeles in 50 years.
Back to Table of Contents..

Last Update:12/10/03
&copy 2003 Joe Hilbers All Rights Reserved.
Graphic Design by Impact Graphics