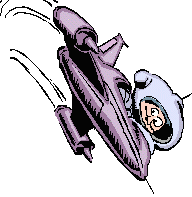 "Anaheim--Innoventions is Disneyland's newest attraction"
.
In both museums and entertainment centers a hands-on approach to exhibits is a new and welcome trend. And this is true whether at the Museum of Science and Industry in Louisville or the Petersen Automotive Museum in Los Angeles and now at the newly opened Innoventions, the latest attraction at Disneyland's Tomorrowland in Anaheim.
In a joint effort with six companies that are household names in America, Innoventions uses games, computers and a host of other interactive exhibits to give visitors a hands-on experience in modern technology of the future.
The companies that have joined hands with Disney at Innoventions include AT & T, Compaq, General Motors, Honeywell, Kaiser Permanente and SAP.
In a light hearted style that fits the Disneyland image, Innoventions has been designed for all ages in demonstrating current and future technologies.
Innoventions opened in November with the Media attending opening ceremonies done in a typical Disney style with entertaining skits and fireworks as well as introductions of principals of each of the participating companies.
Located on two levels Innoventions allows visitors to experience the many exhibits and live presentations at their own pace. Some families will find themselves hard pressed to drag their children away from some of the hands-on exhibits including a room full of computers designed to capture the imagination of both young and old.
A cyber-seat module with connecting headset will entice youngsters to experience the transportation technologies of General Motors.
The Kaiser Permanente exhibit allows visitors to conduct an ultrasound test on a pregnant mannequin, learn cardiac anatomy by walking through a giant heart and see how MTI scans internal parts of the human body.
With Tomorrowland's Innoventions plan on spending more time at Disneyland on your next visit, especially if the children or grandchildren are along.
Back to Table of Contents

Last Update:1/1/99
&copy 1999 Joe Hilbers All Rights Reserved.
Graphic Design by Impact Graphics