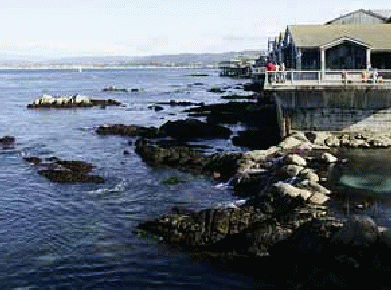 "The Monterey Aquarium offers diverse features" By The Editor
.
Aquariums everywhere have moved on from merely exhibiting creatures of the oceans to becoming educational institutions to educate people on the importance of protecting and sustaining sea life its environment. In the forefront of this movement has been the Monterey Aquarium. On our most recent visit to attend the Cooking for Solutions event we met some interesting people and toured some businesses that look to the future.
One morning we had breakfast with Bill and Doris Cooper of Cooper Garrod Vineyards who is actively studying innovative farming practices on a portion of one vineyard.
It was a delight to meet Katrina Fetzer who is now marketing manager for her father, Jim Fetzer. Ceago Vinegarden, located adjacent to Clear Lake, is the creation of Jim Fetzer and is pioneering many new techniques in vineyard cultivation including organic and biodynamic farming. We told Katrina that we had the pleasure of touring Ceago two years ago.
We happily renewed acquaintance with Judy Wicks, whose White Dog Cafe in Philadelphia has been a leader for two decades in responsible animal husbandry as well as a forum for social issues. We first visited the White Dog Cafe almost a decade earlier and was impressed then with the influence a restaurateur can really have in a community. White Dog Cafe's Chef, Andrew Brown, was one of several chefs who became Celebrity Chef Ambassadors for the Aquarium.
Our stay in Monterey was at Casa Munras. We loved our cottage style room with fireplace, writing desk, king size bed and the convenience of parking at the door. The only downside was our lack of time to enjoy the pool or the patio, lounge and Esteban restaurant at the hotel.
Hotel Casa Munras is located at 700 Munras Avenue, Monterey, Telephone 800 222-2446, web hotelcasamunras.com.
Our explorations in Monterey included a tour of aquaculture as practiced by Monterey Abalone Company. Partners Trevor Fay and Arthur Seavey gave a group of journalists, attending the Solutions event, a close-up view of how abalone can be raised commercially. Located at the end of Municipal Wharf #2 the company has been raising Red Abalone for commercial sale since the early 1990s.
Today the partners harvest 12,000 pounds of the mollusk each year and enjoy the happy position of having overwhelming demand for their product. Raised from thumb nail sized seed stock it takes four years before the abalone are ready for harvest. Both in sustainability and having a positive effect on the ecology of Monterey Bay the Partners have a model for what is destined to become an ever bigger industry. They ship abalone in all parts of the country. For more information call 831 646-0350, web www.montereyabalone.com.
We spent one happy morning as guests of Drew and Myra Goodman, proprietors of Earthbound Farm located in the Carmel Valley. Earthbound Farm has given real meaning to the word Organic. One could call the Goodmans pioneers in organic agriculture since their beginning the Farm in 1984. Over the years they have received national attention and awards for their achievements at Earthbound Farm.
In the Carmel Valley people can buy produce grown there, picked thee and sold same day fresh--all grown without fertilizers yet bursting with nature's flavors. Best of all the public besides having the opportunity to buy organic produce can arrange to tour the facilities and see for themselves how it all comes together.
In addition all these goodies can be tried on the spot with Executive Chef Sarah La Casse showing items like curried sweet potato soup, two veggie pizzas as well as Panini sandwiches like Filet Tips or Mushroom Mozzarella. The Salad bar is always special and the menu changes daily.
From May till October the first Saturday of each month is reserved for public tours on special events as three festivals. For more information call 831 625-6219, on the web at www.ebfarm.com.
Back to Table of Contents..
Last Update:9/1/08
&copy 2008 Joe Hilbers All Rights Reserved.
Graphic Design by Impact Graphics