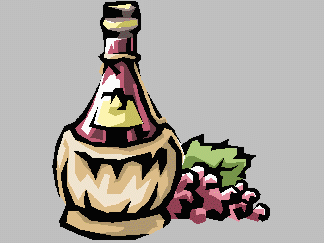 "Oxnard--WINO matched Rancho Ventavo Cellars with La Dolce Vita Restaurant for an exciting Heritage Square patio dinner"
by The Editor's Vineyard
Heritage Square in Oxnard proved to be the perfect place for a grand preview of the wines of Rancho Ventavo Cellars. The restaurant was La Dolce Vita and the event a meeting of the Ventura Chapter of Wine Investigation for Novices and Oenphiles.
Vintners George Gilpatrick and Faye Hawes of Rancho Ventavo Cellars, long time members of WINO, were on hand to personally introduce their wines to the 145 members that thronged the Heritage Plaza al fresca dinner.
Their vintages, from the nearby winery in Moorpark, perfectly matched the exciting dinner that was prepared by Michelle Kenney, proprietor of La Dolce Vita and her talented staff. Opening with an Antipasti course of baked rolls filled with Italian Meats and Cheeses was the Rancho Ventavo 2006 Tempranillo produced from Santa Barbara County grapes.
With a salad of Goat cheese, roasted beets and hazelnuts with Balsamic Vinaigrette the wine was George and Faye's 2005 Cabernet Franc also from the Santa Barbara appellation.
Michelle Kenney has operated La Dolce Vita in Heritage Square since 2006 but she and her family owned and operated several restaurants over a period of decades in Oxnard.
In the Square that now houses stately mansions and houses from an earlier era in Oxnard, La Dolce Vita is in the Laurent-McGrath House dating from 1901. The restaurant includes a full service downstairs bar and lounge and then on two levels restaurant dining featuring classic Italian cuisine.
Next course to arrive for the enthusiastic WINO group was the Gnocchi Gratin with pine nuts and gorgonzola Dolce. With this course the wine was Rancho Ventavo 2005 Syrah with grapes sourced in Paso Robles. As usual Founder and Chairperson of WINO, Jeanne Bartlett, introduced George and Faye to open the gala event, and then had Faye Hawes offer comments on each vintage as it was presented.
Entree for dinner was Almond and Chipotle encrusted pork loin stuffed with porcini, bread crumbs and assiago with roasted garlic mashed potatoes and creamed spinach. The wine was a much admired 2005 Cabernet Sauvignon again from a Paso Robles neyard.
Winemaker George Gilpatrick's pride, a 2005 Zinfandel from the Sierra Foothills, was the vintage to match the Praline pecan flourless chocolate cake with maple infused whipped cream served as dessert.
La Dolce Vita is open for luncheon and dinner six days a week, closed Mondays. It is located at 740 South B Street in Heritage Square with free off street parking and, besides outstanding Italian cuisine, offers live entertainment on weekends. For more information call 805 486-6878.
Back to Table of Contents..
Last Update:12/9/08
&copy 2008 Joe Hilbers All Rights Reserved.
Graphic Design by Impact Graphics