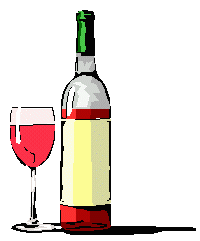 Little Black Dress Wines show both in quality and at celebrity award and charity events..
.. By The Editor's Vineyard
We liked Little Black Dress wines, not only for the quality and value they offered, but also for the way the brand supports the Clothes Off Our Back Foundation. This Foundation raises money for children's charities through the auction of celebrity dresses worn by stars attending Award functions including the Emmy and this year's Oscar event.
Little Black Dress wines, which are featured at Award events and include celebrity-signed bottles, offer an cleverly designed embossed package. Charlie Gilmore is the winemaker at the Hopland, Mendocino winery and the wines are sourced from grapes mostly from the North and Central Coast. We tasted some of the wines including a 2006 Pinot Grigio, 2005 Merlot, 2006 Chardonnay and an unusual 2006 Syrah Rose.
The Merlot is 100 per cent of the varietal and displays fruit in both aroma and on the palate. We thought the wine remarkably smooth with a soft pleasant finish which showed its time in mostly French oak. Besides celebrity dresses women should love the Pinot Grigio. Here Gilmore has added small amounts of Muscat and Viognier which shows in floral aromas and citrus flavors. Syrah is presented here as a Rose and it brings light refreshing flavors and softens this hearty varietal.. Winemaker Gilmore has kept all these wines at about 13.5 per cent alcohol.
Remarkably the Little Black Dress wines, with their eye-catching embossed bottles and evident quality, are in the $10 range. We found good value here. If you are a fan of screen and TV stars and interested in the auctions go on the web to www.clothesoffourback.org. For more about the wines www.littleblackdresswines.com.
All in a Name
Wine labels have moved in recent years to catchy, marketable names and now add Fat Cat Wines. With a label showing a cat playing a jazz piano the wines look to a growing youth oriented market. However Winemaker John Allbaugh shows some delightful vintages tailored for this emerging wine group. We tasted the 2006 Fat Cat Pinot Noir and liked its clean smooth flavors as an introduction to this Burgundy varietal.
We also tried the 2003 Fat Cat Cabernet Sauvignon noting the vintage year and thought it an exceptionally good value with its dark hues, mellow aroma and robust flavors. Both these Fat Cat wines sell for $10 and John has kept the wines to 12.8 and 12.9 per cent alcohol.
Winemaker Bob Stashak might have had us in mind when he produced his 2006 Napa Ridge Sauvignon Blanc from Napa Valley grapes. This varietal is one of our favorite white wines for its versatility either for picnic or with main course dinners. Lots of fruit shows here both in aroma and on the palate. Nicely priced at $12 for a Napa appellation wine.
Found, a Chardonnay with all the flavors that make this varietal to popular and with a winsome 13.1 alcohol. Winemaker Stashak went to Lodi for the grapes in this crisp, fruitful vintage. a 2006 Harlow Ridge Chardonnay. Just right for either cocktails or dinner. Priced at $10.
Back to Table of Contents..

Last Update:6/10/08
&copy 2008 Joe Hilbers All Rights Reserved.
Graphic Design by Impact Graphics