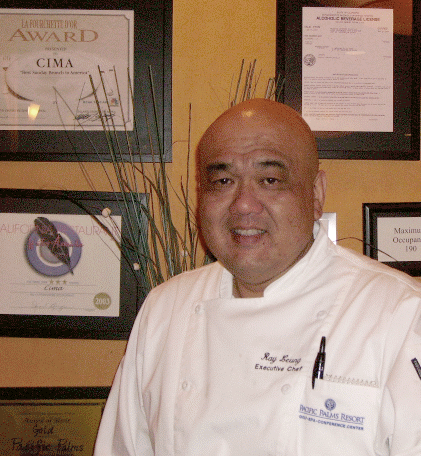 "City of Industry--There is nothing quite like Cima's 'East Meets West' buffet extravaganza"
.
The Friday and Saturday night East Meets West dining extravaganza at Cima in the City of Industry is more than about eating. Rather for many it is a family gathering with ages from toddlers to grandparents enjoying an evening of sociability over fine food.
And what dining it is with chef tables and action stations offering everything from oysters on the half shell to sushi to Chinese pot stickers to German chocolate cake for dessert. The seafood station is a marvel in itself offering five kinds of oysters, jumbo shrimp, mini crab claws, giant New Zealand mussels and Alaskan crab legs.
We started at the Shabu Shabu Station where an assortment of meats, seafood and Asian vegetables are poached to order in a ginger broth. Here too handmade pot stickers and dumplings amd baked lobster are made as one watches. Cima prides itself on offering a Pacific Fusion Cuisine and this is very evident at the East Meets West buffets. We then moved to the lavish seafood display.
Chef's Creations include jumbo spiced scallop, fried silver cod with Tamari soy sauce. There is also the carved beef and roasted BBQ style Peking duck with steamed lotus buns. Also a BBQ station where seasoned tuna steaks, lamb chops or Thai marinated chicken are grilled to your order.
Besides the excellent wine list there is a worldly selection of beers from different countries. And the buffet has its own selection of refreshing fruit smoothies in nine flavors, everything from banana to Mango. Also it was fun watching children sipping with a straw from whole coconuts with obvious satisfaction.
Cima is a very large restaurant with additional patio dining and adding to its other charms offering a wonderful view to the San Gabriel range dominated by Mt. Baldy. Admittedly we passed on some of the Asian dishes like marinated jellyfish or the Kimchee.
Without shame we also visited the huge display of pastries and confections from traditional American goodies to Asian confections.
As good as the food was the atmosphere of people in large groups thoroughly enjoying a full evening of social interaction which is in the finest tradition of dining. The East Meets West Experience takes place every Friday and Saturday evening from 6 to 10 p.m.
Cima Restaurant is located at Pacific Palms Conference Resort in the City of Industry at One Industry Hills Parkway. For more information call 626 854-2335. There is both valet and free parking. Back to Table of Contents

Last Update:3/1/07
&copy 2007 Joe Hilbers All Rights Reserved.
Graphic Design by Impact Graphics