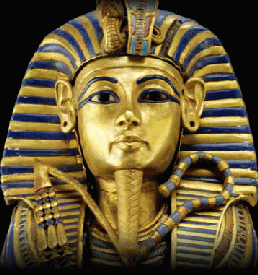 "Santa Ana--Bowers Museum adds to its growing prestige with major exhibitions and an exciting expansion program"

When Napoleon took a team of 150 scientists and educated men with him to Egypt he started a fascination with that ancient civilization among people the world over. And ever since each generation continues to study and marvel on a people and society that flourished long before any other came into being. One has only to point to the popularity of the King Tutankhamum exhibition that toured Los Angeles last year.
As part of this Writer's current study of ancient Egypt a visit to The Bowers Museum in Santa Ana was a must. For on loan from the British Museum's famous Egyptian collection the Bowers has been featuring a wonderful exhibition of mummies, coffins, trappings of the dead complete with gold jewelry and a wooden boat to transport the dead to the afterlife..
The Bowers Museum has a long tradition of exhibiting the world's greatest cultural art. Its own collection showing the art of African, Native American and pre-Colombian cultures is exceptional and provides a wonderful learning experience for people of all ages.
There is also a wonderful collection of landscapes entitled California Plein-Air paintings. Since the beginnings of our own most modest efforts with oil painting this exhibit captured both our appreciation and a certain degree of jealously. Most of the art works are from California painters from the late 19th century through the early years of the 20th. The paintings all show California scenes familiar to anyone living in the Golden State.
There is much to see and savor in this museum so allow yourself plenty of time. If you have children you must allow time for them to take the Kidseum tour which is a hands on version just for younger children.
In its six decades the Bowers Museum it has evolved into a wonderful cultural asset for Santa Ana and Orange County as well as Southern California as a whole. At this writing a further expansion will be nearing completion which will add another 30,000 square feet and will be known as the Donald and Dorothy Kennedy Wing. It will include new galleries, a 360 seat auditorium and indoor plaza.
The Bowers Museum is located at 2002 North Main Street in Santa Ana just off Interstate 5. It is open 10 a.m. to 4 p.m. Tuesday through Friday and 11 a.m. to 4 p.m. on Saturday and Sunday. For more information on admission prices and special exhibits call 714 567-3600 or on the web at www.bowers.org.
Note: The Editor decided to write his byline in Ancient Egyptian Hieroglpyh.
Back to Table of Contents..
Last Update:9/15/06
&copy 2006 Joe Hilbers All Rights Reserved.
Graphic Design by Impact Graphics