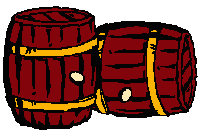 "San Francisco--Chefs meet the clallenge at Quady Elysium competition"
The Editor's Vineyard

The Quady Winery recently held its annual pairing competition where chefs prepare entrees using the Winery's unique Elysium, made from black muscat grapes. The event took place at the Monaco Hotel in San Francisco.
First place honors went to Chef Fabrice Roux of the Grand Cafe in San Francisco. Second place to Michael Schley of U Street, San Francisco and third place to Neil Marquis Pleasanton Hotel, Pleasanton. This year the chefs used the unique Black Muscat Elyium in entrees. In some other years it has been a dessert competition.
Nine chefs competed some from other cities including Yountville and Lodi. The yearly Quady competition alternates between San Francisco and Los Angeles.
The six judges were impressed with how well the competing chefs matched Elysium, a sweet dessert wine, with their creative entrees. In his winning recipe French born Chef Roux included roasted rack of venison with a gratin of Yukon gold potatoes.
Back to Table of Contents..
Last Update:12/1/05
&copy 2005 Joe Hilbers All Rights Reserved.
Graphic Design by Impact Graphics