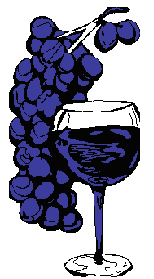 "New varietals from Winemakers offer consumers exciting choices"

By Editor's Vineyard
.
Enjoying wine is all about sharing. There is nothing like uncorking a truly good bottle of wine for appreciative guests. Writing about new varietals offers that same sense of accomplishment for this column.
It is interesting that Syrah, a native of France's Rhone Valley, has achieved its greatest fame and success as an immigrant, first in Australia and now California. Syrah, popularly called Shiraz, is now the fastest growing wine type in the U.S. In one year sales have climbed over 60 per cent, with the popularity being shared between imported Australian and California vintages.
And with the introduction of Reynolds Vineyards to the U.S., a new Australian wine venture from Trinchero Family Estates, add still another Shiraz. All of Reynolds grapes are from a cool climate region of New South Wales. The 2001 Reynolds Shiraz has the full tannins, deep red color and intense flavors one has come to expect from this varietal.
Other Reynolds wines introduced to the U.S. for the first time include Merlot, Cabernet Sauvignon and Chardonnay, all from 2001 and all priced at $10. We thought the Reynolds 2001 Chardonnay a complex vintage thanks to some malolactic fermentation and six months in oak before bottling. Both fruit and oak are prominent in this wine.
The way to new varietals is everywhere. Classic Wines released three white summer wines refreshing both to the palate and the budget and offer a good way to explore some different varietals.
More and more California, and Washington, vintners are producing a Pinot Grigio. We tasted the 2001 Forest Glen Pinot Grigio and liked both is tart flavors but also its crisp finish, just right for picnics. Gewurztraminer is another excellent summer wine and the Forest Glen 2000 Grand Crus vintage, priced well under $10, is a winner for sipping on the patio. Another Rhone Valley wine that is attracting attention of California winemakers is Viognier. The 2000 Montpellier Viognier is a good example of this varietal and priced well under $10.
Still another favorite white wine is that immigrant from Germany, Johannisberg Riesling. Woodbridge by Robert Mondavi recently released its first bottling of this grape, a 2001 Johannisberg Riesling using grapes from Monterey County. Winemaker David Akiyoshi kept the wine in stainless steel in maintain the varietal's crisp fruit flavors and added small amounts of Viognier, Malvasia and Orange Muscat for even more aroma both in nose and palate. It is still another pleasant wine for casual dining and priced well under the $10 mark. Also under the $10 mark is the Woodbridge 2000 Chardonnay. Winemaker Miguel Martin designed this vintage to emphasize the fresh fruit characteristics of the varietal and only allowed small lots of the vintage to touch any oak. Small amounts of Semillon and Viognier were added for complexity. We thought this an excellent everyday cocktail wine.
Its nice to welcome back some wines from New Zealand. In that country Sauvignon Blanc takes on a character all its own. Brancott Vineyards are on New Zealand's South Island in a district called Marlborough. And from that region is the 2001 Marlborough Reserve Sauvignon Blanc. The vintage is crisp with exceptional fruit flavors and a very full nose. Also from Brancott the 1999 Marlborough Reserve Pinot Noir.
This was the first New Zealand vintage of this grape that we tasted in a long time and we were impressed with the classic velvet texture that this varietal can produce as well as a softness both in aroma and palate. The wine had a year on French oak and is ready to drink. Both these New Zealand imports priced under $20.
Winemaker Bob Stashak of Napa Ridge has produced a different style wine with his newly released 2000 Napa Ridge chardonnay. Again using fruit from Napa Valley vineyards the wine was fermented over the lees in French oak and then aged in American oak. A complex vintage is the result with a balanced palate ready to enjoy either as a cocktail wine or with food.
Also released is the 1999 Napa Ridge Cabernet Sauvignon. This vintage was produced in the new Napa Ridge Winery that opened last year in Napa Valley. Grapes from the Napa Valley appellation were used in this vintage which was aged in American oak barrels. Cabernets aged exclusively in American oak has a distinct style, one we should add, that we like very well. Both the chardonnay and cabernet sauvignon represent exceptional value for wines with the Napa Valley appellation being priced under $15.
The wine consumer is king these days with so many choices. From Washington State we tasted the Sagelands Vineyard 2000 Merlot. Using grapes from all parts of the Columbia Valley Winemaker Frederique Spencer produced a vintage that is flush with flavors yet with enough tannins promising a long life. Spencer added 10 per cent cabernet sauvignon and gave the wine a year in French and American oak.
We tasted the Washington Merlot alongside Dynamite Vineyards 2000 Merlot produced from grapes grown in California's northern coastal counties. Randall Watkins fermented the grapes in small lots and only after a year in French and American oak were they blended together. He added six per cent cabernet sauvignon for added finish. Rich flavors here and deep aromas. This merlot will age well but why wait.
Something different is the White Merlot that has been released by Forest Glenn. Winemaker Ed Moody has produced a merlot with rose color and blush but in taste the merlot varietal appears. Released as Forest Glen 2001 Forest Fire White Merlot it is a low alcohol wine at 11.9 per cent and priced under $10. Devotees of white zinfandel will enjoy this vintage.
Tom Westberg, winemaker for Echelon Vineyards, in still another who is moving on to new varietals with the release of his first Pinot Grigio. The 2001 Echelon Pinot Grigio is primarily from Edna Valley pinot gris grapes with 13 per cent viognier added to the blend.
The wine has a touch of barrel aging but is refreshing light and crisp on the palate. It can be a pleasant diversion from chardonnay. Westberg has also produced a 2001 Echelon Viognier. We personally like this varietal and enjoyed this vintage's aromas and a finish that lasted and lasted.
It is interesting that viognier which received little attention in its native Rhone Valley has developed into such a delightful wine in California. In France it was often considered just a blending wine.
With the Echelon 2000 Cabernet Sauvignon Winemaker Westberg added 23 per cent Petite Sirah to the blend. An unusual combination but the result is an excellent wine balanced nicely with a full palate and the promise of much longevity. All these Echelon wines are priced under $15. We like the way Winemaker Westberg keeps moving to new varietals. Echelon also has released a 2000 Syrah. This varietal is becoming ever more popular in the marketplace. We noted that Westberg used 9 per cent Viognier and 6 per cent Alicante in this vintage.
This was of some interest to us since Alicante is a much traveled grape, originally from the French Midi district, and is grown in North Africa and Spain. In an earlier California era is was a popular red varietal but one that we have heard almost nothing about in recent years. I believe it was one of the varietals my Grandfather used in making wine during Prohibition. Anyway the 2000 vintage of this Syrah is a very pleasant glass of wine with much aroma and long flavors for the palate.
Geyser Peak is producing some single vineyard wines under the title of Block Collection. Newest release in this series is the 1999 Alexander Valley, Kuimelis Vineyard Cabernet Sauvignon. Both American and French Oak was used in the 15 months the wine was in the barrel. This is a complex vintage with intensity in both aroma and flavor. A vintage that adds prestige to this series of Geyser Peak wines. Superior quality for a wine in the mid $20 range.
The 1999 Reserve Merlot from Geyser Peak is a big wine in every sense. Rich flavors here and astounding intensity for a wine of this varietal. At 14 per cent alcohol this vintage gives a new meaning to a Merlot and should have a very long cellar life. It is not a wine for everyday drinking and is priced accordingly.
Canyon Road, also from Peak Wines International, has released its 2001 Chardonnay. Priced under $10 it is a very good bottle of wine with much fruit in both aroma and flavor and very soft on the palate. Just a hint of oak for additional flavor and serves nicely both as a cocktail and dinner wine.
Napa Ridge Winery has a second label called Coastal Ridge which has received national recognition for offering exceptional wines at very affordable prices. The two vintages that we recently tasted confirmed this view. The 2000 Coastal Ridge Shiraz at well below $10 is a very good dinner wine and really an excellent vintage of this Rhone Valley grape that is becoming increasingly poplar with the American consumer. Complex flavors with a soft finish and available both in 750 and l.5 liter sizes.
The 2000 Coastal Ridge Chardonnay has barrel aging that is noticeable in its flavor and finish, unusual for a wine in its price category. Winemaker Bob Stashak has designed both the Shiraz and Chardonnay as food wines affordable for everyday enjoyment. Both these wines are on the mark in this design.
Another plus in the ever changing wine business is that fact that consumers now can buy varietal wines at about the same price that they once paid for generic wines. This is a growing trend that will only continue. A good example is the ForestVille label of Classic Wines. Value is the emphasis here. Winemaker Michael Donich has just released two 2000 vintages under this label. The 2000 Chardonnay is dominated with fruit flavors and satisfies as a good everyday accompaniment to many dishes.
The 2000 ForestVille Merlot has surprising body and a smooth well developed finish. Both these bottlings at $6. retail make wine with every meal truly affordable. An expressive compliment from an era early in the last century was, "Yes sir, that fellow really knows his onions." We haven't heard it used in decades but it could very well apply to Kevin Mott, newly named winemaker for Canoe Ridge Vineyards in Walla Walla, Washington. All in all Kevin has 16 years experience with grapes and vintages of the appellation.
Once again Kevin Mott sent this writer a bottle of his newly released Merlot along with some Walla Walla Sweet Onions. Kevin Mott likes to point out how the soils and climate of the Columbia Valley result in unique products, whether grapes or onions.
We liked the Canoe Ridge 2000 Merlot. Like so many of the wines of this region, it offers a unique softness on the palate while still having much body and flavor. We enjoyed the wine but may have to give the Sweet Onion Quiche recipe he also sent to someone better qualified in the kitchen.
Sometimes we open a bottle of wine with some reluctance since we know that a few more years of bottle aging will make it a truly special sipping experience. This was the case recently when we tasted a bottle of 1999 Geyser Peak Reserve Cabernet Sauvignon. This is a Sonoma vintage at its best, deep in color, an explosive nose and full flavors of the fruit on the palate. Higher in price and reserved for that special occasion and a good vintage to tuck away for a few more winters.
For a 20th anniversary bottling at Kendall-Jackson Winemaker Randy Ullom pulled out all the stops in producing a 20th Harvest 2001 Chardonnay. Ullom used vineyards from up and down the Central Coast to make this wine with 100 per cent malolactic fermentation. Then with seven months in French and American Oak. Besides the expected fruit in both aroma and taste this wine offers a wonderful creaminess that make some chardonnays such a delight. It is being released for the Holiday Season in a special package and is priced under $20.
Back to Table of Contents

Last Update:10/1/02
&copy 2002 Joe Hilbers All Rights Reserved.
Graphic Design by Impact Graphics