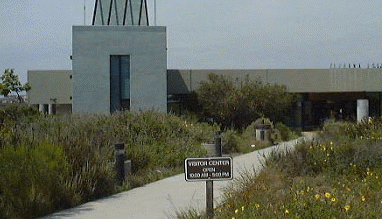 "Imperial Beach--The story of an amazing comeback for the Tijuana Estuary"
by The Editor
The Tijuana Estuary is an environmental success story. The Tijuana River flows mostly in Mexico but its outlet is on the U.S. side of the border. In 1980 the Estuary was a disaster, a site of an industrial dump filled with debris, old cars and litter. But that was also the year it was recognized that the Tijuana Estuary was one of the few remaining in California.
Today it is designated the Tijuana River National Estuarine Research Reserve and is managed jointly by the U. S., Fish and Wildlife Service and the California Department of Parks and Recreation.
The Estuary now has 2,500 acres and is one of the few complete wetland systems left in the State that has daily natural tides flowing in and out of the land. We found the Estuary Visitor Center quite by accident one day while wandering around Imperial Beach. At the Center we met Ranger Ruth Kemeret.
Ruth and this Writer seemed to have a lot to talk about while I admired the exhibits which include both flora and fauna native to the area. Adjacent to the Center are four miles of trails that include excellent viewing places for observing the numerous bird life.
Early on it was decided to restore the Estuary with Native plants and for visitors to become familiar with these plants a Five acre garden was developed. At the Center there is a schedule of programs many directed to children.
The Tijuana Estuary and Center is located at 301 Caspian Way in Imperial Beach and there are highway signs with directions. It is open Wednesday through Sunday from 10 a.m. to 5 p.m., Closed major holidays. For more information call 619 575-3614 or on the web at www.tijuanaestuary.com.
Back to Table of Contents..
Last Update:8/9/09
&copy 2009 Joe Hilbers All Rights Reserved.
Graphic Design by Impact Graphics