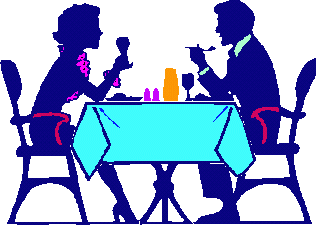 "Long Beach--Some exciting dining awaits the visitor"
The Editor
One must add exciting dining to the other many attractions that Long Beach offers locals and visitors alike. Downtown Pine Avenue has evolved into "Restaurant Row" with the choice of many ethnic cuisines.
Much of credit for this fame that has made Pine Avenue into what it has become is a triumvirate known as the Dell'Opera Restaurant Group. Enzo De Muro, Terry Antonelli and Patrick Beretta own and operate three outstanding restaurants on a single block of Pine Avenue.
They are the highly rated L'Opera and The Madison as well as one of this writer's personal favorites, Alegria Cocina Latina Restaurant. Which explains why the trio were awarded the title "2001-2002 Restaurateur of the Year" by the Southern California Restaurant Writers.
However Pine Avenue is not the exclusive domain of fine dining in the area. On the Queen Mary there is Sir Winston's which has long reigned as one of the premier restaurants in the City. In fact it regularly receives a Golden Sceptre Award from the Restaurant Writers, one of only 22 dining establishments to receive this award in all of Southern California.
And with good reason since it is a destination restaurant for that very special occasion with a classic Continental menu to match the elegant paneled decor of the dining rooms. The menu shows a classic array of entrees with seafood like a swordfish filet or Sir Winston's signature Beef Phyllo beef tenderloin Foie Gras. Other choices include a Venison Chop, Chateaubriand and Veal Scaloppine.
Naturally there is a full array of appetizers like Porcini mushroom ravioli or soups like lobster bisque.
Executive Chef Tom Tassone, besides Sir Winston's, oversees the culinary efforts of Chelsea seafood restaurant, once the second class lounge on the Ship, as well as the Promenade Cafe and the weekly Champagne Sunday Brunch.
We recently spent an evening aboard with the Academy of Culinary Professionals. We met in the Observation Bar, still as it was during its trips across the Atlantic, for cocktails and some Butler passed deluxe canapes.
Then it was a tour of the ship and finally settling in for a four course dinner at Sir Winston's. Our menu included a salad of baby romaine with baby goat cheese with a blackberry vinaigrette; a papaya sorbet; and Sir Winston's Entree Trio-- broiled prime filet mignon with cognac truffle sauce, Colorado lamb wrapped in a puff pastry and medallions of Australian lobster tail with a butter cream sauce and at last a dessert of raspberry parfait--chocolate cram on freesh raspberries with a grand Marnier sauce.. Our wines included Robert Mondavi 1999 Merlot, La Famiglia 2001 Pinot Griogio and a Arrowood Grand Archer 1999 Sonoma Chardonnay. The Queen Mary is at 1126 Queens Highway and pretty hard to miss. For reservations call 562 435-3511. Sir Winston's is open for dinner seven nights a week from 5:30 to 10 p.m. There is valet parking for dinner guests.
Unique and different and something of a legend in Long Beach is Delius Restaurant which is celebrating a 25th anniversary this year. We were introduced to this restaurant and its charming owners, Louise and Dave Solzman, at a dinner especially prepared for the Academy of Culinary Professionals.
Delius is prix-fixe restaurant serving one seating by reservation only Tuesday through Saturday. Chef Louise Solzman changes the menu every two weeks and the dinner, served at 7:15 p.m. includes seven courses.
Our evening opened with hors d'oeuvres at the wine bar and reception area which offers all the comfort and ambiance of a private living room. Then dinner opened with double mushroom bread pudding, a gingered sweet potato soup and from the sea peppercorn crused halibut on top of Jasmine rice. Next was rack of lamb with a rosemary red wine reduction and finally a trio of desserts including a chocolate turtle torte.
Our wines were all from the highly regarded Gundlach Bundschu Winery in Sonoma and on hand to explain each wine to us was Kevin Butler of The Henry Wine Group. Our wines that evening, all from Gundlach included a "Bearitage" Claret, Lot 9; a 2001 Gewurztraminer, a 2000 Chardonnay, and a 1999 Tempranillo. This last vintage intrigued us since it is a Spanish grape and rarely makes an appearance in California. We thought the Tempranillo exceptional and one that we would like to enjoy again and soon. Kevin Butler was exceptionally well versed and knowledgable in his presentation which was much appreciated by the 40 members of Doris Crandall's Academy who were present that evening.
Delius is located at 3550 Long Beach Boulevard in Long Beach. For reservations call 562 426-0694.
A recent dine-around dinner took us once again to the restaurants of the Dell'Opera Group. We started at The Madison which is located directly across Pine Avenue from L'Opera. Here we enjoyed cocktails, hors d'oeuvres and champagne in dining splendor. This restaurant offers a grand interior that takes one back to an elegant earlier era of American architecture. Located in a historic bank building it offers two story ceilings, wonderous mahogany paneled walls and sparkling chandeliers.
Then across the street to Alegria Cocina Latina. We mentioned earlier our special affection for this place which is a combination of bar and bistro with most modest prices and entertainment evenings. We try to time our visits to the nights the Flamenco dancers perform. After a stint at the most comfortable Bar it is time for some Spanish Tapas and then bring on the fire of Flamenco. Always there to make the evening special as well is General Manager Sonia Woodruff. For the dine-around our entree was a San Salvador styled seabass.
For dessert we moved on to L'Opera and seated in the picturesque Wine Cellar enjoyed a spectacular dessert.
On our recent Long Beach tour Bob Maguglin of the Convention and Visitors Bureau gave us a long list of outstanding restaurants in the area. It makes some return visits necessary.
Back to Table of Contents..
Last Update:10/1/02
&copy 2002 Joe Hilbers All Rights Reserved.
Graphic Design by Impact Graphics