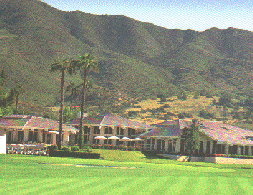 "Fallbrook--Here Art replaces big city hustle and bustle

by The Editor
Fallbrook is a community that has remained true to its roots. It began as a farming and ranching settlement in the 1880's. One of its early leading citizens was a hero of the Civil War.
Somehow it has survived the 20th century and entered the 21st with its original character still present. Its physical beauty remains as rolling hill country and not a high rise to been seen. All this seems somewhat amazing considering its location so near to metro San Diego and bustling Temecula and environs.
We wandered its Main Street, a collection of small shops, art galleries, antique stores and everyday businesses, as a satisfied refugee who at least for a short time had escaped from Los Angeles. In fact many of the local people we met were themselves escapees from either cold Midwestern winters or had made the decision to leave for good the crush of Orange and Los Angeles counties.
All of which explains why Fallbrook has become a popular getaway for city folk looking for a relaxing way to spend a weekend or a mini vacation.
Its location and ambiance has made it a magnet for artists and artisans of all types, whether working with canvas or wood, stone or steel.
After what was a wicked drive on crowded Los Angeles freeways upon our arrival at Pala Mesa Resort it became an instant sanctuary. We had played golf at Pala Mesa a few times in what now seems a different lifetime. But we could not recognize it for the vast changes that have taken place since then.
Think, peace, serenity, relaxation here. Our room, complete with wet bar and expansive patio, looked upon lush gardens and in the distance a picture of manicured fairways. Somehow just sitting on the patio veranda suited us just fine happily leaving the pursuit of always illusive Par to others. It is a famed par 72 championship course, now rated as four and one-half stars. We dimly recall that we did not play it particularly well, but then we can say that about innumerable courses up and down California. But Palo Mesa Resort offers much more than just golf. There are lush picturesque garden locations for weddings and several banquet and meeting rooms for conferences, meeting rooms, and seminars. There are also lighted tennis courts, pool, Spa and Fitness room. The timing for our visit could not have been better. Spring seemed upon us, the poppies coloring hillsides a brilliant orange, the sun warm, the shade still offering a refreshing crispness. We received a personal tour of the whole property from Kasi Iacono who guided us through both the gardens and meeting rooms. Certainly Palo Mesa Resort proved a perfect jumping off place for our investigation of the Fallbrook life-style.
We were so impressed with Aquaterra, the Resort dining room, that we will review it extensively in a upcoming story.
Pala Mesa Resort is located just four miles from Fallbrook at 2001 Old Highway 395. Call 760 728-5881 or on the web at www.palamesa.com.
On this quest we started with a visit to the Fallbrook Historical Society Museum. And once there were fortunate enough to meet with Bruce Dennett, who is one of the dedicated group of volunteers that have made it all a reality. Starting just a decade ago the Museum now includes a main building recording Fallbrook's early beginnings. Adjacent the 1900 farmhouse owned by Rev. William Pittenger, a Methodist Minister and one of the first Civil War soldiers to receive the Congressional Medal of Honor. And the newest addition, called the Barn which when completed will house a collection of early farm machines as well as beautifully restored cars like the Ford Model T and Model A Coupe we admired at some length.
The Main Museum offers exhibits like a working Miniature model railroad since as an early ranching and farming community Fallbrook did have the California Railroad to service the community and provide transportation for its agriculture products. Some 300 Museum members, all volunteers like Bruce Dennet, have made all of this possible. Located at 260 Rocky Crest in Fallbrook the Fallbrook Historical Society Museum is open Sunday and Thursday from 1 to 4 p.m. with free admission. Call 760 723-4126 for more information.
If you crave Las Vegas style entertainment then you merely have to take a scenic 15 mile ride on Highway 76 to the Pala Casino, Resort and Spa. We did just that and the wild flowers covering the green hillsides and surrounding mountains alone made it worthwhile.
Once at this Four Diamond Resort we were met by Jerry Masek who gave us a personally guided tour of the entire complex. And a thorough tour it was indeed with a visit to the elaborate Spa, a peek into some of the luxurious rooms and suites of the hotel as well as the casino with its eight restaurants and dining locations. We were amazed to learn that this 550 room hotel enjoys almost 100 per cent occupancy rate each and every day. During the summer months there are outdoor concerts with big name entertainment and that it is also offers a huge amount of meeting space for conventions, meetings and business gatherings.
Truly this is a Las Vegas style complex that has been set in a rural, scenic valley surrounded by mountains and situated alongside a river. On this tour Jerry kept coming up with surprises. He didn't look like a Genie but one never knows.
Pala Casino, Resort & Spa is located at 11154 Highway 76. Call 1 877 946-7252 or www.palacasino.com We visited Fallbrook's only winery and this proved so interesting that it deserves and will get a full story in the next issue of Vittles.
This is also true of our culinary adventures which will be thoroughly described in another Vittles edition.
Since our own most amateurish attempts to put oil paints on canvas our interest in art galleries has likewise increased and our appreciation for the work of true artists has immeasurably increased as well. Main Street Fallbrook proved a great place to indulge in our newly acquired interest in the arts.
We stopped in at the Fallbrook Art Center, found Mary Perhacs, Executive Director, and received a personal tour of the gallery and what goes on there. The Art Center was founded in 1993 as the Fallbrook Village Association, a non profit corp. which provides a venue for local artists. Mary Perhacs is a very busy person since she does from seven to nine completely different art shows each year. And from our experience she does this with great enthusiasm. The exhibit we viewed included works by many artists using watercolors.
The Fallbrook Art Center is at 103 South Main and show hours are Monday thru Saturday 10 a.. to 4 p.m. and Sunday Noon to 3 p.m. Call 760 728-1414 or the web at www.fallbrookart.org.
We were much taken with the works of Russian Impressionists from the Soviet Period that we viewed at Fallbrook Fine Art Gallery. We met with Owner Colleen Aichle who explained how the special exhibit of the Russian works came about and that the exhibition will continue through April 20,2008. Some fine works by local oil on canvas artists are also to be seen here.
Fallbrook Fine Art is at 128 North Main, telephone 760 728-0700, www.fallbrookfineart.com.
This touring of Fallbrook art galleries is easy on the feet since they are all located in one block of Main street. So encouraged we next visited the Brandon Gallery at 105 N. Main. This is a fine place to see the works of local artists something the Gallery has been doing for over a quarter of a century. It is open Tuesday thru Saturday from 10 a.m. to 5 p.m., Sunday 11 a.m. to 4 p.m. Phone 760 723-1330. wwwbrandonartfallbrook.com.
The only downside of our visit to Fallbrook was that it was too brief and the thought of facing the freeways en route back to Los Angeles.
Back to Table of Contents..
Last Update:3/10/08
&copy 2008 Joe Hilbers All Rights Reserved.
Graphic Design by Impact Graphics