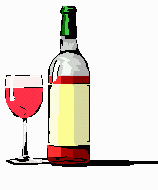 When it comes to an exciting family history its hard to beat some European vintners
.. By The Editor's Vineyard
Writing about California winemakers is pretty tame stuff when compared with the history of some European vintners. Now take Marchese Nicolo Incisa della Rocchetta who is introducing some new Tuscany wines into the U.S.
A press release from Margaret Stern Communications in New York on the Rocchetta and interrelated Guidalberto families reads like a novel covering a 1000 year history of Northern Italy. It includes Middle Age savagery, political intrigue on a huge scale, saints, sinners, Popes and Princes and many generations in between. It also includes a long list of family vintners growing grapes in vineyards first planted by the Etuscans in the Ninth Century B.C.
Anyway the new wine is called Guidalberto Toscano Rosso including cabernet sauvignon, merlot and sangiovese. The label depicts the chapel built to honor one forbearer who became a Saint in the 11th century. If you want to learn more about this fascinating family history try the website: www.sassicaia.com. We haven't actually tasted the wine but the press release certainly was interesting reading. And maybe Margaret Stern will relent and send us a sample bottle to review.
Kendall-Jackson's concept of using grapes from several of California's appellations in its vintages has paid off both in sales and wine competitions. For the 2002 Vintner's Reserve Chardonnay Winemaster Randy Ullom used grapes from Monterey, Santa Barbara and Mendocino counties. Fruit flavors mix well with the oak presence in this wine offering that buttery flavor so prized in good bottling of this varietal.
For the 2000 Cabernet Sauvignon Randy Ullom used grapes from Napa, Sonoma and Mendocino counties. Made in small lots the final vintage includes some Merlot and Cabernet Franc. We liked this wine for its full but soft flavors in both aroma and on the palate. A nice long lasting finish as well.
Perhaps the most under rated of California varietals is Sauvignon Blanc. Personally we like this varietal for being so versatile on the dinner table as well as in the cooking pot. The Kendall-Jackson 2002 Vintner's Reserve Sauvignon Blanc includes some Semillon and Viognier and offers a fine nose of fruit and clean crisp flavors. For this wine Ullom sourced grapes from Lake, Mendocino, Solano counties and Paso Robles in San Luis Obispo county.
We were really impressed with the Sagelands 2001 Cabernet Sauvignon from the Columbia Valley in Washington State. We enjoyed this wine with a boiled beef dinner and tasted blind would have believed it to have enjoyed some long bottle aging. It was that smooth on the palate. Winemaker Frederique Spencer used all the Bordeaux varietals in this bottling besides cabernet sauvignon; cabernet franc, merlot, malbec and petit verdot.
We were recently in the Central Coast and tasted many of the fine wines currently being made in that appellation. Edna Valley Vineyard and Winemaker Harry Hansen were among the first to exploit the terrior of the Edna Valley watched over by the volcano peaks of the Seven Sisters.
Pinot Noir does well here and the 2002 Edna Valley Pinot Noir shows excellence indeed. Harry Hansen used 100 per cent of the varietal and gave the wine 10 months in French Oak. The result is a wine with rich aromas and intense flavors and a long finish. It is an exceptional bottle of wine for its $15 price tag.
Lots of body is the way we would describe Edna Valley 2002 Syrah. This is a varietal that is recognized for its forceful flavors which is why it is so favored for blending in its native Rhone Valley. Hearty with lots of fruit flavors this vintage is a welcome addition to the dinner table. Again priced in the mid teens.
With wine price does not always equal quality while it is also true that wines modestly priced often are pleasant surprises. Recently we took a $50 bottle of Napa cabernet sauvignon for a holiday dinner with a friend and was disappointed with the wine, not to mention the restaurant corkage. Then a few nights later we opened a bottle of $12 Napa cabernet sauvignon at home and was delighted with the product.
The wine was 2000 Napa Creek Cabernet Sauvignon made with Napa Valley grapes. We were not the first to applaud the vintage since it was a Double Gold Medal winner at the San Francisco Chronicle 2003 Wine Competition. Here Winemaker Larry Rocha produced a wine with big flavors but with a remarkable softness on the palate.
Inspired with the cabernet sauvignon we also tried the 2002 Napa Creek Chardonnay. This wine was also made with Napa Valley grapes and a Double Gold Medal winner at the same competition as well as being named 'Best of Class'.
We liked it's robust fruit flavors matched with a crispness that made it just right for cocktails which is just the way we served it. Again priced at $12.
Lake County has never quite achieved the reputation of neighboring Napa and Solano Counties although historically it is one of the State's oldest grape growing regions. Winemaker Malcolm Seibly of Dynamite Vineyards used grapes from the Kelseyville area of Lake County for his 2002 Sauvignon Blanc. We like this varietal and appreciated Malcolm's vintage for several reasons. Produced in stainless steel it offered all the pleasures of this varietal, with crispness on the palate and an explosion of fruit flavors. We served it with 'Angels On Horseback", one of our favorite ways of preparing oysters.
For the Dynamite 2001 Merlot Winemaker Seibly used grapes from several North Coast regions, then fermented in small batches and gave the vintage 15 months of oak aging. This Merlot pleases with its mellow soft structure, never overpowering on the palate and smooth finish. Priced fairly in the teens.
Provenance Vineyards in Rutherford is new to us but we were recently exposed to the brand's 2001 Cabernet Sauvignon and after tasting it our memory will henceforth be will established. Winemaker Tom Rinaldi used grapes grown on one of Napa Valley's well known alluvial fans. Grapes from these fans seem to produce wines of unusual power and richness. For all its richness in aroma and flavor the wine is surprisingly smooth on the palate. Tom Rinaldi says this wine will enjoy a long cellar life and we believe him. Priced at $35 and worth it.
Back to Table of Contents..

Last Update:3/10/04
&copy 2004 Joe Hilbers All Rights Reserved.
Graphic Design by Impact Graphics