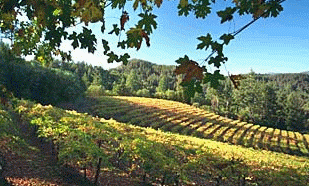 "California winemakers look with increasing favor on single vineyard wines"
By The Editor's Vineyard
Look for a continuing trend toward single vineyard wines here in California. Long a tradition in Europe's wine producing countries single vineyard vintages are increasing in California as both winemakers and such vineyards mature.
Many growers and vintners have been experimenting for years seeking the exact fit of terrior and varietal. All of this has taken time measured not in months but years and in some cases decades. For many California wineries that time has now arrived.
To us the most exciting aspect of wine is that surprise often accompanies the opening of the bottle. True the name of the winery and the winemaker is supposed to assure the consumer that he or she is opening a superior vintage but alas this is not always true.
Our joy was complete when we opened Mendelson 2006 Pinot Noir. This was what this varietal is all about, a joy from the first aroma and taste and with that earthy character so typical of Pinot Noir. The wine is from the Sleepy Hollow Vineyard in the Santa Lucia Highlands from vines now three decades old. This is a wine for that special occasion and well worth its $40 price tag. With so much chardonnay about unfortunately this Writer has taken a somewhat ho hum attitude toward the varietal despite its continuing success as the number one selling wine.
Occasionally however we find one that can still excite our palate. Recently this occurred with Godwin Family 2007 Russian River Valley Floral Clone Chardonnay. Made by Winemaker Kerry Damskey from a single vineyard, the Herrick, located on eastern bank of the Russian River, this vintage moves closer to a traditional French Burgundy style Chardonnay. Perfect for either cocktails or with food there are subtle flavors here and a long finish. At $28 here is a superior wine.
Back to Table of Contents..
Last Update:9/15/09
&copy 2009 Joe Hilbers All Rights Reserved.
Graphic Design by Impact Graphics