"Richmond--Virginia, the Old Dominion, had much to show us about culinary excellence"
.. By Joe Hilbers
Our culinary adventures in Richmond, Virginia started with a very special dining experience. Named 1 North Belmont it presents a classic French cuisine in a quiet, serene ambiance and an elegant graceful decor.
We opened with a Sashimin Ahi Tuna Tartare while studying the extensive wine list of mostly French vintages. Next to arrive was the crab, lobster and shrimp bisque with Pastis de Pernod. Chef Proprietor Frits Huntjens came out of the kitchen to greet us and also requested that we all taste his Potage Courgette, puree of roasted butternut squash with poached pear and creme fraiche. Our wine was 2006 Crozes Hermitage La Matiniere from Ferratin Pere & Fils.
By now we knew we were, by our rating, in a five star restaurant. Our entree was Coquilles Saint-Jacques, sauteed sea scallops on saffron risotto. We watched with admiration the table service preparation of Sole Menuniere ordered by one at our table. Another of our group had the Carre D'Agneau, Sauce aux Truffes et Champignons and pronounced the crusted rack of lamb delectable.
Now a truly awed table of diners we settled into our desserts, such as Sauternes Creme Brulee or Souffle au Grand Marnier, ours a more modest Tarte au Fruits.
We talked at some length with Chef Frits Hunjens, learning that he is a second generation chef and restaurateur originally from Holland. We told him we had high praise indeed for his talents as well as those of his superb service staff. Call 804 358-0050, on line at 1northbelmont.com.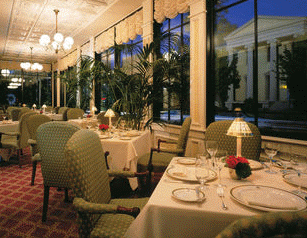 A full range of dining experiences were ours in Richmond. One evening we were at Lemaire, the Jefferson Hotel's premiere dining room to sample some new creations of Executive Chef Walter Bundy and Sous Chefs Bryan McClure and Chris Visger. These included Rapphannock river oysters on the half shell, down south fried green tomatoes, also chilled Virginia jumbo lump crabmeat and Prince Edward island mussels as well as several new hand crafted cocktails which are currently being featured at Lemaire.
We experienced a truly southern down home barbecue at Buz & Ned's. The list of goodies here seemed endless from fresh fried onion to chicken, baby pork back ribs, beef ribs and shredded pork, all barbecued in the restaurant's unique smoked ovens. Host Buz Grossberg , president of the firm that also features two hand crafted beers, personally gave us a tour of the barbecue process. Also explaining the many unique and different styles of BBQ from Kansas City to Texas and true southern style.
Since Buz Grossberg recently won first prize for his BBQ in a national cookoff we knew we were being treated to some first hand knowledge. Needless to say Buz & Ned's is very popular. Check it out on the web at buzandneds.com.
Truly an institution in Richmond is Perly's Restaurant. Breakfast at Perly's is something of a tradition and we were there one morning to find out what it was all about. This is the kind of restaurant where you can order salmon cake, two eggs, grits or home fried potatoes and fresh stewed apples to start the day, three egg omelettes with baked ham, green pepper and onion or bagel with Philly cream cheese and corned beef. Our order was much more modest.
Perly's is open only for breakfast and lunch with a special entree each day like smothered pork chop with homemade stuffing, and green beans. Call 804 649-2779 for more information.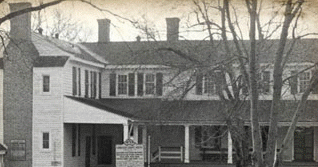 We got a look what an early Colonial tavern was truly like and what it meant to a community when we visited Hanover Tavern & Pub. The roadside tavern in Colonial times was the interstate truck stop of its day offering the traveler a place to eat, sleep, mix with other people and catch up with the news of the day. Besides the Pub offering wine and spirits there was usually a Parlor or game room as well.
Our visit to Hanover Tavern was for brunch as well as a tour of the 200 year old landmark that now includes the Barksdale Theater which presents productions each season.
It is part of the Hanover Courthouse Historic District. John Shelton, father in law of Patrick Henry ran the original tavern where Patrick Henry lived and studied law, married to Sarah Shelton, the Innkeeper's daughter. Across the road is the Hanover Courthouse, built in 1735, and where Patrick Henry first launched his career as a advocate for Colonial rights against the British crown. We looked at the Courthouse while working off the effects of the lavish brunch.
A lot of history here as George Washington passed through enroute to Yorktown and his final victory. Also because Hanover Junction was on the Virginia railroad it is the site of several actions between Union and Confederate forces during the Civil War.
Donning hard hat we were guided by Alexander Nyerges, director of the Virginia Museum of Fine Arts, through construction areas of the new wings. This massive project wll be completed in May 2010 and add new contemporary and modern art wings to the museum making it among the ten largest in the nation. Part of the new construction is a showplace bar, lounge and restaurant. Executive Chef Daniel Ayers took part in a tour of the new kitchen facilities, tile from floor to ceiling and new stainless steel equipment everywhere. When complete the new dining and banquet facilities will be able to accommodate truly major events.
The Virginia Museum of Fine Arts offers permanent collections of more than 20,000 works of art representing exhibits from almost every part of the world.
In our tours of Richmond there was always something old, something new to see. We visited the Confederate War Memorial Chapel and admired the stained glass panels presented by families of men killed in that conflict. It is located adjacent to the Museum of Fine Art.
One evening we were guests of DoubleTree Hotel's manager, John Cario and his culinary staff, at a dinner with live demonstrations of each course on the menu. Entitled 'Local Harvest Chef's Table Recipes' we had a printed copy of each recipe while watching Chef Nancy Smith in action. First course was the 301 Franklin Signature Crab Cakes, then cornmeal crusted oysters, followed by collard greens with Virginia ham. We were not finished yet for there was rosemary roasted pork tenderloin and then dessert with harvest creme Brulee. After watching each in the making we were given a most generous portion of the creations. Dr. Mitzi Batterson, winery manager for James River Cellars explained the Virginia vintages we were served with each course making this a sumptuous evening indeed.
We sat with DoubleTree G.M. John Cario and complemented him not only on the planning and presentation of the live action preparation but also on the very apparent enthusiasm of the service staff and all of the hotel that took part. It was truly an evening to remember of Richmond hospitality.
Richmond diners have access to a lot of seafood and nowhere was this more apparent than on our visit to the Hard Shell located at 1411 East Cary Street. This restaurant features Maine lobster flown in daily and of course we took advantage and ordered the butter poached lobster tail. But first arrived a lobster chowder, then fried calamari and a sampler of three oyster varieties, Chesapeake, Blue Point and Kumamoto.
If we lived in Richmond we would be at this restaurant on a regular basis what with their Lobster night and all you can eat crab legs events.
One day we drove out to the lush Virginia countryside, an eye pleasing mix of green woodland and meadow, forest and cultivated fields to arrive at Vinterria, a new real estate development between Richmond and Williamsburg. And part of this new development is the Kent Vineyards and Winery which includes a deluxe tasting room and wine cellar.
The building, which also houses the winery, is remarkable since it has been handsomely constructed from recycled wood with beams taken from railroad bridges and factories of earlier eras. Surrounding are 27 acres of vineyards. With CEO Pete Johns as our host we settled down in the cellar to taste the New Kent wines. We thought the Kent Reserve 2005 Chardonnay one of the best bottlings of this varietal as grown in Virginia. Also getting high marks was the 2006 Meritage which included cabernet sauvignon, merlot and cabernet franc.
We also tasted a White Norton, this is a varietal native to Virginia, and several of the State's wineries are featuring it in their library of wines. Vidal Blanc is a varietal that does quite well in Virginia terriors and we thought the New Kent bottling was very sound. Some most pleasing appetizers were presented with these New Kent wines.

The New Kent Winery is just part of a development with an 18 hole golf course, polo field and homes. On five thousand lovely Virginia acres it includes lakes, copes of trees and with more vineyard plantings to come.
Virginia wines are taking an ever increasing role in the culinary experiences of the region. Our luncheon at the Edgar Allan Poe Museum also included some wines. This luncheon took place in the historic courtyard of the Museum and we had a 'Gold Bug' salad with a maple vinaigrette followed by an entree with beef tenderloin and salmon. We tasted the 2005 Norton, made from Virginia's only native varietal of the old Dominion. After the luncheon we enjoyed a tasting of Spanish sherries to commemorate Poe's "A Cask of Amontillado" in appropriate fashion.
We were at the Poe Museum as Virginia and Richmond celebrated the bicentennial year of Edgar Allan Poe's life and works.
There is a unique cooking school in downtown Richmond, Mise En Place, and we were there to take part in a promotion that encourages the use of local produce and products. This is a growing trend nationally as well. Christine Wansleben, as chef and owner, and her aides prepared several dishes all using local produce, organic Virginia grown beef and Rays caught off Chesapeake Bay. The wings of these Rays offer a tender meat with flavors not associated with other fish. The beef tenderloin we enjoyed was raised organically in Virginia's Shenandoah Valley.
To go with these delicacies we were fortunate to taste the Virginia wines of Cooper Vineyards and Ingleside. After tasting quite a few Virginia wines we concluded that Cabernet Franc is a grape that does very well in the State. Certainly we thought the 2006 Ingleside cabernet franc a very good bottle of wine. Owner Doug Foener was on hand to explain the wines that included a 2008 Cooperage Blanc. Ingleside is ranked in the first ten of Virginia wineries in production starting in 1980.
In Carytown we paid a brief visit at Can Can, a French Brasserie that brings an international flavor to this trendy part of Richmond. We chatted with Bob Talcott who told us of Can Can's goal to bring both French cuisine and wines to the region. The ambiance is French, the food is french styled and the wine list all French, "La vie Est belle", life is beautiful.
One of Richmond's restaurants honored both for cuisine and extensive wine list is Julep's with a new southern cuisine. Owner Amy Cabaniss was on hand to explain the interest the restaurant's bar creates with new and exciting cocktails. Then introduced Chef Branden Levine, a native son of Virginia, who enjoys blending southern cuisine with influences of Mediterranean and Asian flavors.
Our dinner opened with a salad of summer field greens with grilled peaches, goat cheese, bacon and balsamic vinaigrette. We chose the roasted Duck breast which arrived with maple sweet potato puree, Shiitake mushrooms and grilled Rapini. A Pistachio Bavarian Cream Torte with upside-down Blackberry Napoleon completed our memorable dinner.
Julep's, at 1719 East Franklin Street in Richmond, has been pleasing Richmond diners for 40 years, located in the oldest commercial building in the City.
Back to Table of Contents..

Last Update:12/1/09
&copy 2009 Joe Hilbers All Rights Reserved.
Graphic Design by Impact Graphics