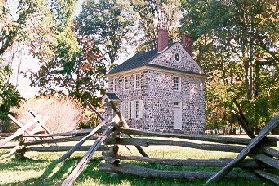 The Past and Present are at Valley Forge..
.. By Joe Hilbers, Editor.
Today Valley Forge is less than an hour away from Philadelphia but to us it seemed almost a different world. Compared to the hustle and bustle of Philadelphia, the Valley Forge region seemed to be filled with tranquility with beautiful hardwood forests, rolling green fields mixed with completely modern business parks, retail centers and residential complexes.
Of course Valley Forge is a name familiar to all Americans, as it rightly should be, as the place where the American spirit, as well as the United States Army was really born.
In 1778 General George Washington took 12,000 men, a mix of state militia men and volunteers to winter quarters here, a disorganized body of men that could hardly be called an Army.
When he left in the Spring of 1779 he headed a fighting force that could truly be called an army, and one that could face and defeat one of the finest Continental armies of Europe.
A visit to the Valley Forge National Monument can be an emotional experience, it certainly was for this writer. We were there on a perfect spring afternoon but with some imagination we could visualize what it must have been like in winter for ill fed, ill clothed soldiers without adequate shelter.
Present day Valley Forge offers the visitor much more that the National Monument though it must not be missed. There is the King of Prussia, one of the largest shopping centers in the U.S. with eight major department stores, a 135,000 square foot convention center, and a cluster of first class hotels with a total of 5,000 rooms, all within easy distance of expressways and turnpikes.
We stayed at the Desmond Hotel, a business oriented hotel with all services conveniently located for exploring either the Shopping Center, Valley Forge Park or many of the other attractions in the area. There is Main Line Philadelphia with its extraordinary estates as well as art museums an what seemed to be an inexhaustible number of really outstanding restaurants.
One memorable evening we dined at the Old Guard House Inn in a building 200 years old featuring an outstanding German oriented Continental cuisine. Chef owner is Albert Breuers, a man who truly understands his role as a restaurateur which explains his outstanding success for 18 years.
If you are planning a trip to Philadelphia you must allow time for the Valley Forge area and Brandywine Valley and underline Brandywine. This was initially famous as the site of a battle between General Howe and his British Red Coats and General Washington with a force which at that time could only be called irregulars. Washington lost the battle on the Brandywine River but his retreat to Valley Forge allowed him to winter and create a real army.
Besides the Brandywine Battlefield Monument administrated by the U. S. Park Service, the area offers Longview Gardens, a horticultural garden of 1,050 acres that was once the estate of industrialist Pierre du Pont. His contributions made the Gardens possible. Last year 900,000 visitors moved through the Gardens to enjoy a vast horticultural showplace.
It is also a place of constant special events ranging from a 2,000 seat outdoor theatre to Fountain and Fireworks displays. There are also several restaurants and it is a place where you will want to spend several hours. It is open 365 days a year.
Brandywine was also home to Andrew Wyeth and other members of the artist's family who followed in his footsteps. Anyone who has seen Wyeth paintings and illustrations knows a little of what the Brandywine Valley looks like.
There is now a permanent collection of Wyeth family art at the Brandywine River Museum, picture perfect itself in an old Mill adjacent to the River. The Museum offers a full years calender of special events and special art showings. It is only minutes from Longview Gardens as well as the Battlefield.
The Valley Forge area is a special place for art lovers. In Merion among the fabulous homes of Philadelphia Main Line is the Barnes Foundation Collection of French Impressionist Paintings. It houses an extraordinary number of masterpieces by Renior (180), Cezanne (69) and Matisse (60). There is more of Matisse's works here than at his museum in Nice which we visited last year.
One can set a leisurely pace at the Barnes Exhibition of paintings. Available are individual audio tape decks which can be programmed for a complete tour or descriptions of individual paintings.
The Barnes Foundation and its art is the life work of Dr. Albert Coombs Barnes who used the fortune he made in a pharmaceutical company to amass this incredible collection of impressionist art.
The Brandywine Valley is also home to the Chaddsford Winery, one of the better known wineries in the state of Pennsylvania. The wines and foods of the region will be a subject of a future article in Vittles.
When and if you visit Valley Forge, allow plenty of time. There is much to see and entertainment for all ages. And as we mentioned earlier a wide variety of accommodations, all just about 40 minutes from Philadelphia.
Back to Table of Contents..

Last Update:6/10/96
&copy 1996 Joe Hilbers All Rights Reserved.
Graphic Design by Impact Graphics