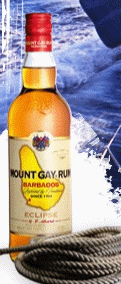 Rum--Another beverage with a long history
Wine isn't the only beverage with a long tradition. Rum is a New World spirit invented by the British in the West Indies some 300 years ago. Barbados to be specific and by Mount Gay Rum since 1703. It is a beverage we think of with some fondest memories recalling coming off a ski mountain very cold and retreating to the comfort of a hot buttered rum. And we also recall warm summer evenings at the Barbecue holding a daiquiri while acting as chef.
All of this brings us to Mount Gay's Eclipse Silver. a white rum, which we sampled recently. Smooth and full of flavors and perfect for all the new cocktails by inventive bartenders you can be sure it bears little resemblance to the Grog that was served out to weary sailors for a few hundred years on every ocean.
The Mount Gay Rum website offers recipes for new cocktails like Bajan Star Shine, Chi Chi, Silver Lining and Ultimate Colada. For old times sake we went with the daiquiri. Check it out at www.mountgayrum.com.
Back to Table of Contents..
Last Update:9/15/08
8&copy 2008 Joe Hilbers All Rights Reserved.
Graphic Design by Impact Graphics