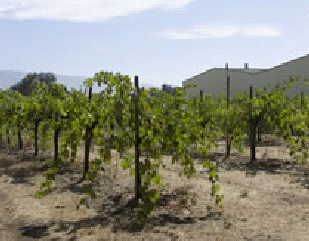 Santa Clara Valley--Its wineries blend the old and new very well
By The Editor's Vineyard
Pedrizzetti Winery and Morgan Hill Cellars are, like most in the Santa Clara Valley, family owned and operated. Maryclaine and Michel Sampognaro were on hand to greet us when we visited their tasting room at 1645 San Pedro Avenue in Morgan Hill. To go with our tasting of their Sangiovese, Barbara and Petite Sirah Maryclaine presented plates of delicately stuffed mushrooms. During summer months Pedrizzetti presents evenings with a BBQ and live country music entertainment.
Morgan Hill Cellars offers a large selection of wines under two labels--Pedrizzetti Cellars and La Fenice. For more information call 408 779-7389, on the web www.pedrizzetti.com.
At Clos La Chance you can forget the old for all is new. Here nestled in the foothills at San Martin the Murphy family planted vineyards and built a winery in 1999. All is 'state of the art' here with 90 acres planted with some 20 varietals and a winery with a 60,000 case capacity. There is also a showplace tasting room and indoor and garden facilities for special events and weddings. Also a classic wine cellar for small parties with an old world decor and ambiance.
It was here in the cellar that Dominic Tufo, director of hospitality and wine education at La Chance, took us through a tasting of eight of thirteen wines made at La Chance. We were happy to learn that Winemaker Stephen Tebb has a ceiling of 14.5 per cent alcohol on all the wines he makes.
The 150 acres of surrounding vineyards include the Bordeaux style varietals, grapes that were originally home in the Rhone Valley, as well as the classic California varietals. Besides their estate wines some grapes also come from the cooler Central Coast, especially the Chardonnay and Pinot Noir.
Clos La Chance has an elegant tasting room, which is open daily, and is locatd at One Hummingbird Lane in San Martin. Call 408 686-1050. On the web at www.clos.com.
Another winery we visited with a long history is Solis Winery located near Gilroy. Situated on what was once a portion of the Rancho de Solis, a Mexican land grant, it was then purchased by the Alfonso Bertero family in the late 1920s. In 1980 the Solis property and winery was purchased by the David Vanni family, also long time Santa Clara Valley residents.
Solis Winery is located at 3920 Hecker Pass Hwy in Gilroy. Telephone 408 847-6303. www.soliswinery.com.
Zin always welcome
As far as this Writer is concerned there is always room for one more Zinfandel. So we opened the Huntington Wine Cellars 2006 Zinfandel with some anticipation. And we were not disappointed. With grapes from three regions--Lodi, Paso Robles and Santa Lucia Highland the wine offers complex flavors and shows its French oak aging.
Small amounts of Petite Sirah and Cabernet Sauvignon were added to make this a superior vintage. And keeping the alcohol at 14.8 per cent makes for a welcome smoothness on the palate.
At $15 we thought it a bargain.
Back to Table of Contents..
Last Update:6/15/08
&copy 2008 Joe Hilbers All Rights Reserved.
Graphic Design by Impact Graphics