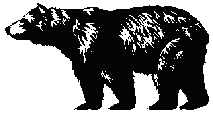 Glacier Park--"Its wonderful and the bears are polite"
By Joe Hilbers

According to AutoMap it is 1381 miles from Los Angeles to Glacier National Park. But if you enjoy the outdoors, spectacular alpine scenery and a wondrous collection of wildlife, then you will find the trip most rewarding.
We made our second visit to what is one of the crown jewels of the National Park System this past summer. The first was made some 30 years before.
Actually the official name is Waterton/Glacier International Peace Park since the Rocky Mountains, which are centerpiece to the Parks, straddle the U.S.-Canadian border. The Canadian section is known as the Waterton Lakes National Park while the U.S. side is simply Glacier National Park.
On both our visits time limitations made us concentrate our stays to the U.S. part of the Parks.
With a RV we entered the Park from West Glacier and found us a campsite on the edge of Lake MacDonald at the Park Campground called Fish Creek.
No one should visit Glacier Park without taking the Going-to-the-Sun Highway which traverses the mountain range and the Continental Divide. From Lake MacDonald the highway winds through untouched forests and then to mountain meadows and finally the tundra at Logan Pass.
This Highway is for cars or vans only. If you have an RV you must have a second vehicle or use one of the commercial sight-seeing vans that are available. In the near future travel on the Going-to-the-Sun Highway will be restricted or perhaps closed entirely for a number of years.
Built in the 1930s the Highway now needs a complete reconstruction and the Park Service along with other State and Government agencies are studying whether to close the Highway completely during construction or allow some traffic which will stretch out the work for up to seven years.
The problem is that this is a Summer highway only, closed from November through April because of heavy winter snows. And of course no construction work is possible in the winter season.
If you are like most folks visiting the Park you will want to do some hiking on the 700 miles of trails available. The hike from Logan Pass Visitor Center to Hidden Lake is memorable. You are above timberline all the way which wonderful views of at least two of the active glaciers that give the Park its name.
We took this hike and were rewarded with close-up views of mountain goats as well as what seemed to be scores of curious marmots and chucks.
Another day we took the trail from the Lake MacDonald Campground up Snyder Creek to Snyder Lakes.
One of the fascinations with Glacier Park is that it is home to the Grizzly bear as well as black bears. Anyone who has spent much time in the outdoors has a bear story and ours occurred on this very trip.
One day we decided to hike the trail that actually circles all of Lake MacDonald. This started well but the trail soon left the Lake for heavy timber and under brush. Growing tired of this we stopped and decided to return to Camp. Also the under brush seemed to be a favorite haven for mosquitoes.
I was perhaps 50 yards in front of my wife and was not paying particular attention since there was so little to see. Suddenly I heard a loud grunt and looking up saw a fully grown black bear standing to the side of the trail no more than l5 feet from me.
I immediately stopped in my tracks and then very slowly started backing up. As I backed down the trail I wondered if he would follow and if he did what I would do.
However seemingly he knew the rules. He had given me a warning that it was his territory and then allowed me to retreat from it.
When I got back to my wife I told her that a bear stood between us and our camp. Up to this point we had seen no other people on the trail in the two hours of hiking but at that moment another couple did show up.
I explained that there was a bear ahead which appeared to disturb the woman somewhat. I suggested we carry on a loud conversation to let the bear know there were several of us.
After about five minutes I returned to the place where I had encountered the bear and he was gone. Probably mumbling that the neighborhood was really going down the tubes.
Back at Camp I reported the bear sighting to a Park Ranger since this is required of all hikers. He said that thanks to a very excellent huckleberry year bears were very plentiful and that in a few instances grizzly sightings had forced the closing of particular trails.
Logan Pass divides the two areas of the Park. At the East entrance there is the Saint Mary Visitor Center and across from Rising Sun Campground a dock which is starting point for a boat trip on St. Mary Lake. This is a great way to enjoy the scenery and from the Ranger that accompanies these trips some history of the Park as well as explanations of flora and fauna. This is a three and one-half hour trip and well worth the small cost.
Access to Canada's Waterton Park is best made from the east at St. Mary Visitor Center. This is also true for two other scenic regions of Glacier Park--Two Medicine Lake off Montana Highway 2 and Lake Sherburne and Many Glacier which is north of St. Mary's. Both these areas have campgrounds, lodging and other facilities and offer departure points for backcountry trips.
Like most of the national parks Glacier gets a lot of visitors in the peak months of July and August. Our visit was in early September and we enjoyed a whole week of sunny days and while there were people nothing was crowded including the campgrounds.
It is not a place for a hurried visit. The Park is vast and there is much to see and do. The scenery is spectacular and if you don't mind meeting a bear here and there wonderful hiking as well.
Back to Table of Contents..
Last Update:1/1/99
&copy 1999 Joe Hilbers All Rights Reserved.
Graphic Design by Impact Graphics