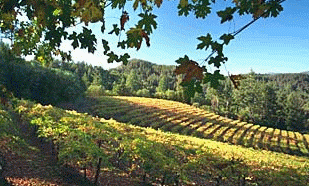 "Want 15,940 glasses of wine, or need 3,940 bottles? then you need exactly one acre of wine grapes"

by the Editor's Vineyard
Ever wondered how many grapes it takes to make that bottle of Cabernet Sauvignon you are enjoying. Well it takes 2.4 pounds of grapes plus a lot of care by some winemaker.
If you want your wine by the barrel it holds 59 gallons and the result of 740 pounds of grapes. That comes to 24 and one half 12 bottle cases or 1,180 6 ounce glasses.
All these statistics were supplied to us by the Sonoma County Grape Growers Association. Oh, and one acre of wine grapes will produce 3,940 bottles of wine or 15,940 glasses. Just proving once again that they can make it faster than you can drink it.
25th Anniversary
Round Hill Vineyards and Cellars, based in St. Helena, has a long history of producing outstanding Napa Valley wines with its Rutherford Ranch label. It all started 25 years ago when Ernie Van Asperin moved from being owner of a chain of liquor stores (Ernie's Liquors) to founder of the winery. We recall that Rutherford Ranch was one of the first to market merlot as a distinct varietal.
With Mark Swain as winemaker Rutherford Ranch continues to excel in producing quality wines from Napa Valley as very modest prices. At under $15 the 1999 Rutherford Ranch cabernet sauvignon is a real buy. This is a big, rich vintage and one that will continue to get better in one's own cellar. However we were perfectly satisfied to enjoy it now which we did. Rutherford Ranch 2000 Chardonnay was selected as "Best of California" at this year's California State Fair. Who says you need to pay big bucks for a good chardonnay. The Rutherford award winner, which was also selected as "best of region-Napa Valley", sells for about $12.
We actually believe one of the first California merlots we ever tasted came from Rutherford Ranch so we had to try the 2000 vintage, again from Napa Valley grapes. Still under the $15 mark we found it as good as ever. Smooth, mild, mellow describes it bestZinfandel is always one of our favorite varietals. And we definitely found favor with the Rutherford 2000 Zinfandel. Full aroma in this vintage with hearty flavors and a well rounded finish. Again priced under $15.
North Coast
Still on Zinfandel we tasted Clos Du Bois 2000 North Coast Zinfandel made by Winemaker Margaret Davenport. This wine was made from Mendocino county grapes as well as grapes from Sonoma County. A year in American oak gives this vintage nice touches of toast and vanilla spice. Very true varietal flavor in this wine. Suggested retail under $15.
Clos Du Bois Winemaker Margaret Davenport has added an Alexander Valley Reserve series of wines including a 1999 Alexander Valley Reserve Shiraz. This vintage includes 80 per cent shiraz and 20 per cent merlot. Eighteen months in American and French oak give this wine an aroma of berry fruit and rich deep flavors. Add a full, lasting finish as well.
Another in the Reserve series is the 1999 Alexander Valley Reserve Merlot. One hundred per cent of the varietal, the wine has 22 months in French oak. This is a complex vintage and offers unusually elegant flavors for this varietal. And it should age very well in the bottle. We mark this as a special occasion wine.
All in a Name
Depending on where you live the Grey Pinot varietal has its own name. In France it is called Pinot Gris and in Italy Pinot Grigio. Most Washington and California vintners use the Italian Pinot Grigio name on the label. The Woodbridge by Robert Mondavi 2001 Pinot Grigio is a very good example of this varietal and at under $10 an opportunity to try this varietal if you have not already done so. If you are already drinking Pinot Grigio you are not alone. The varietal is becoming ever increasingly popular with the American consumer.
Winemaker Miguel Martin used grapes from several California appellations in the Woodbridge vintage and blended in small amounts of chardonnay, sauvignon blanc, semillon and muscat for maximum fruit flavors.
Award Winners
Forest Glen Winery has a tenth anniversary this year and Winemaker Ed Moody has produced two award winning wines to add to the celebration. The 1999 Forest Glen Oak Barrel Selection Cabernet Sauvignon earned a gold medal. Moody added some merlot and cabernet franc to the wine for a classic bottle with full body but smooth finish.
The 2000 Forest Glen Oak Barrel Selection Shiraz took several gold medals and Winemaker Moody considers it one of his best of this varietal. We had to agree and thought the wine had all the Shiraz traditional softness in both aroma and flavor. Both these Forest Glen wines are priced at $10.
This is a price conscious economy and we are continually asked to name good wines at reasonable prices by friends and acquaintances. Fortunately this is not a hard task. There are large numbers of excellent wines available under $15.
Central Coast
Added to the list are two new releases of Echelon from the Central Coast appellation. We thought the Echelon 2001 Pinot Noir exceptional. One sip and the whole character of the varietal was there. Winemaker Tom Westberg reports that 2001 was a difficult year for Pinot Noir in that area but you would never guess that when drinking this vintage.
Winemaker Westberg used grapes from both Monterey and San Luis Obispo counties to make the 2001 Echelon Chardonnay. Crisp flavors here and a hint of the French oak as well. Equally good either as a cocktail wine or with food.
Recent consumer surveys indicate that chardonnay is losing some of its immense popularity as new varietals come into the marketplace. And just as the varietal's climb in quality continues.
Edna Valley has been producing excellent chardonnays now for a quarter of a century. The Edna Valley 2001 Chardonnay follows this tradition. Winemaker Harry Hansen selected grapes from old vines and with barrel fermentation and aging produced a wine with full fruit flavors, a hint of oak and lingering finish.
Block Collection
Again priced under $15 Geyser Peak continues its successful single vineyard block collection with the 1999 Block Collection Merlot. From the Shorenstein Vineyard in Sonoma this wine has enjoyed seventeen months in French oak. This is a big wine for this varietal with a rich full nose and a full palate of flavors with the French oak showing as well. Really takes Merlot to a new level and in quality and price takes its place as a special occasion vintage.
The Geyser Peak 2000 Shiraz includes fully matured grapes from five Sonoma County appellations. This vintage offers many of the reasons why this varietal is growing in popularity with flavors in abundance. Rich in color yet soft to the palate it is an exceptional food wine.
Round Hill Family of Wines under that label offers some very good wines all priced to be enjoyed on a every day basis. Want an award winning cabernet sauvignon for $8. Then reach for the Round Hill 1999 Cabernet Sauvignon. Winemaker Mark Swain uses grapes from almost every part of California for wines under this label. This Cabernet has much flavor, mellow tannins and with 12.5 alcohol a softness which we appreciate in a food wine. There are still a lot of people who enjoy White Zinfandel. And Round Hill has a good one in its 2001 release of this wine. Very nice for just sipping as cocktails or with appetizers. And since priced under $5 offers infinite opportunities for hosts and hostesses everywhere.
Barbera, that native of Piedmont in Northern Italy, was once extensively planted in California but in recent years not many vintners bottle it as a varietal. One exception is Montevina with its Terra d'Oro beautifully packaged 1999 Barbera produced from grapes of the Shenandoah Valley of Amador County.
Generally Barbera in the glass is not as assertive as Nebbiolo, also from Piedmont. But we truly enjoyed this Terra d'Oro Barbera which was full of flavors both in aroma and palate. Lush and smooth as well.
The Terra d'Oro wines are most attractive in their embossed bottles. Both the Barbera and the Zinfandel graced our table during the Holidays. These wines are priced under $20 and represent extra value.
The Montevina 1999 Terra d'Oro Zinfandel is also from Amador County older vineyard grapes. It is amazing what superior wine older Zinfandel grapes produce. One year in American oak barrels mellowed this robust vintage with out taking away its intense flavors. A big wine and one this Zin aficionado truly enjoyed.
Continuing with the Italian varietals we tasted the Montevina 1998 Sangiovese. The Sierra foothill region of Amador County seems to produce superior grapes for Northern Italian varietals. We liked the vanillin flavors the American oak aging gave this wine. Also this wine enjoyed some extra bottle aging which is a hallmark of a superior Sangiovese. Lots of flavors here to enrich any hearty fare.
Still with the Italian immigrants we next tasted the Montevina 2001 Pinot Grigio. California's Central Valley appears to be the region that this grape likes best and it is where the grapes for this vintage were produced. This dry white wine is best when left off the oak and most California vintners use only stainless steel tanks. This is a pleasant vintage, lighter in alcohol at 12.8 per cent, and perfect for snack time and raids on the frig.
The MonteVina wines have a striking new package including the newly released 2001 Sauvignon Blanc. With no barrel aging this wine is all fruit flavors both in aroma and palate. The grapes were from Santa Barbara County with a climate closely related to that of its native Bordeaux.
Trinchero Family Estates has a joint venture with Reynolds Vineyards of New South Wales, Australia. Newly released in the U.S. is Reynonds 2002 Sauvignon Blanc. Sounds like a nouveau wine until one remembers that seasons are reversed south of the Equator. Plus the wine was produced solely in stainless steel and cold stabilized. Light, fruity and with the unique qualities that this varietal shows when produced Down Under. Priced under $10 for ease on the pocketbook.
We opened the Dynamite Vineyards 2001 Sauvignon Blanc since our recipe for Osso Bucco, which we were preparing, called for a cup of white wine and we do like the rich flavors of the sauvignon blanc grape. When we pulled the cork we were delighted with the aroma of fruit that practically filled the kitchen. Winemaker Randall Watkins should be pleased with this vintage. Certainly we were and placed the rest of the bottle on the table to enjoy with a chicken stirfry.
Winemaker Watkins used grapes from Lake and Mendocino counties for the wine and did give it some time in French oak. Certainly an exceptional wine for just over $10.
The newly released Dynamite 2000 Cabernet Sauvignon could be a meritage wine since Winemaker Watkins added Merlot, Cabernet Franc and Petit Verdot to the vintage with 77 per cent in cabernet sauvignon grapes. He used grapes from four North Coast counties for the pressing. We liked the soft tannins and oak vanillin 15 months in American oak have given this wine. The wine is ready to enjoy now but we think more time in the bottle will add to its delight in the glass. Priced under $20.
Back to Table of Contents..
Last Update:1/2/03
&copy 2003 Joe Hilbers All Rights Reserved.
Graphic Design by Impact Graphics