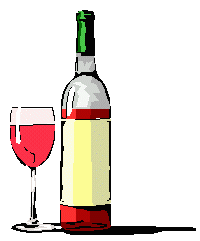 The Editor's Vineyard--Godwin Vineyards and Bennett Valley combine for a superior Merlot
..
Of the thirty five wine districts in Bordeaux Pomerol is considered one of the five most capable of producing superior wines. It is also the place where the Merlot varietal does exceedingly well. All of which brings us to Sonoma's Bennett Valley where Vintners Dick and Rickie Godwin combined with Winemaker Kerry Damskey to produce a superior vintage of Pomerol styled Merlot.
This, the 2003 Godwin Merlot, is one the best vintages of this varietal we have tasted in a long time. Certainly those folks in 'Sideways' would not have been so depreciative of Merlot if they had tried this wine. Winemaker Kerry Damskey approached the making of this vintage with much care. The Merlot grapes came from a hillside vineyard in a cooler region of Sonoma County's Bennett Valley, and then Kerry added five percent Napa Valley Cabernet Sauvignon from a vineyard on the slopes of Atlas Peak. The wine was racked quarterly in new and used French barrels for 23 months of aging.
Words like lush, smooth and flavorful can be used to describe this wine. Vintners Dick and Rickie Godwin concertrate on making two ultra premium wines, each from a specific appellation, the Godwin Merlot from Sonoma and a Chardonnay from the Russian River Valley. Priced at $35 for an exceptional Merlot.
Back to Table of Contents..

Last Update:12/1/08
&copy 2008 Joe Hilbers All Rights Reserved.
Graphic Design by Impact Graphics