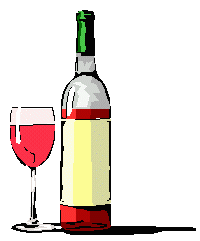 "How our search for a long lost varietal, Grignolino, proved most successful"
Grignolino is one of the lightest of the red grapes grown in Italy's Piedmont and makes a delightful wine that can be made as a regular red but also as a Rose. In an earlier era it was produced in California, sold as Grignolino and was quite popular. We remember the wine very well and enjoyed it as did our friends. IVC, Italian Vintners Company, a name from the past, produced one and had us as a faithful customer. Currently I do not know of a California vintner who is marketing Grignolino but surely there must still be some plantings of the varietal in the State. This Writer would welcome any information on this.
It was only a short time after writing this that I had the opportunity to visit Guglielmo Family Winery located at Morgan Hill in the Santa Clara Valley. Guglielmo is one of the oldest wineries in the State with the same family, now in the third generation. When I asked Gene Guglielmo about Grignolino he smiled and showed me a bottle of their 2005 vintage of that varietal. He also explained that they produced a Rose Grignolino but were currently sold out since it is very popular.
This was most pleasing to learn and Gene also thought a few other wineries were still producing this Piedmont native. We should add that the Guglielmo family was originally from the Piedmont region of Italy. We also learned that the first plantings of their Grignolino was planted by Grandfather and Founder Emilio Guglielmo.
We opened a bottle of this rarely seen varietal, Guglielmo Private Reserve 2005 Grignolino, for our Thanksgiving dinner and was pleased with its smooth texture and soft flavors. Of the four red wines of Piedmont Grignolino is the lightest and we found it perfect with the turkey and traditionals of the holiday.
We also are making it a point to get some of the Guglielmo Grignolino Rose when the next vintage is bottled.
Eye Catching
Stunning is the only word to describe the new Marilyn Velvet Collection. The label is classic, a photo of Marilyn Monroe that appeared as the centerfold in the inaugural edition of Playboy in 1953. That photo launched a career that made her one of the most famous women of the 20th Century. The wine in the bottle is also exceptional. From Napa Valley vineyards it is a 2004 blend of 54 per cent Napa Valley Cabernet and 46 per cent Merlot. You may want to drink and enjoy the wine but it is a sure bet that the bottle will be saved. Marilyn wines are produced by Nova Wines, Inc. of St. Helena and can be obtained by calling 866 MMWines or on the web at www.MarilynWines.com.
Also introduced is a 2006 Norma Jeane Merlot. This is the ninth vintageof this series, a blend of 83 per cent Merlot and 17 per cent Syrah It retails for $10.50. Mild, mellow, fruity are words to describe this wine. It honors Marilyn Monroe's early years before her fame.
Back to Table of Contents..
Last Update:3/15/07
&copy 2007 Joe Hilbers All Rights Reserved.
Graphic Design by Impact Graphics