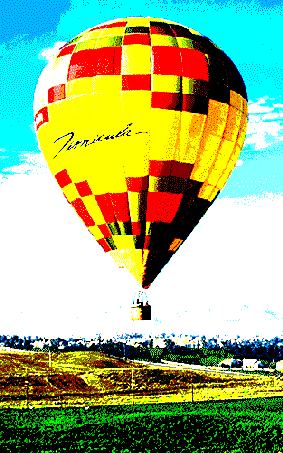 ---
"Temecula--New growth and excitement reign in the wine appellation' By The Editor
It is a new exciting time for vintners in the Temecula Appellation. New wineries are being established, older vintners are retiring and there are new winemakers and new enthusiasm. All this was readily apparent on our recent visit to Temecula's Wine country, the first in a few years.
New vineyards are being planted, new varietals introduced and a spirit of cooperation and elan showed in everyone we met. Linda Kissam, executive director of the Temecula Valley Winegrowers Association, planned our agenda which was to meet some of the new winemakers and look in on new wineries as well.
Interest in wines of the region has never been higher thanks to awards at major competition as well as the tremendous number of visitors now touring Temecula's "Wine Road'. Winery tasting rooms are constantly busy, many on a seven day schedule and in some instances sell out a vintage before the next harvest.
We met with Don Frangipani, new owner of Keystone Vineyard and Winery. Previously winemaker for Cilurzo Winery, Don and his wife, JoAnn, took over Keystone last year from the previous owner who retired.
Since taking over there have been dramatic changes including new labels, upgraded wines with emphasis on classic estate grown red varietals. These include Cabernet Sauvignon, Petite Syrah, Cabernet Franc and a late harvest Zinfandel. The Zinfandel from a 30 year old vineyard owned by the winery.
Among the whites we tasted an outstanding Sauvignon Blanc and a clean pleasant Riesling.
Besides being a vintner and winemaker Don wears a second hat as a chef since in an earlier time he worked in the family restaurant. This talent comes in handy when small dinners are hosted at the Winery. The Keystone tasting room is open seven days a week from 10 a.m. to 5 p.m. and the Winery has a budding Wine Club and participates in winemaker dinners.
Keystone is located at 37338 De Portola Road. Telephone 909 302 7888.
Vineyard Grower
Another new winery is Palumbo Family Vineyards and Winery owned by Nicholas and Cindy Palumbo. Nick started as a vineyard grower and is dedicated to producing wines only from his own vineyards. With estate vineyards Palumbo feature red varietals including merlot, cabernet sauvingon, cabernet franc and Sangiovese.
We tasted an excellent Bordeaux style blend called Tre Fratelli as well as a unique late harvest merlot produced from grapes harvested in late Fall. Also produced is what Nick calls his 'super Tuscan', an estate grown Sangiovese blended with 15 per cent cabernet sauvignon.
In an earlier career Nick was a professional chef and so produces winemaker dinners on the premises for groups from eight to 16 people with prior reservations.
The Winery is located at 40150 Barksdale Circle and is open weekends and holidays from 10 a.m. to 5 p.m., Friday from 12 to 5 p.m. and by appointment during the week at 909 676-7900 on the web at www.palumbofamilyvineyards.com
$20 Million Development
All of this wrapped around the South Coast Winery with Jon McPherson and Javier Flores as winemakers, both long time vintners in Temecula. Jim Carter has developed a 200 acre vineyard which he calls Wild Horse Peak for his red wines. At present South Coast has two labels, one called South Coast and the second Wild Horse Peak.

We tasted many of the vintages under the South Coast label including an exceptional Pinot Grigro, Viognier and two chardonnays, one produced in stainless steel, the other with some oak aging. Despite being from the same vineyards and the wines were dramatically different.

However the red wines produced from the mountain Wild Horse Peak vineyard are Jim Carter's passion. One is a remarkable Zinfandel from the Devils Hole Block of Wild Horse Mountain Vineyard. Also from the barrel we tasted a merlot with more body and complexity than any we can remember. Jon McPherson is also making a rather unique Cabernet Rose wine which is currently the number on best seller in the Tasting Room.

Everything at South Coast is brand new. The Tasting Room and Gift Shop is located at 34843 Rancho California Road. Call toll free at 866 9-winery or on the web at www.WineResort.com.

Thornton Winemaker

Don Reha is the new winemaker at Thornton Winery. He comes to Temecula from Renwood Winery in Almador County where he was winemaker for four years. He attended U.C. Davis and also spent some years at Fetzer Vineyards.

Reha likes Italian varietals and Sangiovese, Nebbiolo and Pinot Grigio all do well in the Temecula appellation. This certainly holds true for white varietals like Viognier and Chardonnay as well. Reha is dedicated to using Temecula plantings to produce wines from all these varietals.. .

Thornton pioneered sparkling wines using the methode champenoise process in Temecula and the several cuvees all bear the Temecula appellation. The cuvees include Thornton Brut Reserve, Thornton Brut, Blanc de Noir, Cuvee Rouge as well as Cuvee de Frontignan.

While meeting with Don Reha we tasted four of the still white wines--2002 Viognier, 2001 Chardonnay, 2000 Pinot Blanc and 2002 Muscat Canelli which is a popular item in the Winery's gift shop.

Family Managed

Like all but one of the 18 Temecula wineries Wilson Creek Winery and Vineyard is family owned. Three generations of the Wilson family are engaged in some part of the winery operation. The Wilson Winery complex offers a tasting room and gift shop but also includes a wedding gazebo, banquet facility as well as picnic areas and children's playground.

It has become the site for just about every kind of special event including corporate parties, reunions and company presentations. Popular favorite is Wilson Creek Almond flavored champagne. Made with chardonnay and French columbard grapes almond flavor is added during second fermentation.

Wilson Creek Winery is located at 35960 Rancho California Rd. Telephone 909 699-9463. On the web at www.wilsoncreekwinery.com.
---

Back to Table of Contents..
Last Update:6/10/04
&copy 2004 Joe Hilbers All Rights Reserved.
Graphic Design by Impact Graphics