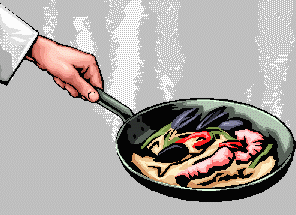 West Los Angeles--"Gulfstream wows the folks in Century City with its contemporary cuisine and decor".
by Joe Hilbers
Welcome to dining in the Twenty First Century. That was our impression after a visit to the Gulfstream Restaurant in Century City recently. Here is a restaurant with a completely contemporary open decor and atmosphere, friendly service and an innovative menu that makes it all come together in a perfect match.
In this restaurant the lounge has left out the traditional backbar leaving those enjoying a cocktail with a sweeping view of both the open kitchen and the dining room which has two levels for even better viewing. Large glass windows fronting the restaurant and the warm wood walls and ceiling complete the picture of casual dining in an upbeat setting.
Gulfstream is a part of Houston's Restaurants, Inc., and opened in May at Westfield Shoppingtown Century City. The restaurant has enjoyed immediate success both with shoppers and movie goers at the Center as well as locals, many considering it a neighborhood restaurant for a cocktail and casual dining.
We were thankful for reservations since the restaurant was teeming with life when we arrived at 6 p.m. After a cocktail to admire the bar setup we studied the menu which offers contemporary fare with the accent on the freshness of all items, especially the seafood. In season there is an Oyster bar offering fresh Pacific oysters on the half shell.
On suggestion of our waitress we opened with the cherrywood smoked trout dip. On another visit we would like to try the sushi grande ahi tuna carpaccio with lemon and watercress. After these munchies our entrees included the cedar plank roasted salmon with shredded cabbage slaw and shoestring french fries as well as the Niman ranch short ribs with mustard bbq sauce, cole slaw and thick sliced beefsteak tomatoes.
This Writer ordered the short ribs which are not ordinarily found on most restaurant menus. They were excellent and went well with both the tomatoes and cold slaw. My partner ordered the salmon which proved to be outstanding, so much so that she had to guard it from her dining partner who kept insisting on one more bite.
Gulfstream offers a one page menu but it includes five rather original salads as well as two burgers and a fish filet sandwich. Entrees include grilled red snapper with rock shrimp; an Angus beef ribeye steak, an organic chicken and two 'catch of the day' fish dishes, either grilled or sauteed. Prices are modest with the highest item listed at $27 for the red snapper.
The lunch menu is basically the same but with a few more sandwiches listed like a blackened fish fillet sandwich and a crispy chicken sandwich.
Besides the full service bar there is an interesting wine list featuring, almost exclusively, boutique California brands. It is a good sized list with names like Virum, Abundance, Presidio, Nelms, and William Harrison, all of these offered by the glass. In a list with over 48 wines few have familiar names.
Our dessert was a house made most unusual white cake prepared with milk and served with fresh berries and cream. We shared one order and both my partner and I agreed it was the best dessert we had enjoyed in some time.
We chatted briefly with General Manager Tony Grippo who moved from Houston's in San Francisco to open Gulfstream. We expressed our approval to him, both on the interesting approach Chef Felipe Amenta has to his menu, as well as the staff which has a most noticeable friendly and casually efficient style with customers.
Gulfstream is located in the Westfield Shoppingtown Century City at 10250 Santa Monica Blvd., and is open seven days a week for luncheon and dinner.
Hours from 11 a.m. to 10:30 p.m. on Friday and Saturday till 11:30 p.m. The Center offers three hours of free parking with easy access to the restaurant.
Back to Table of Contents..
Last Update:12/10/03
&copy 2003 Joe Hilbers All Rights Reserved.
Graphic Design by Impact Graphics