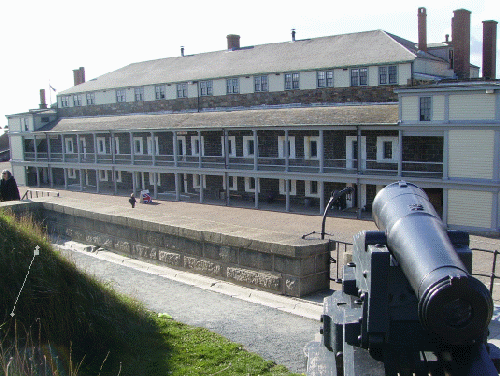 Nova Scotia--We found much to see and do.
.. By Joe Hilbers
Would you like to visit foreign country where Americans are actually liked and welcomed and is as safe as your home town. A country where the language is English and the currency on a par with your own. A place with cultural attractions, exciting wineries, a cuisine that ranges far and wide, and natural wonders that are unique and found nowhere else.
Then may we suggest your next foreign adventure be to Nova Scotia, Canada. You will arrive in a modern, thriving city called Halifax with a fascinating history that dates back five centuries but as modern and convenient as any city at home. We arrived after only a two and a half flight from New York to a modern airport and most courteous customs service. This was our second visit to Nova Scotia but the first was 16 years ago and we were amazed at the changes we found in Halifax yet the City still had its unique look and ambiance.
If somehow you have the concept that Nova Scotia is the far north then you are completely wrong. Thanks to a land that is almost completely surrounded by waters warmed by the Gulf Stream Nova Scotia enjoys a moderate climate. We were there late in September and moved around coatless every day with temperatures in the high seventies. In Nova Scotia think hospitality. For this Californian it was a wonderful change from the fast paced life-style we tolerate at home. We arrived in Halifax to an uncrowded airport, rode on an freeway and greeted at the Radisson Suite Hotel in downtown. The next day we took a Ambassatours Gray line tour of the City with a group of people off one of the cruise ships that arrive almost daily during the summer season.
Highlight of this tour was a visit to the Citadel, a fort built to dominate and protect the City in the 1800s. Here there is still a formal changing of the guard and later we enjoyed a talk with Sergeant Ryan MacKinnon and Lance Corporal Clifford Lee. We also climbed the rampart which offered wonderful vistas of all of Halifax including its splendid harbor and with brilliant sunshine took many photos. Then we left Halifax for the hinterland of Nova Scotia Province, beautifully green with rolling hills covered with northern forest interspersed with lush farmland. We visited the Kluskap Glooscap Heritage Center which is located in Millbrook and now home to the Mi'kmaq tribe of native Americans. Here we learned the history of the original inhabitants of Nova Scotia from Gordon Pitov, himself of the tribe and its heritage. It was a most rewarding and educational experience.
Outdoor adventure
There is one outdoor adventure that is unique to Nova Scotia. The Bay of Fundy has the largest tidal changes found anywhere on the planet ranging up to 35 feet between low and high tides. So here can be found Tidal Bore rafting. This occurs when the upcoming tide rushes up the Shubenacadie River and where it meets the river flow waves up to twelve feet high are created.
This makes for exciting rafting. A few of the hardier members of our group went on this adventure at Tidal Bore Rafting Park. Also there was a large group of exuberant teenagers. We decided that high adventure for teenagers was not for a man old enough to be their grandparent. However we did watch from shore as rafts, powered by outboard motors, surged through waves that at times appeared to wash completely over the rafts. Those of our group that did go on this adventure returned with thrilling tales of hanging on for dear life and being truly well washed.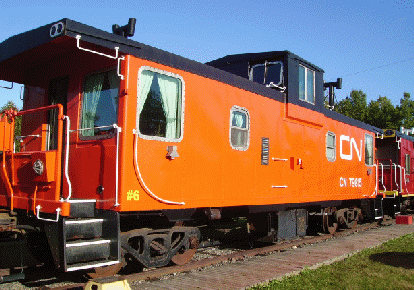 One of the most memorable experiences for this Writer was when we arrived at the Train Station Inn. Here railroad cars are strung alongside the Tatamagouche train station which dates to the 1880s. The cars have been converted into bedrooms and suites. For a long time railroad buff like this Writer one can hardly imagine our joy of being assigned our very own caboose for the night. Now equipped with every amenity of a highly rated resort it still maintained the ambiance and romance of the original. Left intact was the elevated platform used by the conductors of old to monitor the whole train from its elevated position.
Here too a lounge car that once belonged to one of Canada's highest officials.` We relaxed here over cocktails and heard the remarkable story of our Host, James LeFresne, dressed always as a train conductor. He is the man who saved the station from abandonment and created this most unusual resort. The dining car is also original and here we enjoyed a sumptuous dinner.
This is a story in itself and must be told at a later date.
Fox Hill Cheese was a perfect example of the enterprising and inventive qualities of Nova Scotia's people. It is a family run business by the Rands--Richard, Father, Jeanita, Mother, Son Patrick and Daughter Melissa. Their cows graze on the Farm's grass and the herd of fifty Holsteins provide the milk and cheese products which have provided Fox Hill with its reputation for quality. When Queen Elizabeth visited Nova Scotia this summer she enjoyed Fox Hill cheeses. We sampled the gouda and cheddars, in many flavors as well as the Gelata which has achieved no little reknown.
Fundy for lobsters
Hall Harbour was our kind of place. This has a long history as a fishing village fronting the Bay of Fundy with the highest tides in the world. When we arrived the fishing boats were all high and dry sitting on the mud. When we left a few hours later the water was rapidly returning and in a short time the boats would again be afloat. Thirty five foot tides occur here. But what we liked best was Lloyd Simpson's Lobster Pound, Restaurant and gift shop. This includes a lobster depot. Here we selected our own two and one-half pound live lobster and then hand carried it on a tray to where it would be cooked. Then after Lloyd gave us a thorough briefing on the anatomy and habits of this creature we filed into the restaurant to feast on "catch of the day".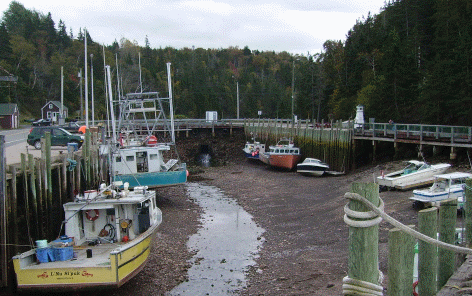 But we were on our way to Wolfville and a hiking area where the waters of Fundy flow into Minas Basin. Here in a recreational area there is a dike that holds back salt water from lush farmland. With Angela Chrisholm, president of Scott Walking Adventures, as our guide we walked along the dike for some distance as she explained that it was built by the first Arcadian settlers in the 1600s. Angela has her own firm which offers guided hiking tours in Canada and many other parts of the world as well. On this walk we took many photos of the wild flowers still in bloom against bushes whose leaves already had turned scarlet. And there was always the rising waters of the Basin with Cape Blomidon looming in the distance.

Bountiful Agriculture

Our excursion into Nova Scotia's bountiful agriculture heartland also included a visit to the Sugar Moon Farm which produces maple syrup. The ambiance at Sugar Moon takes one back to an earlier era. It has a restaurant in a natural log building with a huge stone fireplace. Here Proprietors Quita Gray and Scott Whitelaw also gave us an orientation on the gathering and production of maple syrup The Sugar Moon Farm has 2500 maple trees on the property that produce sap for a few winter months each year. We also were able to taste the finished product at a lunch that included two farm hand sized pancakes. It was the best maple syrup we have ever tasted.
It appeared to us that the agriculture bounty of the Annapolis Valley has no bounds. Awesome is the only way to describe what we saw at the Dill Pumpkin Farm. The late Howard William Dill over decades developed pumpkins of ever larger sizes. With harvest just at the time of our visit we saw and were photographed with pumpkins weighing from 500 to 650 pounds. These huge pumpkins enjoy a most unusual role as boats for the annual Pumpkin Regatta. In this event, held annually, the pumpkins are carved to make a boat which must be rowed across a lake in a race. We would have loved to witness this most unusual event but it was scheduled some weeks later.

In the Annapolis Valley we stayed at the Blomidon Inn located in Wolfville. This mansion enjoys a long history, first built as the residence for a sea captain in the 1880s. Among its many amenities is several flower gardens that cover four acres. Each evening there is the Captain dinner where one enjoys the cuisine of Chef Sean Laceby.

The Inn has thirty rooms in the style of an English Manor house of the Victorian era. The Laceby family has operated the hostelry since the 1990s and it is truly family operated with son, Michael as Host and his older brother, Sean as chef. The memorable dinner we enjoyed at Blomidon Inn will be told in a separate story on the cuisine of Nova Scotia.

We truly enjoyed our motor trip from Wolfville to Lunenburg which is located on the Atlantic side of Nova Scotia. Passing through forest which were just turning to Fall colors seemingly as we watched. Also large tracts of growing conifers destined to become Christmas trees, a thriving industry in this region.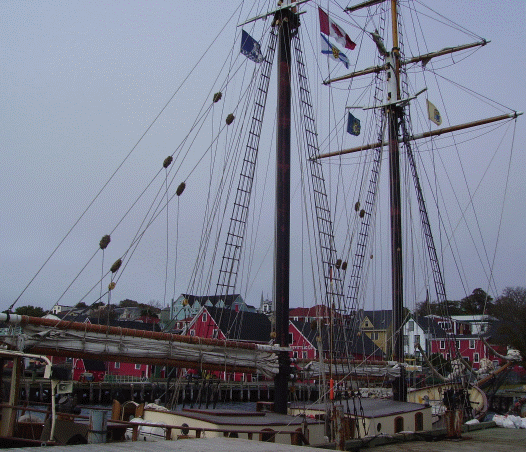 Picturesque is the only way to describe Lunenburg which was settled early on thanks to its excellent harbor. We toured the town from a four wheel carriage drawn by Michael, a horse that certainly knew his way better than we did. Trot in Time operates these tours each summer. Lunenburg has been named a UNESCO World Heritage site and so all the buildings are now required to keep ad maintain the fronts of the houses and buildings as they were originally. We passed many houses over two hundred years old and still being kept beautifully, no mean feat considering constant exposure to the elements and the North Atlantic ocean..

Our first call was to the Ironworks Distillery, a new enterprise in Lunenburg by Lynne MacKay and Pierre Guevremont. Here a German built Still is now producing a vodka made from locally grown apples. We tasted the finished product and pronounced it excellent. It is double distilled and still retains hints of apple. Also produced here is an apple brandy and two liqueurs, Cranberry and Blueberry. This is all housed in a former blacksmith shop with many of the original artifacts still in place. It all adds to a timeless ambiance for the Ironworks artfully done as a distillery and tasting room.

We will never pass up a maritime museum and were pleased to locate the Fisheries Museum of the Atlantic in Lunenburg. Here Wendy told us the story of the Bluenose, a Canadian fishing schooner that consistently showed her heels to American competitors in races during the 1930s. The Bluenose retired undefeated and the earned trophy is now proudly displayed here. Also here we learned how to shuck scallops thanks to the overseeing skills of Wallace Skinner. We promptly ate what we shucked. We needed more time here as there is an aquarium, the last dory schooner to fish from Lunenburg as well as an exhibit that traces 500 years of Grand Banks fishing.

One could hardly find better location for sea theme photography than Lunenburg. A walk along the waterfront and onto piers offers dramatic views and subjects. We spent some time seeking themes for future oil paintings and also to admire some tall masted schooners from earlier times still looking so very majestic.

Our lodging was at Lunenburg Arms, a full service hotel located one block from the waterfront. Our room offered wonderful views of the ships and the bay. The hotel has maintained its historic appearance and ambiance while offering all modern amenities. A fter admiring and absorbing all that history we moved to the hotel computer to check on our e mails. We left Lunenburg only with regret. We loved its seaside ambiance and the feeling that while change is constant, here at least history and legacy had not been forgotten or destroyed.

Mahone Bay , in comparison seemed a bustling place with many tourists arriving for the "Scarecrow Festival" taking place that weekend. We strolled its streets and visited Amos Pewter. There we got a quick education on the making of pewter which has stretched through the centuries and that in England was used for eating utensils and jewelry among the lower classes. Amos Pewter now sells what it makes worldwide and can be viewed at amospewter.com. Mahone Bay maintains its historic role as a ship building community in the age of sail. Today its classic churches are a mecca for photographers.

Mystery Island

Oak Island has a romantic and tragic history that dates back to 1795. That was when three boys discovered a pit that ever since has been explored for buried treasure. Over the centuries many groups have tried to seek out this so-called treasure but all have been defeated and during these searches seven lives were lost. Recovery efforts continue to the present day.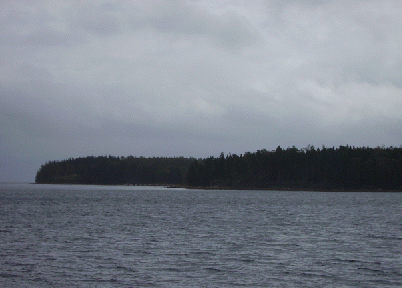 We looked at the Island from the elegant and luxurious cottages of Atlantica. Here on the shore in front of a cheering camp fire we lounged in Adirondack chairs while Chef Daniel Orvce demonstrated his skills with local mussels. These were prepared with his own recipe which he shared with us. We ate a shameful number of these Nova Scotia mussels which have the best flavor of any we have ever tasted. Next was salmon filets barbecued on cedar wood. The slabs of cedar are soaked in water for 24 hours before use. Chef Daniel served the salmon with a topping of locally produced bleu cheese. With this al fresco feast there were beverages including some of Nova Scotia's best wines. Our hosts were Ken and Nancy Petrie representing Atlantica Hotel and Marina which recently took over this resort property just a short distance from Mahone Bay.

Then it was on to Peggy's Cove which through the years has become one of Canada's most popular tourist attractions. Its lighthouse, perched upon bare granite rocks, has become a photo classic to be seen on countless calendars. It now has 600,000 visitors each year. No matter how familiar one is with sea shores the sight of all that water worn bare granite is awe inspiring. As usual on our visit the sun was out offering wonderful vistas.

The weather on our whole weeks tour was just about perfect with temperatures in the high 70s. Clouds came and went but we had no rain and the local population went about in summer attire with no look of Fall. Forest foliage was just beginning to hint of Fall colors and of wild flowers they were everywhere.

Vineyards and wineries are flourishing in Nova Scotia. We visited three wineries and the wines being produced there will be in a separate story.

This is also true for the chefs and cuisines we experienced. We were awed by some of the restaurants we visited and the wide range of food choices. We found the extent of agriculture in Nova Scotia a wonder and the use of locally grown fruits and vegetables on the table where ever we went. Again this will all be reported on extensively in a future Vittles story.

Back to Table of Contents..

Last Update:10/30/10
&copy 2010 Joe Hilbers All Rights Reserved.
Graphic Design by Impact Graphics