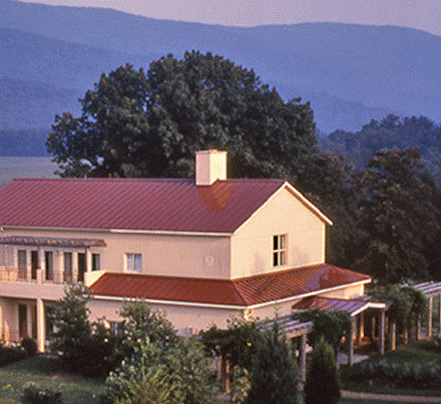 "Albemarle County--Think good food and fine wines in Charlottesville"
.. By Joe Hilbers
We found wine and food a way of life in Charlottesville and Albemarle County which is one of seven appellations in Virginia. One evening we dined at Hamilton's located in Charlottesville's Downtown Mall. This, in our rating, was a four star restaurant with live music, full bar, an excellent wine list and contemporary imagative cuisine. We opened with a smoked salmon appetizer with cubed beets and then a veal chop with nice presentation.
This was truly a winemaker dinner as well since we had four Virginia wines all produced locally. First a Thibaut-Janisson Brut Sparkling wine, then an excellent Winework White Viognier 2008, a Bradford Reed Cellars 2008 Chardonnay and a Pollak Vineyards 2007 Merlot. We also toured some of the wineries in the vicinity of Charlottesville. Winemaking in Virginia has a tradition that extends back to the earliest colonists from Britain. In the last quarter century winemaking in Virginia has come back with vigor and there are now 140 wineries in the State in seven appellations
The wineries we visited were all in the Monticello appellation. Thomas Jefferson developed a true appreciation for wine while in Europe and planted vineyards at Monticello. But winemaking was one of his few failures in life. We visited Jefferson Vineyards which are actually part of the great American's original estate vineyard.
Now under private ownership Jefferson Vineyards includes 25 acres of vines with the oldest plantings dating to 1981. We were hosted by Chad Zakaib, general manager, who took us through an extensive tasting of their Chardonnay Reserve, Viognier, Jefferson Meritage and Petite Verdot. We particularly liked the 2008 Viognier and the 2005 Petite Verdot.
A landmark close to Monticello is Michie Tavern which was established in 1784 as a social center of the region. It was moved to its present location in 1927 just a half mile below Monticello. Our luncheon at Michie Tavern included classic Southern Colonial fare served by a staff in the attire of Jefferson's era. We had southern Fried Chicken, smoked Pork barbecue with stewed tomatoes, biscuits and cornbread. Here you experience the life-style and customs of the colonial period.
We next visited Kluge Estate Winery and Vineyard which was founded in 1999. The Monticello appellation wineries like Kluge are located in the foothills of the Blue Ridge Mountains with an average elevation of between 800 and 1000 feet. The country is beautiful to behold with four seasons and a proven terroir for wine grapes.
Ten varietals are grown on Kluge Estate vineyards which we toured with C.E.O. William Moses. The tasting room, called Kluge Estate Farm Shop, has achieved recognition as one of the top 25 tasting rooms in the nation. We tasted Kluge Blanc de Blanc from chardonnay grapes and produced Methode Champenoise. Then a 2007 Albemarle Viognier which we thought is one of Virginia's best varietals. We also gave high marks to Kluge Estate New World Red 2004. This is a blend of Merlot, Cabernet Franc, Cabernet Sauvignon and Malbec aged in new French oak. At the tasting room there are unique Wine and Cheese pairing. The winery is new and extensive and currently only French oak barrels are used. There are 220 acres of vines.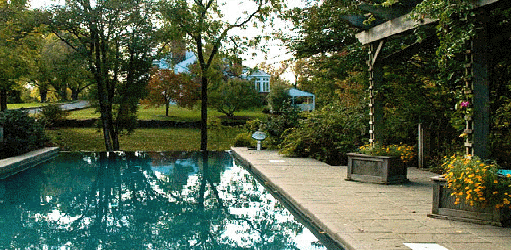 One evening we dined at Clifton, a Relais & Chateaux property in Charlottesville. Think luxury here with a well appointed historic main house with 100 acres of Virginia's greenery and 18 rooms showing a historic ambiance. Our dinner was served in the Clifton Wine Cellar accompanied by wines from White Hall Vineyards. Our entrees included a pan seared halibut with buttered lump crab as well as a New York strip with wild mushroom risotto. We sat with Antony Champ, owner of White Hall Vineyards, who described the wines that accompanied this feast. The 2007 Chardonnay was fermented in both French and American oak then enjoyed 10 months in stainless steel. Antony explained that the wine is very popular locally and called Charlottesville's Chardonnay and this year has both cork and screw cap closures. We had high praise for his 2007 Cabernet Franc which is a blend of Cabernet Franc, Petit Verdot and Chambourein.
White Hall Vineyards in on the Monticello Wine Trail with some 30 wineries in the region. Antony has 45 acres of vines with eleven varietals. We told him that in our limited exposure to Virginia wines we thought Viognier and Cabernet Franc produced the best vintages and he did not disagree. With our dessert of warm bittersweet chocolate tart with Virginia peanut Nougat and caramel sauce Antony showed us a 2006 Soliterre, his version of a German Eiswein dessert wine. The grapes for this wine, Riesling, Vidal Blanc and Viognier are mechanically frozen for three months then pressed while still partially frozen. The wine is put into stainless steel for five months. We paid compliments to Antony Champ on this wine.
Clifton is located at 1296 Clifton Inn Drive in Charlottesville, 439 971-1800, wwwcliftoninn.net. White Hall Vineyards at 5282 Sugar ridge Road in Crozet, Call 434 823-8615 for information or www.whitrehallvineyards.com on the web. The winery offers tours and tastings and a picnic area with views of the Blue Ridge Mountains.
Back to Table of Contents..

Last Update:6/1/2010
&copy 2010 Joe Hilbers All Rights Reserved.
Graphic Design by Impact Graphics