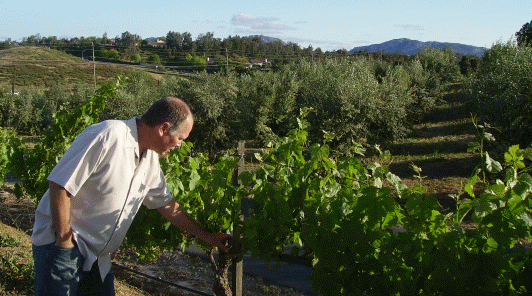 "Temecula--Joe Hart and his Family Vineyard has been a leader in developing valley wines"
.
Joe Hart is one of the pioneers of the wine industry in Temecula Valley. He was one of four men who saw a bright future for viniculture and winemaking in a region that offered a promising terroir for growing wine grapes. So it was in the early 1970s that Hart Family Vineyard was established. Since those early beginnings Joe Hart has established a reputation for producing some of the prize winnings vintages in the valley. Of the four original pioneers Joe Hart is the only one still active in the wine business and he has his son, Jim and daughter-in-law Christine, as his top aides with Jim now running the day to day operations.
Jim and Christine were our hosts when members of the International Food, Wine and Travel Writers visited the winery. Jim took the group on a vineyard tour explaining how single stake or trellises work best in growing particular varietals. On our visit in late Spring the vines had budded and just hinting at first flowering. With almost fifty years of vine growing experience the Hart family has learned what varietals do best in the Valley and which make the best wines.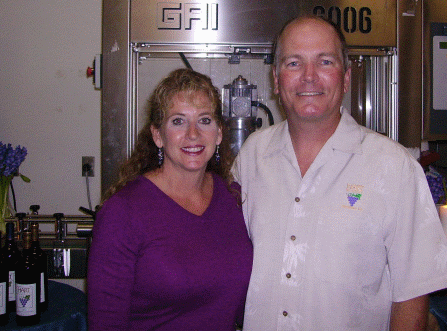 We tasted an excellent 2008 Roussanne, a white grape from the Northern Rhone Valley and also another Rhone native, Hart 20076 Syrah. Hart Sauvignon Blanc is one of their showcase wines and we had to agree. Another Hart signature wine is the Cabernet Franc, a consistent award winner and it received high marks on our score card as well. We loved it delicate aroma and mellow flavors on the palate.
Unlike many vintners Joe Hart believes in holding his red wines in oak and bottle for some aging. The results of this style showed in our 2006 Cabernet Sauvignon, 2007 Syrah and 2005 Cabernet Franc.
Suitably famous is Hart's Volcanic Ridge Cabernet Sauvignon. This wine comes from a unique vineyard located above the Valley at a 2400 foot elevation. We were awed by the 2006 vintage which we enjoyed with our family style dinner that took place at the winery. Here we were treated to a mixed greens and apple salad, then barbecued sirloin with creamy mashed potatoes and fresh asparagus. Our dessert was a chocolate mousse with fresh strawberries. Served with Hart's showcase vintages this was an event to be remembered.
Hart Winery is locate at 41300 Avenida Biona, just off Rancho California Road in Temecula. Phone 951 676-6300.
Back to Table of Contents

Last Update:6/19/10
&copy 2010 Joe Hilbers All Rights Reserved.
Graphic Design by Impact Graphics