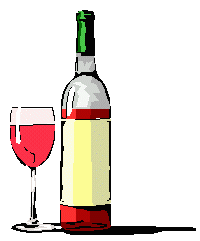 San Luis Obispo--"The Harvest Celebration was a 'tasty' event indeed"
After attending our first Harvest Celebration we decided the San Luis Obispo Vintners & Growers Association under the leadership of Archie McLaren staged a pretty neat event. Actually this was the 13th annual Harvest Celebration but it was new to us. It celebrates the grape harvest with gourmet food, wine tasting, accompanying music and a spirited auction.
The event was held at scenic Biddle Regional Park on the outskirts of Arroyo Grande on a sparkling crisp autumn day. Glass in hand we chatted with some interesting people and tasted some of the fine wines that have brought San Luis Obispo County wines to the forefront.
We talked with Pete Brucher who after starting Vichon Winery in the Napa Valley has moved on to a new enterprise, Brucher Winery located in Santa Maria. Besides producing outstanding Pinot Noir and Chardonnay vintages his wife, Gayle Brucher has used her talents as an artist to give the Winery a new dimension. We tasted the 2001 Brucher Chardonnay which has one of Gayle's paintings on the label. Both the artwork and the wine are exceptional.
Hunt Cellars is located in Paso Robles and produces some outstanding red wines. We tasted the Hunt Meritage which included cabernet sauvignon and petite sirah in the blend. A bold wine, hearty and should do exceptionally well in the cellar for future enjoyment.
Since we first visited Corbett Canyon over two decades ago the winery has had three different ownerships. Now priced in the moderate range we tasted both the chardonnay and the cabernet sauvignon and considered both wines as exceptional value for the money.
In our wanderings through the scenic San Luis Obispo countryside we passed Saucelito Canyon which is located in the upper Arroyo Grande Valley beyond Lopez Lake on a winding country road. Saucelito Canyon has some of the oldest zinfandel vines in California. We have never made a secret of the fact that zinfandel is one of our favorite varietals. We tasted the Saucelito Reserve Zinfandel and thought it one of the best wines of that varietal we have enjoyed in some time.
Concannon has been a respected name in California wine as long as we can remember. Now a part of the Wine Group we tasted the cabernet sauvignon and thought it worthy of the late Joseph Concannon, a man we knew quite well both as a respected winemaker but also as a true gentleman.
At the Alapay Cellars booth we tasted an excellent Viognier since we profess a particular liking for this Rhone Valley varietal. Alapay Cellars has a tasting room in Avila Beach.
All told 39 wineries were represented at the Celebration. Needless to say we did not try them all.
We do confess to trying some of the food goodies like those from Chef Rick's where we have dined in Santa Maria and the Mission Grill where just a few days earlier we met with old acquaintance, Archie McLaren over lunch where he briefed us on the upcoming event.
Archie has been identified with Central Coast wines for a few decades and is Chairman of the San Luis Obispo Vintners & Growers Association.
Anyway we thought the event smashing and so did the other hundreds of wine lovers who attended.
Back to Table of Contents..
Last Update:12/15/03
&copy 2003 Joe Hilbers All Rights Reserved.
Graphic Design by Impact Graphics