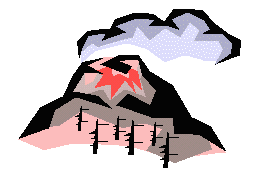 "Mt. St. Helens offers a unique view of an ever changing planet

by The Editor
Volcanos, their eruptions, and the effects on the lives of people are fascinating stuff since they really demonstrate the forces of nature. Whether it is a tour of Pompeii under the shadow of Mt. Vesuvius; or about Krakatoa in Indonesia; Mt. Mayon in the Philippines or Klyuchevskaya Sopka in Kamchatka, it is one of nature's grandest shows.
In the U. S. the eruption of Mt. St. Helens on May l8, l980 was the largest in a century and changed the mountain and a huge surrounding area for many years to come.
It also presented scientists with an outstanding opportunity to observe the geologic and biological forces that have taken place since the eruption. Thanks to timely action by Congress in l982 the Mt. St. Helens National Volcanic Monument was created in the Gifford Pinchot National Forest which encompasses the mountain.
To view Mt. St. Helens and to understand the eruption, its initial blast effect, and how it changed lakes and rivers and huge stands of timber Visitor Centers tell the complete story. If you are traveling Interstate 5 between Portland and Seattle the Mt. St. Helens Visitor Center at Silver Lake is the easiest to reach just five miles east of I 5.
The Silver Lake Visitor Center is state of the art with walk through exhibits, a theater with both slide and movie presentations of Mt. St. Helens, before, during and after the eruption; as well as an information desk and book sales desk. The view of Mt. St. Helens from this Visitor Center is a distant one.
To get upclose, to really view the mountain and what the eruption did to its north face, as well as the effects of the blast, one must travel farther north on Interstate 5 to the junction with Highway 12.
Highway 12 goes east, and is also a route to Mt. Rainier National Park. It takes you past Mossyrock and Morton and on to Randle. At Randle you turn south on Highway 25 which will take you to the Woods Creek Information Center. There you will get directions following Highway 26 which deadends at Windy Ridge.
Windy Ridge offers a closeup view of the north side of the Mountain, you are just five miles away , and offers views of the new Spirit Lake, some 300 feet above the original Lake before the eruption. The route to Windy Ridge gives you closeup views of the blast zone and what it did to miles and miles of what was standing forest.
Three hundred and sixty one steps take you to a viewpoint where you can also view Mount Adams and all dominating Mount Rainier. Since Mt. St. Helens is still active you will see smoke pouring from rock crevices near its altered summit.
Yet another Visitor Center has been established at Coldwater Ridge. This Center shows visitors the remarkable way plants and animals have reappeared throughout the blast zone years earlier than scientists once believed. Over one million visitors come to Coldwater Ridge each year.
If you plan to visit this region of Washington don't hurry, allot plenty of time.
If it is your first visit you need to have enough days to visit both Mt. St. Helens and Mt. Rainier. They are only a few hours apart driving time.
All types of lodging is available at Randle and Packwood on Highway l2. From these points it is only two hours to Mt. Rainier Visitor Center at Paradise. For campers and RV'ers forest service camps are in many locations. At the entrance to Mt. Rainier is the Ohanapecosh Campground operated by the National Park Service.
Adjacent to the Silver Lake Visitor Center is Seaquest State Park with picnic, camping and recreational facilities. At Woods Creek Visitor Center there is Iron Creek Campground operated by the U.S. Forest Service. It is an ideal location for day trips to both Mt. St. Helens and Mt. Rainier.
Back to Table of Contents..
Last Update:10/1/98
&copy 1998 Joe Hilbers All Rights Reserved.
Graphic Design by Impact Graphics