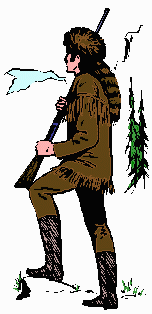 ---
Hell's Canyon, Idaho--A Place That Time Forgot by Lilyan Mastrolia
As part of a trip of exploration in Idaho we left Couer d'Alene in a van and drove two hours to get to Lewiston-Clarkson.
We boarded the mail boat, a part of Beamer's Boat tours 1-800-522-6966, just a wee bit behind schedule. Captain John Jones piloted the jet boat that danced along the water, creating its own spray and rainbows. We traveled backwards and forward in time.
First we were traveling through a canyon that was millions of years old, with plate tectonics on one side and up lifted mountains on the other. The Snake River which started it long journey far away in the Tetons ran in between. The new spring grass sensuously softened the tops of the ancient cliffs.
Petroglyphs on the rocks took us back to ancient settlers in the area. We passed through the area explored by Lewis and Clark in 1805, and saw the area that once was the domain of the Nez Pierce Indians who helped them survive.
We later visited the Kirkwood Ranch which preserved the history of the 1880's and the way of life of the early settlers.
In between we stopped at Copper Canyon for an overnight stay. It is a rustic place, with cozy little cabins. Laurie Caldwell and her crew put together a hearty prime rib roast for us. But it is a place where you might want to bring your own wine.
The evening activities included hiking, pool, darts and ping pong. Breakfast included homemade biscuits and gravy with scrambled eggs and sausage. Hearty fare indeed.
It was all a huge change from the ultra modern, five star Couer d'Alene Resort Hotel where we had stayed only a few days earlier.
.
673-3540.
---

Back to Table of Contents..
Last Update:6/10/00
&copy 2000 Joe Hilbers All Rights Reserved.
Graphic Design by Impact Graphics