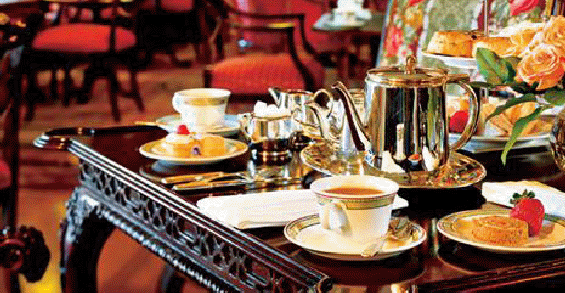 "Victoria, British Columbia--High Tea at the Empress Hotel was just as we remembered it "
By Jeanne Bartlett.
In June 1974, my family and I ventured to Victoria, British Columbia, Canada in our motorhome. My husband and I were on our way to start summer school at Eastern Washington State and decided to take a short trip to visit the Empress Hotel to enjoy the famous "high tea." It was such a delightful memory that when we left on the Evergreen Ferry my daughter, Diana, and I promised each other we would come back one day.
This last September we got the chance to do just that. I told Diana there was a wine cruise that offered an excursion to the same afternoon tea treat we remembered. Unlike some decades-old memories that don't hold up, the tea was everything we remembered and more!
We left the ship and were bused to downtown Victoria and the Fairmont Empress Hotel. We were escorted to the elegantly-restored Tea Lobby, which has a panoramic view of sparkling waters of Victoria's Inner Harbour. The tables and chairs appeared to be antique with a definite flavor of the Orient, reminding us that tea was the featured beverage. There were eight of us in our group, some of us sat on the brightly-colored settee and the rest of us settled around the table in delicately carved chairs with plush seats.
We watched as the signature "Tea at the Empress" was brewed and served for us by a skilled master of blends. Then the delicious repast began with luscious strawberries straight from the Cowican Valley with whipped cream so thick you could stand up your spoon in it.
The most dramatic moment came when the server brought in the silver, three-tiered tray laden with our feast. We began our adventure with the bottom layer containing the innovative sandwiches. There was an egg salad croissant, a smoked salmon pinwheel, a mushroom pate crostini, and a delicious mango and curried chicken sandwich. Looking at the two additional levels we knew we couldn't eat them all but had to make some choices.
We soon discovered the middle level contained freshly-baked raisin scones with our own small jar of strawberry jam and Empress Cream for the topping. If that wasn't enough to fill you up, layer No. 3 was comprised of some of the most delicious pastries you could imagine, creations of award-winning Pastry Chef D'Oyen Christie. How could you even choose between the lemon curd and berry tart, rose petal shortbread, green tea cheesecake, chocolate tulip with wild cherry and Battenberg cake? Turns out, problem solved, you get an attractive box to take away all your uneaten goodies! In addition to the container you also receive an elegant commemorative box of Empress Tea as a remembrance of your special day.
You can reserve this experience ahead of time by contacting the Fairmont Empress Hotel, 721 Government Street, Victoria, British Columbia, Canada, toll free 1-866-540-4429.
Back to Table of Contents

Last Update:11/15/10
&copy 2010 Joe Hilbers All Rights Reserved.
Graphic Design by Impact Graphics