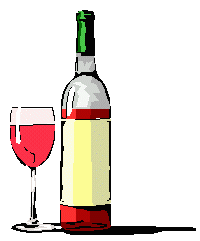 "Whether in Washington, California or Australia the quality of the wines keeps getting better"
by The Editor's Vineyard
Some California wineries has established their reputation on producing so called "big wines" that have over the years been proven to be wonderful "keepers' in a personal collection.
William Hill is one of these wineries. The newly released 1996 Reserve Napa Valley Cabernet Sauvignon continues this reputation. The grapes for this vintage are from bench land and mountain vineyards and only three per cent Merlot has been blended with the cabernet sauvignon. Also this vintage has enjoyed two years in French oak barrels.
It is very drinkable now but just wait a few years.
William Hill has also released a reserve chardonnay--a 1998 Reserve from the Carneros region of the Napa Valley. We have not had too much success with aged California chardonnays in our cellar but we think this Reserve bottling should hold up for several years. But why wait, this is an elegant, lush wine perfect before dinner or as a cocktail for spoiled guests.
From Washington State
The Hogue Cellars in Washington's Yakima Valley has been producing outstanding wines for two decades. Owned by a brother team, Mike and Gary Hogue, the winery consistently has produced a full line of varietals in several price categories.
We recently had the opportunity of tasting some Hogue reasonably priced vintages that spelled to us both quality and value. The 1998 Hogue Barrel Select Chardonnay offered intense varietal fruit flavors. This vintage had nine months in French and American oak and shows in both aroma and taste.
We also tasted the 1997 Hogue Barrel Select Merlot and appreciated its soft smooth texture and how well it matches a variety of different foods. This vintage had small amounts of cabernet sauvignon, lemberger, cabernet franc and syrah blended into the wine for added structure.
Hogue also produces more white varietals than most wineries including sauvignon blanc, pinot gris, riesling, semillon as well as chenin blanc and Gewurztraminer.
Some whites are at their best when enjoyed soon after bottling and this was certainly true with some Hogue 1999 wines. We thought the 1999 Gewurztraminer wonderful with a whole variety of foods and was delighted with the 1999 Johannisberg Riesling. Here are two varietals that have thrived for centuries in the climate of northern Europe and they like Washington's cool winters and dry summers equally well.
Chenin Blanc has lost some of the wide spread popularity it once enjoyed but it has always been a favorite with this writer. Here again is a varietal that produces superior vintages in Washington.
These whites are wines to be enjoyed on a daily basis especially with the foods of the Pacific Rim. As enjoyable as the wines is the price tag for they are all priced under $10 and enjoy national distribution.
David Forsyth, director of winemaking, is dedicated to making wines that are 100 per cent vitis vinifera. The vintages we tasted show that he is making very good wine indeed.
Quality and Value
The prices of premium wines continue to increase adding to pressure on the wine writer to recommend good drinking wines that are not expensive. We have just tasted three vintages from Geyser Peak that meet this criteria very well. The Geyser Peak 1999 Gewurztraminer is one such wine. Priced under $10 we sipped this wine on the patio of a ski lodge recently, shared it with some other skiers and won their approval as well as our own.
Sauvignon Blanc is always popular either as an aperitif or with a variety of foods. The 1999 Geyser Peak Sauvignon Blanc is full of fresh fruit flavors and is most affordable as an everyday table wine but will give extra enjoyment to any meal.
We recently returned from Santa Barbara and San Luis Obispo wineries and Syrah is rapidly becoming a varietal that everyone wants to produce.
Thank the Australians for the popularity of this Rhone varietal. They have been producing some great ones for many years. Of course they call it Shiraz but no matter how you spell it, the varietal is gaining new drinkers.
Barwang is a winery in South Eastern Australia and in the U.S. marketing is done buy Geyser Peak. We recently tasted the 1998 Shiraz and enjoyed every sip. Here is a wine with all the spicy characteristics of the varietal, but soft in texture and hosting a myriad of flavors. And again priced under $10. For those who would like to move from merlot and try another red Shiraz should please.
Another red this one from Italy, Sangiovese, is also becoming popular with drinkers who wish to try something besides cabernet sauvignon or merlot. It is of course the classic grape used in Chianti.
Atlas Peak Vineyards was one of the California pioneers with this varietal when Piero Antinori planted cuttings from his native Italy on the flanks of 1,500 foot Atlas Peak.
Now Atlas Peak has its own appellation and those plantings of Sangiovese are producing outstanding wines. The winery has recently released the 1997 Sangiovese which is may be one of the best vintages yet. Winemaker John Falcone usually blends small amounts of merlot and cabernet sauvignon to his sangiovese and has done so with this vintage as well. The result is a wonderful food wine with all the softness of merlot and wondrous fruit aromas and flavors.
From the same Atlas Peak vineyards the winery has released a 1998 chardonnay. Its French oak aging shows in every sip.
The Atlas Peak vintage is worthy of mention for both quality and moderate pricing. Anyone using this as an 'every day' wine is living very well indeed. Lots of flavor with clean aroma and crispness on the palate.
Back to Table of Contents..
Last Update:3/10/00
&copy 2000 Joe Hilbers All Rights Reserved.
Graphic Design by Impact Graphics