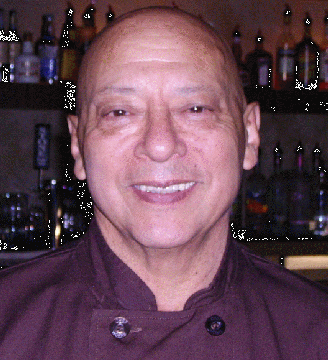 "Whittier--Culinary excellence marks Seta Restaurant"
by The Editor
We made the long drive to Whittier with some anticipation since we already knew of the culinary exploits of the man we were to meet. Actually we had followed the career of Hugo Molina for about two decades as his fame and prestige as a chef grew in Southern California. Now we were ready to explore his new restaurant called Seta, a dine lounge located in Uptown Whittier.
We had last seen Hugo in March at the Richard Nixon East Room when the Southern California Restaurant Writers, at their Awards Banquet, named him Chef of the Year.
Seta proved to be an exciting place the night we were there. It includes two bar lounges, an artfully contemporary designed dining room as well as gracefully arranged private dining and conference room. And there was activity everywhere. A most serious looking conference was taking place in the conference room. And much more interesting to this Writer was the intimate bar lounge which was hosting a reception for Tamara-Michele, currently Miss Southern California and on her way to Florida as a contestant in a Miss American Coed contest. With her was her court of lovely young women.
On this evening we carried our camera and did not miss the opportunity of taking photos of both Tamara-Michele and members of her court. P>Only then did we settle down in the dining room to lure Hugo Molina away from his kitchen to renew a long acquaintance. We missed seeing his wife and partner Aricia Alvarado, a pastry chef in her own right, but here at Seta general manager and also the one responsible for the charming decoration and ambiance of the restaurant.
We found the Seta menu exciting with a full list of steaks and chops as well as seafood and poultry. But the innovations of Chef Hugo show clearly on this menu. Steaks can be ordered with a choice of five different rubs and crusts--smoked salt, Mexican Adobo, four pepper garlic, cumin-herb of cajun. Also a choice of five unique sauces--Chermoula, Cabernet reduction, blueberry Sage demi-glace, Foie Gras port reduction of Green pepper corn sherry cream.
My dining partner and I were presented with a medley of three appetizers for starters. They included a Dungeness Crab Cake with lobster brandy cream, Lobster crepe with sundried tomato sauce and lemon creme fraiche and an inspired Oaxacan chicken quesadillas with cuitlacoche sauce. We then shared a salad called Wedge with tomatoes and three cheeses.
Hugo then decided we must try his Day Boat Diver Scallops wrapped in apple-wood bacon, wild mushroom risotto and a moro blood orange-champagne beuerre blanc. These scallops he explained arrive daily directly from Maine.
Our meat course was thinly sliced filet mignon and arrived with two different sauces--cabernet reduction and Fie Gras port reduction. These accompanied by two unique sides of Jalapeno Cream of corn and Seta Mac and Cheese Gratin.
The wine list here is large and made up of mostly boutique California vintages. Over twelve wines, both red and white, are available by the glass.
At Seta Chef Molina offers a original steak house concept with what he calls an Asian fusion concept. Call it what you may but it is a truly exciting menu and as we expected with a well trained service staff.
The Sweets menu, the work of Aricia Alvarado, includes both desserts and a full list of specialty cocktails and after dinner drinks. We chose the Meyer Lemon cheesecake but also listed was a intense chocolate flourless molten cake or Three way Caramel as well as three sorbets and ice creams.
Seta is admirably located in the heart of uptown Whittier at 13033 Philadelphia Street. There is ample free off street parking directly across from the restaurant. Seta is open for luncheon Monday to Friday and dinner seven nights a week until 10 p.m. One intimate bar lounge stays open till 2 a.m. with lounge food available till 11 p.m.
Back to Table of Contents..
Last Update:12/9/09
&copy 2009 Joe Hilbers All Rights Reserved.
Graphic Design by Impact Graphics