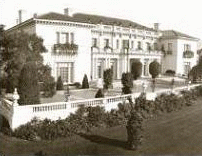 "San Marino--A gracious and sparkling renewed Huntington Art Gallery will open soon"
By By the Editor.
It was a day to remember, a memory to cherish. A classic winter day in Southern California, clear, cloudless skies, temperature in the low seventies and time to wander through a wonderland of trees and shrubs with a backdrop of snow capped San Gabriel Mountains. The place was the Huntington Library, Art Collections and Botanical Gardens.
We were there is see the $20 million renovation and restoration of Henry Huntington's mansion. When built and completed in 1911 the Italian renaissance villa was considered one of the finest residences in the nation. The problem for those planning and actually doing the renovation was to bring the Villa up to today's standards in plumbing, electrical work, and structurally without in any way changing the original look and decor.
For since it first opened to public view in 1928 the Mansion has served as an art gallery housing one of the greatest collections of British art from the 18th century. In their goal to maintain this early 20th century treasure to its original glory those in charge of the restoration have been brilliantly successful.
One admirable change has taken place. On the ground floor while still viewing the European art treasures from the 15th to early 20th century, the main floor has been restored to its former glory as a home with living rooms, dining rooms and furnished much as it was when Henry Huntington lived there. Upstairs the concept of a gallery remains with the rooms displaying art of six centuries.
Henry Huntington called it his Ranch but since then the San Marino 120 acres has grown to include one of the best independent research libraries, three additional galleries as well as the acclaimed botanical gardens. We enjoyed a press tour of this renovation with some of the people responsible for its completion including Bert England, general contractor, and Stephen Farneth, preservation architect. The Huntington Art Gallery reopens for the public on May 28, 2008.
In the renovation careful attention was paid to improved lighting to protect the paintings as well as expansion of gallery space which enabled the unification of all the art collections in the one building. The $20 million project was fully funded from private sources.
The Huntington Library and Art Collection is located at 1151 Oxford Road in San Marino. It is open to the public six days a week, closed Tuesdays and major holidays. For more information call 626 405-2100. On the web at huntington.org.
Back to Table of Contents

Last Update:3/5/08
&copy 2008 Joe Hilbers All Rights Reserved.
Graphic Design by Impact Graphics