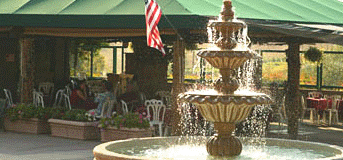 "Temecula--Food and Travel Writers meet at Thornton Winery"
The Editor's Vineyard
Temecula's Thornton Winery proved once again that in wine and dining it offers something very special as it hosted a gathering of International Food, Wine & Travel Writers recently.
On hand to welcome IFW members and guests were Steve Thornton, Winemaker Don Reha and Chef Steve Pickell. Present from IFWTWA were Maralyn Hill, president and Patty Anis, executive director.
Future plans for aiding IFW members in internet linking to further their writing careers was discussed by President Hill as well as plans for the upcoming January 2010 "Conference At Sea" on Holland American Cruise line.
The luncheon was held in Thornton's barrel cellar with a menu especially prepared by award winning Chef Pickell and included a roasted tomato artichoke proscuitto tartine served on grilled sourdough, herbed Ricotta cheese and baby arrigula. Opening the event was Thornton's flagship Brut Reserve champagne. Don Reha personally introduced the still wines including a 2006 Sauvignon Blanc and 2006 Sangiovese. The sauvignon blanc showed an unusually deep floral nose and crisp finish which Don explained came from some time in French oak.
At our table we all agreed that in the Thornton Sangiovese Don had a special vintage with robust flavors but a silken feel on the palate. Chef Pickell did it again with a dessert of ginger and peach tartlett with moscato libzon blackberries. Served here was a 2008 Moscato.
Afterward this Writer was looking for a corner in the cellar for a siesta.
Back to Table of Contents..
Last Update:9/1/09
&copy 2009 Joe Hilbers All Rights Reserved.
Graphic Design by Impact Graphics