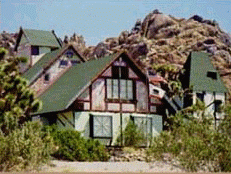 Antelope Valley--A unique Swiss style chalet is home to the Antelope Valley Indian Museum"
..
Thanks to two remarkable individuals, both with ambition, dedication and a consuming interest in the original Native American inhabitants, the Antelope Valley Indian Museum was established. The first is Howard Arden Edwards who built a Swiss style Chalet as a private residence on a picturesque rock formation overlooking the Mojave Desert. Dedicated to finding and collecting Indian artifacts he used this remarkable dwelling as the place to house his findings.
When the Edwards family decided to move on Grace Wilcox Oliver purchased the property since she, with an interest in anthropology, also had an extensive collection of Indian tools, utensils and art.
Grace Oliver operated the Museum as a private enterprise for three decades until the State of California purchased the property and turned it over to the State Parks to administrate in 1979. Our recent visit took place on a perfect late autumn day. The Antelope Valley Indian Museum is located 17 miles east of Lancaster. From the San Fernando Valley it is an easy our and 25 minute drive on Highway 14, then Highway 138 and finally 165th East through the community of Lake Los Angeles.
The Museum is administered by California Parks but volunteer docents are the courteous, helpful people you will meet on your tour answering your questions and pointing out artifacts of special interest and the tribes that made them.
The artifacts cover a long time period and are mostly from the peoples who inhabited southwestern California and the Great Basin. Also recent archaeology studies have revealed that the Antelope Valley often served as a trading area where tribes like the Chumash, living on the coastal regions of California, met and traded with the Piute tribes of the Antelope and Inyo valleys as well as the Great Basin.
The Museum has something to offer to all age groups. There is a Touch Table for young people who want to try grinding corn with rock mortar and pestle or starting a fire with a stick or bow drill.
There is an excellent collection of the finely woven baskets used for cooking with hot rocks since the California tribes generally did not make pottery.
Fascinating for us was the fine collection of fish hooks made from abalone shells and bone barbs made and used by the Chumash and Canahoes who lived on the Channel Islands.
Don't hurry a visit to this Museum. There is much to see and the docents are wonderful in explaining it all to you. Also adjacent is a self guided nature trail which explains the surrounding desert, its animals, plants and rocks. This is an easy one-half mile walk that generally takes about 30 minutes.
And you might consider bringing a lunch since the Museum has a picnic area with tables and a wonderful view, not only of the surrounding desert with its Joshua trees but also of the San Gabriel Mountains looming in the distance.
Antelope Valley Indian Museum is open from September 15th to June 15th on Saturday and Sunday from 11 a.m. to 4 p.m. with an admission of $1 for adults, children free. The Museum is available for groups by prior reservation on Tuesday and Thursday.
For information call 661 942-0662 or go to www.calparksmojave.com/avim/ If you are interested in camping or RVing Saddleback Butte State Park is just a few short miles from the Museum. The 2,955 acre park offers both camp sites and a picturesque picnic area. There are ample signs directing one to either the Museum or Sandleback Butte.
Back to Table of Contents..

Last Update:1/1/03
&copy 2003 Joe Hilbers All Rights Reserved.
Graphic Design by Impact Graphics