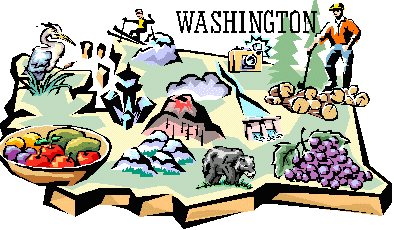 An invitation to find out more about Washington State


If you are considering a visit to the Northwest and Washington State this year here are some web sites, addresses and names of people who can provide you with brochures and trip planning.
The Washington State Tourism office is located in Olympia, P.O. Box 42500, 98504-2500. Telephone 360 753-7180, Fax 360 753-4470. web site www.tourism.wa.gov/ss99/. Ask for the 1999 Washington State Calendar of Events or the Getaway guide for Spring and Summer.
If you are interested in the Lake Chelan region you can view their web site at www.lakechelan.com. E mail at rahm@kozi.com. The Lake Chelan Visitor Bureau is located at 102 E. Johnson, P.O. Box 216, Chelan, Wa. 98816. Telephone 509 682-3503. Fax 682-3538.
For a trip to Washington's Central Coast and Grays Harbor County click on line at www.chamber.grays-harbor.wa.us, e mail gchamber@techline.com. The Visitor Information Center is located at 506 Duffy Street, Aberdeen, Wa. 98520. On of the major attractions at Grays Harbor is the Tall Ship Lady Washington, a reminder of the sailing ships of the past.
Also on the Coast is the Long Beach Peninsula on the southwestern tip of the State. The Visitors Bureau is located at P.O. Box 562, Long Beach, Wa 98644. Web site is www.funbeach.com. Telephone 1 800 451-2542.
The legendary wet weather that is a part of coastal Washington does not exist in the Yakima Valley which lies in the center of the State. Among its attractions is the Yakima Valley Wine Tour. The Visitors Bureau is located at 10 North 8th Street, Yakima, Wa 98901-2515. Telephone 1 800 221--751. Fax 509 575-6252. E mail yvvcb@televar.com. Ask for the Yakima Visitors Guide, a handsome four color 56 page guide full of places to go and things to do.
Golf, wine tours, micro breweries, the Lewis & Clark route and biking are some of the attractions in the Tri-cities located in the southeast of the State. The cities include Kennewick, Pasco and Richland. Part of the Columbia Valley it is also the heart of the State's wine country.
For information and guides contact Tana Bader Inglima, Tri-Cities Visitor Bureau at P.O. Box 2241, Tri-Cities, Wa 99302-2241. On line at www.cbvcp.com/tcvcb. E mail tcvcb@cbvcp.com. Telephone 1 800 254-5824.
By act of Congress the Columbia River Gorge National Scenic Area was created in 1986. The Columbia River forms the boundary between Oregon and Washington and the two states share the Gorge with its scenic wonders. For information on the web www.skamania.org. E mail scoc@gorge.net. Or write the Skamania County Chamber of Commerce at P.O. Box 1037, Stevenson, Wa 98648. Telephone 509 427 8911. Fax 509 427-5122.
This is the Centennial year for Mount Rainier National Park and there will be many special events. The Tacoma-Pierce County Visitors Bureau can provide information on the Park and other County events. On line at www.tpctourism.org. E mail gangler@tpctourism.org. Write Visitor Bureau at 1001 Pacific Avenue, Tacoma, Wa 98402. Telephone 253 627-2836. Fax 253 627-8783.
Ferry boats and Boeing are two attractions in Snohomish County. The Tourism Bureau is located at 909 SE Everett Mall Way, Everett, Wa 98208. Web site www.snohomish.org. E mail sandy@snohomish.org. Telephone 425 348-5802. Fax 425 348-5701.
Back to Table of Contents..
Last Update:3/21/99
&copy 1999 Joe Hilbers All Rights Reserved.
Graphic Design by Impact Graphics