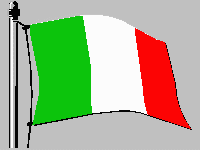 "The Italians showed their finest wines in Santa Monica"
The Editor's Vineyard
The acclaimed Valentino Ristorante in Santa Monica was the place where a Italian Wine Gala was held recently. Sponsored both by the Italian Trade Commission and the Italian Wine and Food Institute, the event featured wines from 25 prominent wine producers, many on hand to personally present their vintages.
Dr. Lucio Caputo, president of the Institute, was personally on hand to host the tasting that presented some of Italy's most honored wines.
This Writer had the opportunity of meeting with several of the producers before the throng of Italian wine lovers arrived for the tasting. One was Alessandro Francois, president of Castello di Quercito, whose family has operated the estate since the late 19th century. Castello di Querceto is famed for its Super Tuscans and Single Vineyard wines. At the tasting Mr. Francois presented three Chianti Classico wines as well as three showcase, award winning vintages, all from the 1999 year.
Over an excellent lunch of Garganelli with Lamb Ragu with Spring vegetables, followed by Semolina Crusted Branzino with Mozzarella, Caponata Siciliana with fresh tomato and olives we tasted several vintages with Kevin Leach, fine wine manager for Palm Bay Imports. At the tasting Palm Bay showed a large selection including Marchesi di Barolo, Fassati Rosso di Montepulciano DOC as well as a Mandra Rossa D Shiraz, to name just a few.
Besides Tuscans the producers displayed the huge variety of Italian wines including Barberas, Pinot Grigio, Merlot and Valpolicellas. The Wine Gala, which also had a showing in Las Vegas, showed Italian wines at their very best.
Meritage
Last issue we talked about California Meritage wines and we now report on an exceptional one. Trinchero Napa Reserve 2002 Meritage is a vintage to remember. The blend is 66 per cent cabernet sauvignon, 12 per cent cabernet franc and 22 per cent Petit Verdot. The cabernet sauvignon was from mountain vineyards above the west Napa Valley. Winemaker Joe Shirley gave this wine TLC using almost all new French oak for the aging. The result is pure pleasure: in aroma, full bodied flavors and a finish that lasts and lasts. Remember this vintage for that special occasion. Priced at $45.
Trinchero's Chicken Ranch vineyard is on the northern edge of the Rutherford appellation. The 2002 Trinchero Napa Reserve Merlot is from this vineyard and Joe Shirley used the classic Bordeaux delestage method during fermentation. Think soft and mellow and very honest to this varietal with this wine with hints of vanilla lingering in the aroma.
The Trinchero 2002 Napa Reserve Cabernet Sauvignon is again from the Chicken Ranch vineyard. And again Joe used the Bordeaux delestage style of fermentation and then aged the wine in 100 per cent French oak. Very deep in color the wine offers huge flavors without being overwhelming either in aroma or palate. Both these wines retail for $25.
Round Hill Vineyards and Cellars is a second label of respected Rutherford Wine Company of St. Helena. Quality and price meet with this brand as shown with two new releases. The Round Hills 2002 Merlot is an interesting wine with small amounts of Ruby Cabernet and Petite Sirah added to the blend. Subtle in its aroma and flavors this vintage shows all the characteristics of this varietal pleasing to the palate and with a lingering finish. Nicely priced at $9.
The 2003 Round Hill Chardonnay is one hundred per cent of the varietal and made with grapes from the Central Coast counties. This is a very drinkable wine, priced at $9 for everyday use either for cocktails or dinner. Nice acid balance here with fruit flavors lush on the nose and palate.
Sonoma Creek is one of three successful brands from Ironstone Vineyards located in the Sierra Foothills at Murphys. Two new releases from Sonoma Creek include Sonoma Creek 2003 Chardonnay and a 2003 Pinot Noir. Winemaker Steve Miller used grapes from the Lodi appellation for the Chardonnay which we found full of fruit flavors with a hint of the French oak Steve used with this vintage. At 13.5 per cent alcohol a nice wine for either cocktails or at the dinner table.
At 12.5 per alcohol we thought the Pinot Noir release perfect with a variety of foods. The wine has all the lush flavors this varietal offers but smooth on the palate and with a soft finish.
Ironstone also produces wines under its own label as well as Leaping Horse Vineyards.
Under their Rutherford Ranch label Rutherford Wine Company has released three Napa Valley appellation wines, all priced remarkably modestly. We especially appreciated the Rutherford Ranch 2001 Napa Valley Cabernet Sauvignon. The vintage has an interesting blend of 93.5% cabernet sauvignon, 3.5 % Garmay, 1.5% Ruby Cabernet, 1% Petite Sirah and .5 per cent Zinfandel. The wine had two years in French and American oak and has all the classic style of Napa wines of this varietal. Excellent now this is a vintage that should cellar well.
If you enjoy Merlot you will like this Rutherford Ranch 2002 Napa Valley vintage. It offers all the best qualities of this varietal with fruit aromas, soft flavors that roll over the palate and a long, smooth finish. The bottling is 97.5% Merlot and 2.5% Cabernet Sauvignon.
To California cabernet sauvignons that cellar well add the 2002 Wild Horse Cabernet Sauvignon. Grapes from 17 vineyards in the Paso Robles appellation were used in making this vintage. In the 20 months of barrel aging mostly French oak was used. Adding complexity was the blending of six per cent Malbec and 4 per cent Cabernet Franc. The result is a superior wine, full of rich flavors in both aroma and as the vintage meets the palate. In today's pricing of superior cabernet sauvignons a bargain at $20.
Back to Table of Contents..
Last Update:6/1/05
&copy 2005 Joe Hilbers All Rights Reserved.
Graphic Design by Impact Graphics